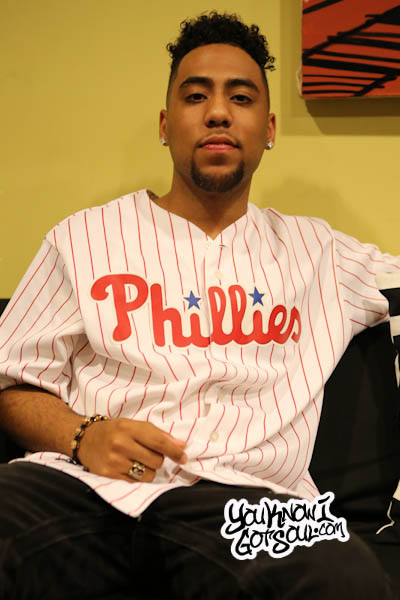 Julian King is a fresh new r&b talent of Philly who we've been excited about after hearing his debut singles "Unforgettable" and "No Strings". With wide ranging influences from Brandy and Chris Brown to Jazmine Sullivan and Justin Timberlake, he's already carving out a lane for himself amongst the new generation. He's just released his debut EP "Sing for You" and receiving rave reviews. In addition, he put on a great show for us last month at our Sol Village event, adding to the excitement. We sat down with Julian that night prior to him hitting the stage and discussed his journey as an artist, where he developed his talents, his debut EP "Sing for You", and much more.
YouKnowIGotSoul: Let's start at the beginning. I read you attended Philadelphia University of the Arts and honed your craft there. Talk about what you learned.
Julian King: I ended up going to the Creative and Performing Arts High School which is the same school as Jazmine Sullivan, Boyz II Men, The Roots. One of my teachers helped me get into the University of the Arts. There, I took piano classes, I took voice and dance classes. It's allowed me to have this broad talent that I have. It's definitely helped musically as well because it helped open me up to classical and jazz music in addition to r&b.
YouKnowIGotSoul: You're a unique talent because you dance, you are a musician and you sing. Where did you develop all of those along the line?
Julian King: It's interesting. It kinda happened in middle school. I never wanted to be an artist. I did music and it felt good. Middle school is where I joined the chorus and stuff like that. In high school and the University, I picked up piano and dance. I worked at a piano bar and picked up bass and drums. It's been a progression through the years.
YouKnowIGotSoul: Talk about the Grammy U program and what linking up with that has meant to you.
Julian King: My freshman year in college, Grammy U came and it was on one of those days where I had no classes. They ended up coming and giving a presentation which was interesting, and I joined. It was $50 for my whole college career, and little by little I just started going to more and more events. I ended up meeting everyone in Philadelphia that I know musically there. I got management, I got with Tytewriter, I met a host of artists and producers and really important people that have helped shape my mind in the music business.
YouKnowIGotSoul: Who have been the biggest influences on your sound?
Julian King: Definitely Chris Brown. His "Graffiti" album really settled me in, I wanted to do the artist thing after hearing it. Real r&b/soul voices like Brandy and Jazmine Sullivan. My sound right now is kinda a mixture of Bruno Mars, Chris Brown. Me being a musician has also helped shape my sound around live instrumentation. A little bit of Usher and Justin Timberlake, my music has that r&b crossover feel to it.
YouKnowIGotSoul: What experiences have you been through to make you write a song like your current single "Unforgettable"?
Julian King: *Laughs* This is around the time that I started kinda dating here and there. I had got to a place where it was kinda getting hard to keep up. Then I met this girl who I just thought was amazing. You very seldomly meet that one person you always think about, so I wondered if she was good. That has kinda just been my story through college. I was that guy that was dating, and then I met this one girl and it just changed everything. That's the moment of her being "Unforgettable". I feel that it's a story all guys can relate to. We all meet that one person.
YouKnowIGotSoul: We're loving the single, one of our favorite r&b songs so far this year. It's got us anticipating your debut EP "Sing for You". What can you tell us about that?
Julian King: I'm really excited. It's coming in July and it's got some amazing producers. We've got Ivan Barias, we've got Bryan-Michael Cox, we've got B.A.M. and a host of others. The sound is very r&b, crossover thinking, with live instrumentation. Most of my music is very groovy and feels cool, swagged out and good. With the help of Tytewriter and my production team, they've just really helped me cultivate a sound that I'm very proud of. This EP is lots of years of carving out work. It's my baby to the world.
YouKnowIGotSoul: What other artists do you see yourself working with in the near future?
Julian King: I would love to do work with Chris Brown. I would love to work with Usher and Justin Timberlake. I even would love to work with Prince and Stevie Wonder. That's my bucket list. Hopefully when I get some Grammy Nominations they'll notice me! *Laughs*
YouKnowIGotSoul: What drives you during a performance to connect with he audience?
Julian King: I think for me being a musician, I feel the instruments behind me and the sound coming from the floor. It jolts me and energizes me. Once I feel that happiness, it's easy to connect with the fans.
YouKnowIGotSoul: You've linked up with a prestigious management team who've had a lot of success. What opportunities have they opened up for you, and what do you see for the future?
Julian King: They've actually helped me put on a show I just had three weeks ago. They've helped me get into the label offices. Island Def Jam, Atlantic, Republic. They're helping guide my career in the right direction. It's tricky because I have lots of talent, so they're the masterminds that make sure I go without skipping steps. They're working with Trey Songz and Raheem DeVaughn and Estelle, so they're used to that level. I'm fortunate they've picked me up to see my dreams come true.
YouKnowIGotSoul: Is your goal to get signed to a label?
Julian King: It's definitely an option right now. I'm just seeing what the best route is. There are pros and cons to each. I could see myself signed indie, I could see myself signed major. I just want to make good music and travel the world doing it, and be happy. Whatever seems to make the most sense is what I'll do.
YouKnowIGotSoul: Anything you'd like to add?
Julian King: Thank you guys so much for supporting the records. I can't wait for you guys to hear the EP.