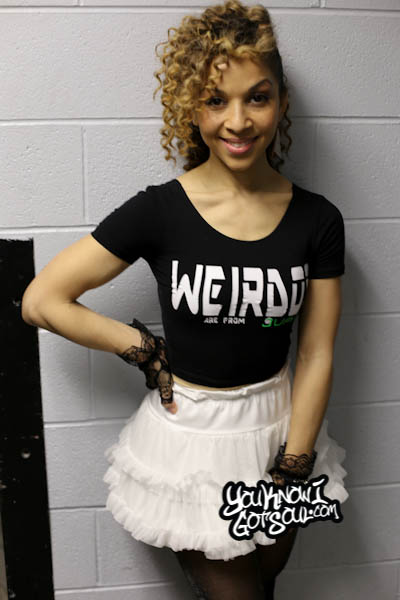 We were recently introduced to Jupitr with the debut of her breakthrough single "Relapse" earlier this year. Things have built up for her since then and she's had the oppportunity to open up for Musiq Soulchild on multiple tour dates. We got a chance to see her perform live at one of those dates in NYC and sat down with her after the performance. In the interview, we got an introduction to her origins in music, whats coming next for her, her weirdo movement, and much more.


YouKnowIGotSoul: I read you originally treated music as a hobby, but at one point did you take it more seriously as a career?
Jupitr: I'll say about two years ago. I think I always knew I wanted to be in music, but insecurities or whatever kind of issues I had just kept me from moving forward. A couple of years ago, I got the courage to say "I think I want to do this" so I just literally started.
YouKnowIGotSoul: You started out independently right?
Jupitr: I'm still independent.
YouKnowIGotSoul: What steps have you taken to further your career?
Jupitr: I really just started from scratch. I started writing and then I raised some money on my own. I found a producer that I thought was dope and I really liked what he was doing. We just started working together and making some songs. Things just started coming together and then I decided this is what I wanted to do and that I was going to make it happen for myself. I found management, shot the video and just started putting the pieces of the puzzle together. We're starting to operate how I thought a label would operate. Like attacking social media, PR, sending newsletters out and doing appearances. One thing led to another and I'm just trying to get it to fall together on my own.
YouKnowIGotSoul: You've been working on your debut EP for a couple of years now and just building yourself as an artist. What's the EP sound like?
Jupitr: It's a mix of things. I call myself a Pop artist, but I call it Alternative/Pop. I like dance music, I'm a dancer. I have some funky kind of stuff. It's just really mixed up. I think I write from a place and it's whatever is going on with me and whatever I'm going through. I just let it out and however it comes out, it's how I want it to stay. I don't reach for any particular sound or anything like that.
YouKnowIGotSoul: Who were some of your influences growing up?
Jupitr: Whitney Houston is my favorite. At my house, I heard Jazz and Soul music. I just heard such a mix growing up. For me, I like the big voices like Whitney, Mariah and now I like a little bit of everything. I like Pink, Frank Ocean, Kanye West, Nicki Minaj, The Black Keys and Stevie Wonder. A little bit of everything.
YouKnowIGotSoul: You have the video out for "Relapse". Tell us the inspiration for that song.
Jupitr: All my songs are personal to me, but I try to incorporate things that I observe like things going on with my friends or family. I think everybody has been in a place where you got away from someone who wasn't good for you, but regardless of what the relationship was, there's a weird addiction. When you're going through the withdrawal stage, it's difficult and that's where it comes from. I just to go and say "Forget this, I'm tired of fighting. Let's go back."
YouKnowIGotSoul: What's coming up next for you and your music?
Jupitr: Everything I hope. The stars and the moon. Hopefully the project will be out very soon and that's the next thing that we're working on. Other than that, hopefully more shows. That's the biggest thing. I just want to get the music out and go in front of people and share with anyone who is willing to listen.
YouKnowIGotSoul: Are you looking to continue independently or is signing to a label a goal at some point?
Jupitr: I think as an artist, everyone wants to be signed. That's the initial conversation. Just talking to different artists both signed and unsigned, you see the pros and the cons. Ultimately, I would love to be signed, but right now I have complete creative control over everything I do. Whatever I want to do, I can do. It's up to me. I think it's a great way to start. Just to start a foundation and find out who you are as an artist. Ultimately, yeah but things are making sense.
YouKnowIGotSoul: You mentioned on stage the movement that you started which seems like a great cause. Talk about it.
Jupitr: Yeah, it's called "Weirdos Are From Jupitr". As an artist and even growing up, I always felt like I wasn't exactly like everyone else. People looked at me being different for whatever reason whether it was the way I dressed, the way I talked or the way I acted. I think a lot of artists feel that way or a lot of creative people feel that way. Even people who just feel different for whatever reason. I just want to reach out to all of those people and let them know that they're not alone. Be comfortable with that and be happy with it because it makes you who you are. I know people say that stuff all the time, but it's a hard thing to do. You have to find yourself. It's kind of a thing to help people embrace themselves. We got together with a grassroots organization in Atlanta called Push Back and we're just donating some of the proceeds to kids who are getting bullied. Just trying to get them more comfortable with themselves.
YouKnowIGotSoul: Anything you'd like to add?
Jupitr: Check out my website http://www.planetjupitr.com and follow me on Twitter @sheisjupitr. We'll have the shirts for sale May 1st. It's actually a donation campaign, but with a certain amount of donations, you get a shirt.