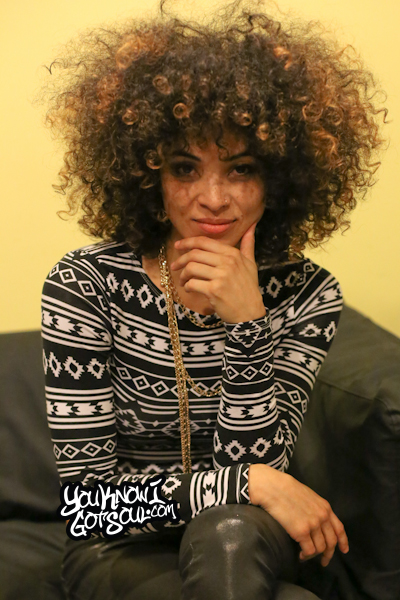 One of the brightest new stars in r&b in 2014 was most definitely Kandace Springs. With the release of her fresh, soulful self titled EP, she certainly made her mark on the genre. This lead to performances on Letterman and the Soul Train Awards, as well as opening for Ne-Yo on his tour; and she's just getting started. We sat down with Kandace Springs once again prior to a recent performance in NYC and discussed what 2015 has in store, her experiences performing on the road, the success of her debut EP, and more.
YouKnowIGotSoul: Talk about the creation of your debut EP.
Kandace Springs: When we first started on the EP, we had writing sessions in places like Philadelphia, LA, Miami and a lot of stuff in New York too. I worked with a bunch of producers like Pop & Oak, Evan Rogers and Carl Sturken and Jack Splash for the EP and the upcoming record.
YouKnowIGotSoul: We love the ones you did with Pop & Oak ("West Coast" and "Meet Me in the Sky"), how did that opportunity come about?
Kandace Springs: That one came through my producer. He knows them and I guess they heard some of my old stuff and they were like "We want to work with you!" Next thing I know, I'm going to Philadelphia and I'm working with them in the studio. It all started with "West Coast".
YouKnowIGotSoul: We're just watching your career blossom and you've been able to have a lot of opportunities like performing on David Letterman, touring with Ne-Yo and then being on Ghostface's album. Talk about the experience opening for Ne-Yo.
Kandace Springs: That was cool and it was an honor to do something like that. That was a few months ago now and when I heard about it, I was so excited. We started in San Francisco and we ended in Silver Springs. We hit all the way across America basically. That was really fun and seeing all the different types of people.
YouKnowIGotSoul: How did the Ghostface opportunity come about?
Kandace Springs: That came about through my A&R who knows him really well. He hooked that up and next thing I know, I'm headed out to Brooklyn to work with Ghostface Killah. I got to sing on his single "Love Don't Live Here No More" and also another song called "Bamboo's Lament". The record is sick.
YouKnowIGotSoul: As you've gotten these opportunities and more people are discovering you along the way, what's the reaction been?
Kandace Springs: It's been really good. People are like "You're so soulful and fresh!" That's what I want to hear from them and that's ultimately my goal which is to bring soul music back to the planet.
YouKnowIGotSoul: What's coming up next for you? You're working on music for the album?
Kandace Springs: Yes, we're working hard. I actually got some writing sessions in LA and in New York as well. I'm just working away and it's been good.
YouKnowIGotSoul: How important is it for you to carve out your own lane because you're such a unique talent? What's that process like?
Kandace Springs: I guess it's just in me. It kind of just comes out in my sessions or when I'm writing. It's kind of a natural thing and I feel like there's a need for more soul music and it's kind of an open lane. I'm just getting over there, it's my lane. *Laughs*
YouKnowIGotSoul: Anything you'd like to add?
Kandace Springs: I'll be on Jimmy Kimmel January 13th and I'll be on David Letterman January 16th, so that's the latest.