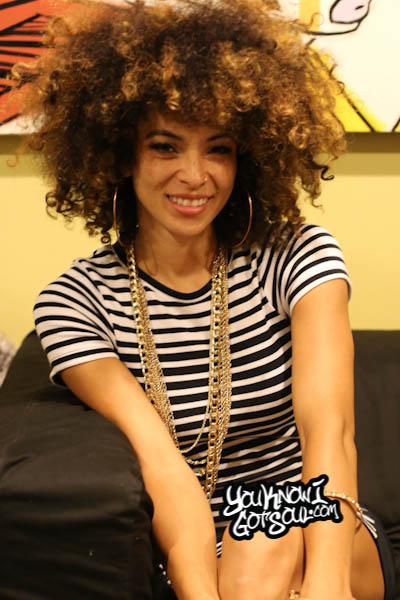 You can't get a much bigger co-sign than from Prince, and the fact that Kandace Springs got a huge endorsement from the legend so early in her career, it has us that much more excited about her future. We had heard she was signed on the spot by Blue Note/Capitol after they just heard one song from her, and we realized how special she was after seeing her live a couple of times over the past few months in NYC. Her buzz is growing by the day, and this unique talent is getting ready to release her self titled debut EP which could take her to the next level. YouKnowIGotSoul sat down with Kandace for this interview prior to her performance at our Sol Village show and discussed her instant signing, what to expect on her upcoming EP, getting an endorsement from Prince, and much more.
YouKnowIGotSoul: Tell us how you originally got signed to Capitol Records.
Kandace Springs: My father is a musician so he had a mutual friend Evan Rogers and also Carl Sturken. They're the guys who found and developed Rihanna. Evan Rogers flew down and signed me. He took me to Blue Note/Capitol Records.
YouKnowIGotSoul: I read that that label signed you after performing one song. Really impressive, but what kind of work did you have to put into getting prepared for something like that?
Kandace Springs: I've been playing piano since I was 10 and I've been singing since 13. Now I'm 25. So through the years, I was just taking lessons. When I signed with Evan, we worked on a lot of recordings and songs. The first song when I got to Capitol Records was "I Can't Make You Love Me" by Bonnie Raitt. Don Was, who is the President of Blue Note, produced that song so that kind of clicked and helped too. That's how we got there.
YouKnowIGotSoul: Talk about your upcoming EP and what we can expect.
Kandace Springs: Yes, September 30th baby! It'll be a 4 song EP and it's so cool. It's a modern Hip Hop meets classic Soul kind of feel.
YouKnowIGotSoul: What inspired you to go in that direction?
Kandace Springs: That's always what I've been into. My dad is a soul singer. I grew up in Nashville, Tennessee and most people think it's country, but it's not. There's a lot of soul. My dad was a huge influence as well as Lauryn Hill and Aretha Franklin.
YouKnowIGotSoul: Of course you've had a chance to perform on stage with Prince. How did that opportunity come about?
Kandace Springs: That was kind of random, I'm not even kidding. We made two music videos and they were made by The Crown Jules. OkayPlayer had tweeted a cover that I did of Sam Smith's "Stay With Me" and then before we knew it, a few days later @3RDEYEGIRL on Twitter retweeted it and we were like "Hey that's Prince!". Before I knew it, he was hitting me up on Twitter and then my label called. They were like "He wants to fly you out!". Next thing you knew, I was in Bailey Park in Minnesota playing with his band. I got to perform for that weekend.
YouKnowIGotSoul: How did that make you feel as a fan of Prince?
Unbelievable! That man is amazing. It was such an honor.
YouKnowIGotSoul: As a performer, what was it like performing in front of such a huge crowd? I know Prince's following is massive.
It was so awesome. The crowd was so respectful of him and it was really cool. I got to close his show. He had me end with a song and then I played some songs with my band afterwards. They were just really into it. so it got me really into it. It was a great experience all around.
YouKnowIGotSoul: What do you want people to feel when they hear your sound?
My goal when I sing, I like to sing from my heart. I want people to hear every note and I want to move people. I want the music to be the type of music that you'll play at your wedding 100 years from now. I want to make really good music with substance building from the ground up versus shooting up like that Pop stuff. That's not a bad thing, but it's artists like Luther Vandross, Lauryn Hill and Erykah Badu. Those artists will last for years, that's my dream.