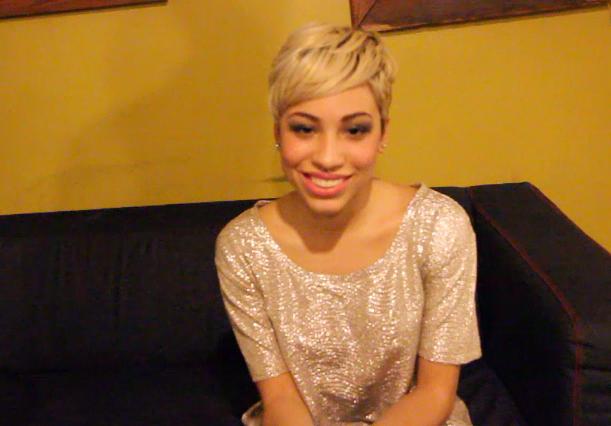 Aside from a few YouTube covers and song leaks over the past few years, we hadn't really heard much from Karina Pasian since her great debut album "First Love" in 2008. Although fans were growing impatient as expected, Karina was doing some growing of her own and that we often forget she's still very young and only 16 at the time of her debut. Rest assured music fans, it was wroth the wait, and the new found maturity has certainly found it's way into her music and that is present on her new EP "Trips to Venus". YouKnowIGotSoul caught up with her backstage after her performance at SOBs in NYC recently to discuss what we can find on the new EP, her growth as an artist since her debut album, what we can expect next, and much more.
YouKnowIGotSoul: You just released your new EP "Trips to Venus". For those who haven't had a chance to hear it yet, what can they expect to find on there?
Karina Pasian: They can definitely expect songs of love. I mean it's called "Trips to Venus" because Venus is associated with love and beauty. Just a lot of songs that will definitely take them through a lot of different emotions. It will uplift them when they're sad or songs they can listen to and relate to.
YouKnowIGotSoul: Talk to me about the song from the EP "Perfectly Different" and how it was created.
Karina Pasian: "Perfectly Different" was actually created off of a real relationship that I was in. It was one of the first songs that I wrote that I started writing on my own. It's very personal to me. It's a song I feel, a lot of people love being because of the fact that it speaks about a lot of people not understanding the love you share between somebody else. That could be taken in certain ways so it's just a song about being different and being who you are. You don't have to be accepted by the people…I mean, well no. *Laughs* Being accepted by the people because of who you are and not trying to be someone else.
YouKnowIGotSoul: Your debut came out back in 2008 and a few years later now 2012, talk about the growth and experience not only as an artist, but as a person since then?
Karina Pasian: Well of course I've grown since then. I was 16-17. I was just graduating High School. Being out of High School, it's a lot different. I'm not a teen anymore. I'm 20. I'm just learning a lot through my artistry and my music. I know it's definitely going into my music and maturity that I've been going through. Yeah, I guess the whole writing thing, me writing as well. That's definitely showing too because back then, when I was doing "First Love" and recording back then when I was younger, I wanted to learn and just really get the experience and learn from watching people. Now that I have that, I think it's time for me tell everyone how I'm feeling.
YouKnowIGotSoul: A lot of your fans over the years have been waiting for you to drop some new music. Just tell me what you've been up to.
Karina Pasian: The EP was actually Volume 1. There's going to be more volumes, maybe one or two more. Actually I going to do a re-release of the EP because I released a Christmas version of it so there's a Christmas song on there. Now I'm going to re-release it with a couple of new songs on there. That's going to be cool. After that, I'll release Volume 2 and it's going to have a lot of cool samples and 90's grooves. I'm really excited for that. I'm going to shoot some music videos really, really soon. That's going to be added on to it.
YouKnowIGotSoul: After the EP, can we expect a full album?
Karina Pasian: Definitely, of course. The full album will be probably after the last two Volumes of this "Trips to Venus". Yeah, it's definitely going to be who I really am as an artist. I'm going to definitely just put together a body of work that I feel like is going to be well…it was long time that I hadn't really put anything out. So for my full, real album to come out it's going to be great.
YouKnowIGotSoul: One thing I wasn't too sure about is your current label situation. Are you releasing these projects independently now?
Karina Pasian: Yes I am. I released "Trips to Venus" independently. I'm not currently with the label. It is different of course, but I like it. I have control as well. I just think it's a learning experience with this.
YouKnowIGotSoul: One thing I took into your show is your amazing voice. You sound great live. That's something we don't really hear too much on the radio which is a great singing voice. Do you feel like that's a problem?
Karina Pasian: I mean, I like that a lot of people get to have the opportunity to do what they love even if they not everyone has a great singing voice. I think it's cool. There's space for everyone. I just think people who really have that voice and who can really sing I feel are being a little more neglected because with technology nowadays, it's easier to make anyone sound good. It's good and it's bad, but everyone should get their opportunity.
YouKnowIGotSoul: I've noticed you've done a lot of YouTube covers. Do you see yourself ever putting out a mixtape of covers?
Karina Pasian: I was thinking about doing a cover album or mixtape because there's a lot of songs that I really love and are really dear to me. They're also dear to a lot of other people. That would be great to do.
YouKnowIGotSoul: What do you remember most about recording your debut album "First Love"?
Karina Pasian: I remember most being happy that I got to go away from school because I was always traveling to record. Of course I still had a tutor but I was on the road. It was just a great experience just being so young. I just remember working with so many talented producers and writers and learning so much and growing and developing as an artist. It was such a great experience.
YouKnowIGotSoul: Anything you'd like to add?
Karina Pasian: "Trips to Venus" is on iiTunes now. Go get it and Volume 2 is coming soon.