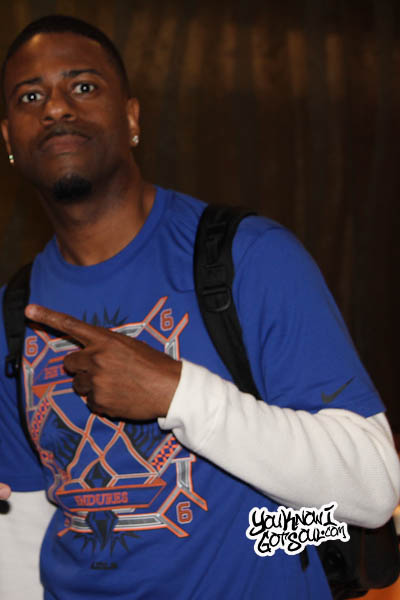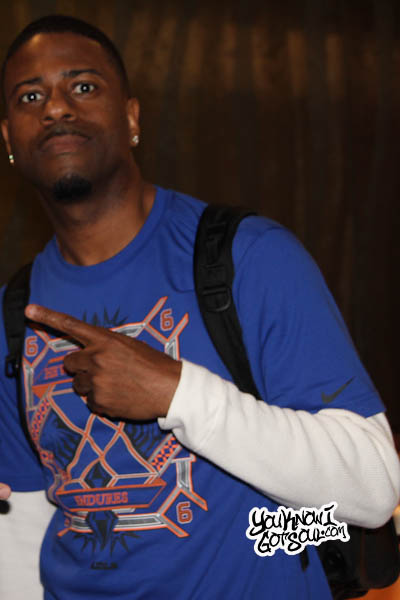 Although DJ Kay Gee made a name for himself as the producer of Naughty by Nature, he further built up his legacy by having huge success with his Divine Mill label. Not only did he launch the careers of Next, Jaheim, Zhane and Koffee Brown, but he discovered them and built them into the stars they became. He's now looking to do the same with his group Elite who he has reunited with to make another push. We caught up with him at the album listening party for Elite a few months back in NYC and discussed the sound he's creating with the group, how he originally discovered them, the legacy of Divine Mill, and what motivates him.
YouKnowIGotSoul: We're here at the listening party for your new group Elite. Tell us how you first discovered them.
Kay Gee: I put them together actually years ago, it's been awhile. I found them separately as individuals doing their own thing. I found K.O. with my man T-Lo from Next who of course is from Minneapolis as well. Chad is from Brooklyn, but lives in Atlanta so we hooked up with him. Boxie I had been working on as a solo artist. So I took them as individuals and put the group together and I've been working on them for a minute. We had a deal for them with Def Jam years ago when they were 16 years old, but when Def Jam was going through a transition, they were young kids and they didn't know what to do with them so they got dropped. I stepped away from working with them for a minute, but I thought now this is what the game has been missing. So the boys are back together and I thought we should give this group another try.
YouKnowIGotSoul: Talk about the sound you're helping them develop.
Kay Gee: I'm not trying to reinvent the wheel or do anything that's very different. I'm not trying to go over the top. I'm just trying to make great music. I just feel that right now r&b has taken a hit, so I want to definitely make sure I have traditional r&b on there because that's one of my strengths. At the same time, they're younger, they like trap music with them being down in Atlanta, so they want to do that as well. I know how big dance music is now, and I know you can't just have tunnel vision as far as music; you've got to expand your horizons. I'm trying to do everything with them.
YouKnowIGotSoul: You've had a lot of success with your Divine Mill label. What's the next generation of the label for you?
Kay Gee: I've got an artist out of Minneapolis, Chris Lawrence, singer/songwriter. Then I'm working on Elite right now, that's the new breed, that's the new sound and new wave of where I'm at right now.
YouKnowIGotSoul: When you look back on the artists you discovered like Next, Jaheim and Koffee Brown. How does it feel looking back that you created these stars?
Kay Gee: It feels great that artists I worked with are still around. Even Zhane is still out there doing their thing. Next is still out there, I talk to them all of the time. RL is actually on his way up here, I'm putting a project together with RL and Treach. Jaheim is still out there doing his thing. It's great to see that. I think it's definitely not time wasted when people love what you do. If you put a lot of time and effort and soul into this music and craft it, you just want people to respect it and love it and take it in. It just feels great that Zhane has been around almost 20 years now. Jaheim has been around 12 or 13 years now. It's great to see and hear that type of thing. That's the same I'm trying to shoot for with Chris Lawrence and Elite. I don't want to do disposable music because that's what it's become now. People sign artists for one record, and then you don't hear them or see them anymore. I'm not trying to do that, I'm trying to do get a legacy. I'm trying to create a brand, that's the best way to describe it like I've done before.
YouKnowIGotSoul: You've had so much success with Naughty by Nature, so much success with Divine Mill and all of those artists. What still motivates you after all of these years?
Kay Gee: The new cats that are coming out, they keep me going. I like what they're doing and it keeps me on my toes. As well as the new artists, the guys you run across that have so much talent. When you love this game so much, you can't walk away from it. It's hard, you've got to just fall out somewhere to totally escape it. It's not like playing sports where your knees will give out and that's a wrap. You've got to die. When you love it so much and put so much time and effort, that's what it's about.
YouKnowIGotSoul: Anything you'd like to add?
Kay Gee: Hit me up on Twitter @KayGeeNBN and the same for Instagram. Make sure hit up Elite @WeRElite3 on Twitter as well as Instagram. Make sure you hit up Chris as well. I'm always looking for great talent, I love it, this is what I love to do and I'm not going to stop doing it.