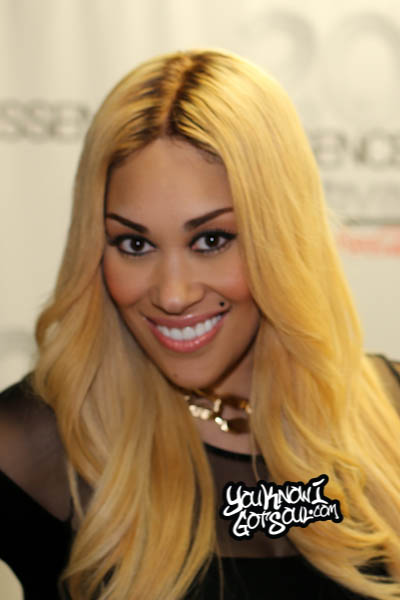 Keke Wyatt has always been known as a powerhouse vocalist whose music is constantly underrated among music lovers. Jumping on the cast of R&B Divas has certainly given her a platform to shine on a grander scale, and fans have been drawn to her quirky keep it real attitude. But did you know she didn't join the show just for the exposure? YouKnowIGotSoul caught up with her in the press room of the 2014 Essence Music Festival and discussed her recently released EP, plans for her new full length album, and her decision to do reality TV.
YouKnowIGotSoul: The new EP "KeKe by KeKe Wyatt" is out now. What inspired the project?
KeKe Wyatt: I guess I just got tired of doing it other people's way so this time I did it my way. It's not just r&b, it's country, it's rock, it's pop, it's hip hop; it's like a whole big pot of gumbo.
YouKnowIGotSoul: What made you decide to go the EP route instead of an album?
KeKe Wyatt: My fans. They were like "KeKe can we please have something now!" So I said "Ok" and I just threw it together and of course all of the songs I did were from my heart. I just put it out digitally. My LP is coming soon and it's going to be digital and physical.
YouKnowIGotSoul: What can we expect on the full length album in terms of sound and direction?
KeKe Wyatt: It's definitely me taking you on a journey. It's from r&b to rock to pop to country and all of that good stuff.
YouKnowIGotSoul: Are you releasing your new music independently or do you plan to sign with a label?
KeKe Wyatt: Yes, I released the EP independently with my company and my husband.
YouKnowIGotSoul: You are a powerhouse vocalist and so underrated as an artist. How do you feel appearing on "R&B Divas" has helped you get extra exposure?
KeKe Wyatt: If you're in somebody's house everyday on the television, that is good exposure right? I don't like everything that's been shown, but it is who I am to a certain extent, minus other parts, so I guess I just have got to live with it.
YouKnowIGotSoul: A lot of r&b artists are turning to reality TV to help promote their careers. Do you feel like that's a new wave of promotion for r&b?
KeKe Wyatt: No. I was just asked to do it so I just did it. I wasn't looking for some big whatever, I didn't care. However it happened, it was fine with me. Some people do it for the exposure and comeback, I didn't do it for that. I just did it because I was asked and I'm an open book and I like to show my fans me. So that's why I did it.
YouKnowIGotSoul: Anything you'd like to add?
KeKe Wyatt: Yes, please go get the EP. It's on iTunes and Google Play. And I love you so much!