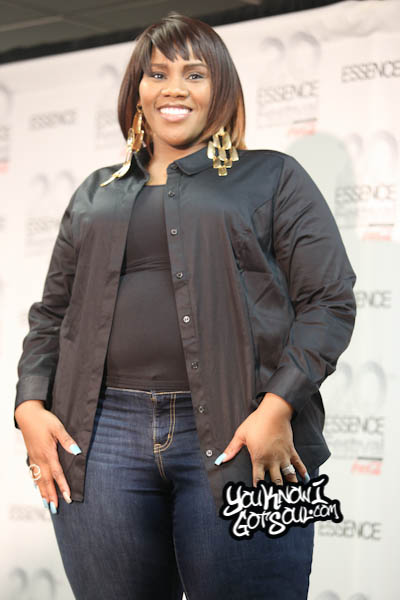 With the success that Kelly Price has had with her current single "It's My Time" and recently released album "Sing, Pray, Love Vol. 1", she's made a bold statement. After all, she received tons of hate after her appearance on R&B Divas (including from this site) and many vowed that they would no longer support. Despite this negativity, her single has become one of her highest charting and her album has received great reviews. Overcoming these obstacles is a testament to her not giving up despite the challenges she faced. At the end of the day, Kelly Price is still one of the most powerful voices we have in r&b, and what really matters is the music. YouKnowIGotSoul caught up with her at the Essence Music Festival this year and discussed the success of the album and the single and pushing forward despite the negativity from the show.
YouKnowIGotSoul: The new album "Sing, Pray, Love" Volume 1 is out now. What inspired the album?
Kelly Price: Life. I was coming up on my 40th birthday and started thinking about my entire life; what I loved about it, what I wanted to change about it, and what I wanted the next 40 years of my life to be like. Music is how I always express myself, so just out of nowhere these songs just started writing themselves. There were too many songs to only put it on one record, so this is volume 1, and we'll have volume 2 "Pray" and volume 3 "Love". By the time this trilogy is complete, we will have what I think is going to be an incredible and complete body of work.
YouKnowIGotSoul: How huge is it for you that your single "It's My Time" is top 5 at Urban A/C Radio as an independent artist?
Kelly Price: It is beyond huge. In a world of the machine, I'm out here just delivering what's in my heart and soul and working really hard. It's working. I'm really excited and proud of what this project is doing.
YouKnowIGotSoul: A lot of r&b artists are using reality TV as promo, and of course you were on R&B Divas. How do you feel like it helped elevate your career?
Kelly Price: Oh my goodness. The show did not help me at all, it actually turned a lot of people against me, but that's ok! What it did do for me, it taught me a lot because television is something I plan on doing a lot more of. I don't attribute the success of the new single to the show. I always say that because I never stopped doing music. When we started filming the show, we had just released the last album which was Grammy Nominated four times. Coming into the show for me was a little bit different. I came into the show because I wanted to see what doing reality TV was like.
YouKnowIGotSoul: Despite the negativity, you're still succeeding.
Kelly Price: Yea, it ended up being what I thought was a hurdle but ended up being a stepping stone so I'm grateful. No wasted experiences, I believe in that.