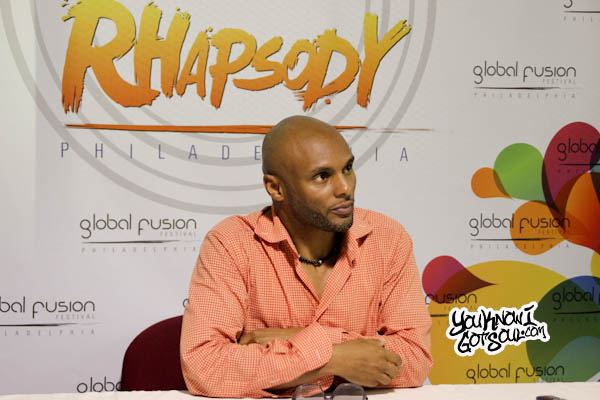 Wrapping up the coverage we did in Philly a couple of months back for the Rhapsody Global Fusion Festival, we got a chance to pose a question to Kenny Lattimore during the artist press conferences. As an artist who hasn't compromised their musical integrity over the years, Kenny is preparing to release his new project "Back 2 Cool" which will follow that same formula. He talked to us about his exposure, the length some artists are willing to go, and why he's willing to stay in his own lane.
YouKnowIGotSoul: Talk about the evolution of r&b. With the way it has evolved, you've never compromised your integrity, but does it ever get discouraging to you when some newer artists who might not be as talented get put into the spotlight ahead of you?
Kenny Lattimore: Sure. I guess every artist wants to have the type of exposure that Lady Gaga has. But Lady Gaga is a good artist. The reason I mention Lady Gaga is because we know her exposure is huge. Would I love the exposure of Lady Gaga? Absolutely. Would I do what Lady Gaga does for the exposure? Probably not, that's not quite who I am. I do understand the sensationalism and the characters. When we grew up as a kid, we had the Parliament Funkadelic and Sly Stone and Elton John even, they were larger than life. Chaka Khan was the hair. I think a lot of these young artists have learned branding at its best and I think as a result they've learned to connect it. When I came out as an artist, I think I was good, but in some areas I don't think I was great. I know that might sound strange, but I think I've evolved. When I stand on stage now I stand with a different confidence and understanding about why people appreciate my music. I don't compare it to the other artists, like "You do your thing, and when I come out I want to do mine". I'm going to learn how to stand in front of people whether they like me or not and make that connection. That's the way I approach it as opposed to resenting somebody else's success. I will never resent anybody else's success because everybody's path is totally different. Then you might have those who wish that they were me, but they don't know what I went through to make it here. Everybody's journey is different.