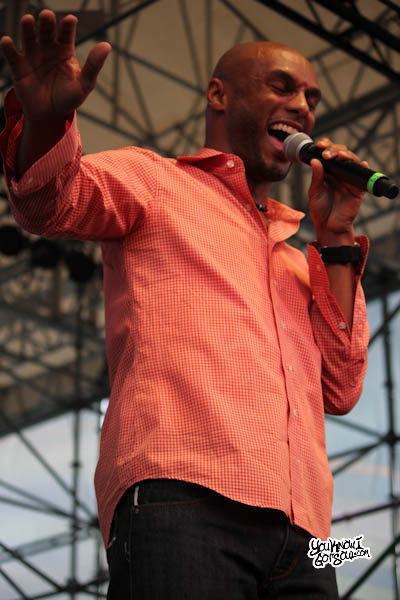 Much was made of the recent media reports that Kenny Lattimore was getting a divorce from his wife Chante Moore which led many to wonder what this would mean for his career. Well rest assured, he's better than ever, and is well equipped for the next chapter of his illustrious career. After discovering a new purpose in his music focused on touching the hearts of women and the minds of men, his new music is sure to be a hit with r&b lovers. YouKnowIGotSoul caught up with Kenny for this interview after a recent performance at BB King's in NYC. We discussed with him what to expect on the new album "Back 2 Cool", starting his own label, how his life ended up imitating the lyrics of the music he was making, and much more.
YouKnowIGotSoul: Talk to me about the new album you've got coming out "Back 2 Cool". Something you mentioned on stage was Carvin Haggins was the one who kinda helped you come back, and we're big supporters of his production and writing. Tell us about that.
Kenny Lattimore: "Back 2 Cool" was conceptually put together by Carvin Haggins and myself initially. The concept was one of reconciliation and it was I think something that when Carvin thought about it, he was just saying "Wow, what could be a powerful statement that we could really give to the world that would encourage everyone. Let's just start this idea." Carvin was gracious enough to allow us to take the song to his studio and work out some of the kinks and everything. We really started this thing with a very strong lyric focus and that is mainly Carvin's thing anyway. He has a great approach to melody making. So "Find a Way" was the actual first song we recorded fully and Raheem DeVaughn did some writing on that, it was just a fantastic experience.
YouKnowIGotSoul: Another thing you mentioned on stage tonight was in the last six months you really found your purpose musically.
Kenny Lattimore: I think that singing love songs for as long as I've been doing it, sometimes it just feels like "I'm a singer, I sing love songs" and then it's like "I'm a singer and I sing love songs" and there's a new purpose and new energy I feel about it. I know that when I did my "From the Soul of a Man" CD I was talking about the music saying the things that we don't always say because music does that for us. I began to embrace more on this CD the fact that I believe probably the purpose is speaking to the hearts of women and the minds of men and encouraging in love and in relationships and that's the purpose of the music in a larger scale.
YouKnowIGotSoul: In addition to the new album, you've also launched your own label, SincereSoul. You mentioned tonight that you were inspired by a few other artists who have gone the same route. Talk about that.
Kenny Lattimore: I went to see Jill Scott last year during the release of her latest CD and JR Hutson, who was her creative partner on that project, is actually the same creative partner on this project in terms of the completion of it. Even though Carvin Haggins was the catalyst that started it, JR is the producer that's finishing this. I want to do something like this, I want to do something where creatively I can be in control of what's happening musically with myself to show where I've grown and where I'm going. I don't want to feel like I'm competing with particularly other artists on the radio, but I do want to find a commercial appealing few songs as well if I decide to go wherever I want go to creatively. I want to make sure it was something that's tangible for the mainstream. At the same time I didn't want to isolate my fans of the past and I wanted to make sure I did things that I knew would be rich for them, which is that true r&b. Watching Jill do it, and eventually Tyrese and then Eric Benet and then Tamia; I knew I was on the right track.
YouKnowIGotSoul: You've been with a label since the late 80's. What's the biggest challenge of now taking this into your own hands and leading your own project?
Kenny Lattimore: Paying for it! *Laughs* Actually I'd have to say that all of the producers, including JR Hutson, really embraced me in a way and gave me so much love on this project that I think that they believed and that's been such a great thing. There are people out here that believe in me as an artist and they wanted to support what I was doing. It wasn't like I had anything to prove. A lot of them came in and said "We understand you're doing it for yourself." Some of the producers I worked on, I gave them their first projects and their start. Then I used a lot of other young writers that hadn't had any releases to work on this album as well and try to just pair them with producers so that the project in the end would be a labor of love in teaching and giving to people as well. The cost of it, I was able to keep that in control. I've been working as a businessman for a long time but I think that is still probably the greatest challenge, making sure that everybody is ok, I'm really about that. I like to be fair, and I want when people walk away from the project that what they gave was worth it and it wasn't just that they got swindled. I think everybody felt great about their contribution in the end. Lalah Hathaway, Shanice, Kelly Price, it was friends who really came in out of love for me.
YouKnowIGotSoul: Something else you mentioned tonight about the album was that you recorded some of these songs years ago and they weren't necessarily about what was going on in your life. Usually the process is art imitates life, but for you, it turned out that life imitated art. How did it turn out that way?
Kenny Lattimore: The interesting thing about the process of this album, when I began to record, my family was not in transition. I was not going through a divorce; I was not going through some of the things that the media has reported recently. It was almost like the more I sang these songs about change and how tough things can get, and even fixing and building and all of that, then my life started going through those songs; it was the weirdest thing. This is not an autobiographical album; I don't want anyone to think that. There's nothing on the album that would be negative towards Chante Moore. I think that she's absolutely amazing and beautiful woman and I wish her a tremendous amount of success with everything that she does. She's been in this industry for a long time and I know she has a ton of fans about her. I'm sure you'll probably hear something great from her soon as well. I am about love, real authentic love. That's what I want to give through the music and through my life. Even though the album storyline seems to have become a reality in my life, the end of this album is "Built to Last", that's the last song, and that's although life has thrown it all at me, this heart is built to last. I'm going to love again.
YouKnowIGotSoul: I love to get into the mind of an artist. You mentioned some of these things you weren't necessarily going through at the time. Is it hard to sing songs with so much feeling if you aren't necessarily feeling that emotion? How do you do it?
Kenny Lattimore: I think if you've been through it before you can sing about experiences that you've had. It is difficult to sing about things that you've never been through. You have to be like one of the finest actors. I'm sure when Denzel Washington or Robert DeNiro prepares for a role, you do some research and try to figure out where you relate and how you can say this is a way that an audience will believe it. However, when you're writing from a standpoint of reality, that's easier. I didn't want to write anything negative because sometimes when you write things and then they become hits, you have to relive those songs over and over again on stage. Even Mary J. Blige at some point said "No More Drama". I don't want to do that, I wanted to do something positive that reflects where my life is right now. That's part of the reason why I didn't try to make anything autobiographical. I do relate through the years of my life to my songs.
YouKnowIGotSoul: Anything you'd like to add?
Kenny Lattimore: The album "Back 2 Cool" is in stores on August 28th and it includes the hit single "Find a Way" produced by Carvin Haggins and Ivan Barias, Karma Productions. I am really excited about going on tour and seeing you, so if you want to know where I'm going to be, go to KennyLattimore.com, follow me on Twitter @KennyLattimore, go to my Facebook page is Facebook.com/OfficialKennyLattimore, check out my Instagram, see the world through pictures through my eyes.