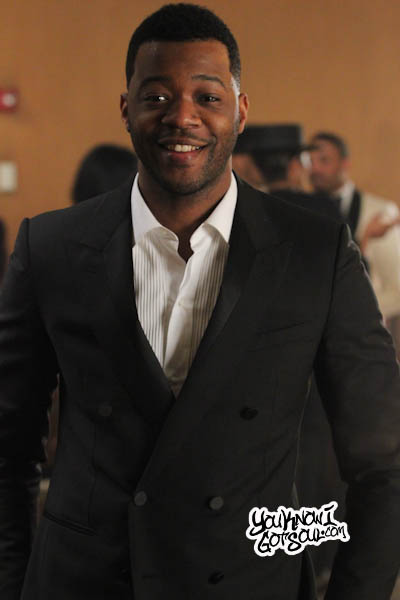 Hit artist and songwriter Kevin Cossom sits down to talk with us about some of the biggest moments of his career so far including his first placement on the track with Lloyd Banks. He also talks us through the process of how the Keri Hilson joint "Knock You Down" came together and also talks the solo material that he has lined up for everyone in the near future. Finally, he weighs in on the Chris Brown/Frank Ocean Twitter situation.

YKIGS: I know your first placement was Lloyd Bank's "Karma". I read you got that opportunity after meeting with 50 Cent at his mansion. How did you get a chance to meet him?

KC: That was from my manager. At the time, he knew one of 50's security guards because the security guard used to do security for my manager's company called Front Line which is a promotion company around Orlando. He was working for them at the time and then he became 50's security guard. Eventually my manager gave the CD to the security guard. The security guard knew about me and kind of big upped me and I think G-Unit brought in the roster. 50 liked one or two of the songs off my demo and I was in New York, I had an opportunity. They wanted to meet me. I was already doing some work in New York and then I got an opportunity to meet 50 at his crib and just talk to him, which was a cool experience in itself because meeting 50 at his crib after he had just moved into that huge crib everyone was talking about. It was crazy. It was really just that connection that security guard and a favor from God.
YKIGS: What was the feeling like when you found out Avant was going to be replacing you on the radio version of the song?
It was one of those things where I was kind of prepared because of the way they were kind of talking. We told them "If you do a video for it, make sure you look out for us because we feel like it's going to be a single." They were like "Nah, we don't think it's going to be a single. If we do though, we got you." Long story short, that happened to become one of the most popular joints on that album. It was just inevitable to make it a single. The fact that I didn't do the deal with G-Unit played a part in me not being in the video and then them calling it a remix when it was the exact same thing. I kind of prepared myself in that I knew they had no attachment to keeping me on the record and Avant had just signed to Interscope. G-Unit is the sub-label of Interscope, so it just made more sense to put an artist that they just signed on one of the hottest songs that they have, just to give him that extra promotion because he was about to put out an album. In a way, it was cool because I was doing the album version and I was just excited that I was doing something with G-Unit. I'm from a small town like Orlando and I had an opportunity to be on a major record that really opened some doors for me. It was still a good look. It was my first taste of the business. I felt my friends and family were more upset about it than me. It was definitely an experience though. I get it though, it's business.
YKIGS: What is your writing process when you're in the studio?
Shoot, my writing process is just vibing. If I'm in with Danja, if we would already have the track set up, we just vibe out. We play around on the keyboard, play some chords or maybe start with some drum programming. We just vibe together. He'll see what moves me and I'll kind of hum some melodies and see what moves him. As far as what I'm writing, I just get in the booth. If I haven't already thought of it, I kind of hum melodies around, get the melody and try to get the vibe of the song then I just put my lyrics to the melody. I don't really write it down, just straight vibe. If I need to, I'll jump in the booth and just vibe out and kind of freestyle some ideas and get some melodies going. Once I get something I like, I'll just take it from there and put the words to it. Most of the time, the track will tell the mood. Should it be happy or sad? It will give me the mood that I should try to capture most of the time.
YKIGS: One of your biggest songs that you've written to date is "Knock You Down" for Keri Hilson. Did you expect the song to blow up like it did? Did you already have Ne-Yo and Kanye in mind when you were writing the song?
That was something that kind of happened as we went along. Yeah it did blow up pretty big. I don't know if you expect, especially if you've never had it before, it to be number one. We say it a lot like "This is our number one", but for it to actually happen is a cool feeling especially for someone who hadn't had that before. When we did the record, I felt good about it. I felt the beat was crazy and I liked what I did to it. It was crazy because Danja sent it to Polow and he heard it for Keri. Keri was hot at the time and a few people wanted to work with her. She ran into Ne-Yo and he was like "Yeah I want to do something with you!" This happened to be one of the last songs we did on the album, so it was perfect. Ne-Yo then jumped on the record and I was like "Yo this would be pretty cool." As far as the writing goes, I wrote everything before that. Of course, Ne-Yo is a writer so he was like "Send me the joint without the second verse", so we sent him the record and he wrote the second verse. Then we had a Ne-Yo and Keri Hilson record. During that time, Keri did an EPK for this song called "Make Love" and Kanye West was her love interest. During that time, Kanye told her that he wanted to do a record with Keri on her album. It happened to be "Knock You Down". We already had Ne-Yo on it and now Kanye is now interested in being part of the record, and at that point it's kind of like "Wow hold it, this has the potential to be real crazy." Still, you just never know, but for it to be as big as it was with it being #1, Grammy nominated and the video having to be retired on 106 because it was playing too much, it was just a crazy feeling. We feel good about what we do every day, but you just know never know what's going to happen. For it happen to happen like that, it kind of unfolded like "Yo Ne-Yo wants to be part of it. Yo Kanye wants to be part of it. Yo this is crazy!" *Laugh* As soon as I heard it on the radio, it was like "Wow" because I knew it was a smash once I heard it.
YKIGS: A couple months back, we saw you along with Danja in the studio with Brandy. Tell us about what that experience was like and tell us a little bit about the song.
We were in the studio with Brandy. That was for the show. Brandy is real cool, humble and talented. I didn't get a chance to go all the way in with her yet, but the time spent in the studio was cool. She had been doing it for a while so it was definitely an honor. It's like "Yo you're Brandy!" I remember listening to her back in the day. It was just a cool experience being in the studio with her even for the brief amount of the time I was in there with her.

YKIGS: Tell us about the mixtape you just put out "By Any Means" and what would you say is the biggest difference between this one and your first mixtape Hooks Vs Bridges.
The biggest difference is that I did more freestyles over other peoples' beats. It was more Hip Hop-oriented, I was rappng a little bit. It was definitely a little more rap based. Not too many originals on there. "Hooks Vs Bridge" was straight original records. We didn't have the DJ cut in and all of that, it had more of an album feeling to it. This was more of a mixtape flow to it which is cool because we circulated a lot of attention. It got over 200,000 downloads over a few days. That was pretty much the difference and I just wanted to put out more music out because I feel like I'm always going growing. I'm always doing different things and playing with different sounds so I just wanted to get more music out. With the way the game is today, you have to be able to put music out and keep your name out there to stay hot. That's what I wanted to do. The thing about it now is that a lot of people who just found out about me from "By Any Means", if they didn't do the research with "Hooks Vs Bridges", basically I'm working on another mixtape right now as well as the album. I think it's coming out amazing, I feel good about it. I can't wait to release it. The next mixtape will be all original again. I'm excited about it man, I'm not even going to lie.
YKIGS: Talk to us about the new album you're working on and what we can expect from it as far as the sound. Is it going to be similar to the mixtapes you have out?
It's definitely more of an album-feel than the mixtape, but it's still a continuation of what I've been doing with aggressive drum programming and sweet melodies. As far as production goes, I've worked with Boi Wonder, Hit Boy, Chase N. Cashe, Danja, Bangladesh, The Runners, The Lottery. I got a lot of different producers on it that I've been working with recently. I did some cool stuff. Conceptually, it's relationship, it's boy meets girl. It's just different things that a person goes through. Just different scenarios, relations between men and women. Some of them are party joints, feel good joints, heartbreak joints. I try to give a little taste of everything and not give just one side of what love may be. Some people just look at the happy stuff, but that's more to it. It's going to be cool. I feel really good about it. I haven't really had a chance to sit down and put all of the songs together and listen to them how I want to yet. I've just been recording, so we'll do that soon and start developing that playlist to where we feel good. Right now I just got a bunch of joints.
YKIGS: I read that you've been doing songs for Justin Bieber and that the sound is going to be more edgier and mature. Have you had the chance to get in the studio with him yet?

Yeah I did some stuff with Bieber with Bangladesh, The Runners and Danja. I haven't had a chance to get in with him, but they definitely like the records. One of the records was kind of edgy, the other one is more acoustic feeling. It's three different producers, so it's going to be three different sounds. I feel like the records are dope though. He actually walked in on a session of mine one time. I don't know if it was on purpose or accident, but that was the first time I met him. I haven't got in the studio with him, I don't know when he starts recording to work on his next album. They definitely love the records though, so we'll see. Also been going in with Joe Jonas. We did about five joints for him, he's coming out with a solo project. I got a joint that I did for Ace Hood and Chris Brown called "Body to Body" and also a track that I'm on for his album that's about to come out. We actually don't have the title it yet. *Laughs* I did some stuff for Mary J Blige. I've definitely been working, besides doing stuff for myself which is the main focus for a little bit.
YKIGS: You're working with basically everyone right now. Is there someone that you want to work with?
At this point, it's a lot of people that I want to work with. I'm a fan. I'm a fan of a lot of people. It'll be harder to name them all than to name the people I wouldn't want to work with, but I wouldn't say that. *Laugh* I'm just a fan of a lot of different people Anyone who is changing the game and doing it their way with their own sound, I'm a fan of that. As far as the album, I don't really have any features yet. We're kind of figuring that out now to see who would want to be part of the project. As far as rap goes, there's so many people killing it between Wayne, Nikki, Drake, Ross and even Jeezy is starting to make that come back. We've been chillin' on Big Sean. There's so many people so it's hard for me to be like "Yo I want to work this person or that person", I want to get in with them all.
YKIGS: I want to ask you, on Twitter a couple of days ago, you saw the whole thing with Chris Brown and Frank Ocean. Do you feel people are starting your talents with Chris Brown acknowledging what you can do?
Yeah, definitely. I think it's hard to get people to actually jump out and give props. I've known Chris for a while, did some writing for him on his album before "FAME". It's cool that he did that and even though it was more aimed towards Frank, I don't think it was a diss. I think it was definitely a compliment. It wasn't like "I mess with KC", it was "I mess with Frank, he reminds me of KC". It's still different ways you can look at it. I want it to be like "I mess with KC" and not Frank because he sounds like me. That's just the way the game is. Frank is on, he has a joint on the radio, he's pumping, he's the new guy. People are going to come at him and decide whether they like him or not. As far as me, I'm glad I was even mentioned in it that people recognized the talent, but I want to be further than just the guy people have to figure out like "Damn how come he isn't winning yet? He should be everywhere." I don't want to hear it that anymore. I'm trying to do what I have to do to make sure that I am that guy that's winning and not the guy that's underrated. It's cool though, I just did a joint for Chris, like I said with Ace Hood. We tweeted about it and he gave me my props for that too. I mean it's cool for people to recognize what I'm doing and more people starting to look to me and even on my Twitter like "Thank @ChrisBrown for showing me @KevinCossom, he's dope!" It's promotion, so it is dope. You definitely want to get it from your peers. That's definitely a good feeling. I think it's definitely true that people don't like to be compared to other artists, especially if they're current artist. If he was like Smokey Robinson or somebody that's not in the game right now, maybe it would have been different. Or maybe Frank doesn't care like that. *Laughs* It was promotion, you keep it going. We got to keep killing the game!