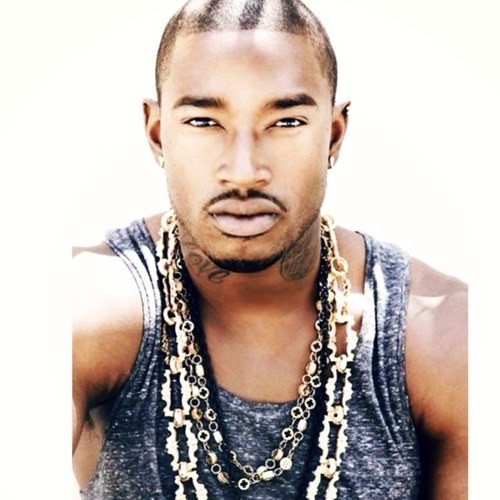 Talent or no talent, a co-sign from r&b's biggest star Chris Brown could easily turn you into a star overnight. Kevin McCall has that co-sign, but in addition to the backing of an r&b superstar, he's also got loads of talent to go along with it. A triple threat who has built a name for himself over the years crafting hits for other artists like Chris, Keri Hilson, Justin Bieber and Dirty Money, it seems like only a matter of time before this star gets to shine on his own. Following the same path of Tyrese out of Watts, California, it's only right that he also has a talent in rapping in addition to singing. The self proclaimed "Male version of Lauryn Hill" will look to make his mark with the release of his upcoming mixtape "The Definition". YouKnowIGotSoul caught up with him during a recent promo run in NYC and discussed his roots as a singer, linking up with Chris Brown, his creative process, what to expect on his new mixtape, his debut album, and much more.
YouKnowIGotSoul: You attended college on a football scholarship and eventually graduated. When did you first realize music was what you wanted as a career?
Kevin McCall: I first knew I wanted to do music for a career when I was in my early teens because I saw how my cousins and aunts, I used to be around them a lot, I saw how they reacted to Boyz II Men and Jodeci and people like that. I kinda wanted to get that reaction out of women. *Laughs* It was just kinda fun even seeing Tyrese make it and I knew I could do it. At 13 I probably realized this was something I wanted to do.
YouKnowIGotSoul: You graduated from college in 2007. What was your first break in terms of getting into the music industry after that?
Kevin McCall: I was really hungry when I first graduated school. I tried to be in all of the Jook joints, all of the live acoustic instrument clubs that allowed you to stand up and do karaoke. I started meeting producers and even people who played in my church at the time. Even just being on MySpace, I started running into people and just started using those connections and being in the studio. It wasn't until I met Chris' right hand man Little Meho, I met him through my frat brother Big Meho. I know all of these Meho's are probably confusing. *Laughs* Little Meho would basically drop the dime on where Chris was at the various studios because that's like top secret. It's just closed sessions like you can't just get into those sessions. Luckily Little Meho believed in my talent and he knew that if we were around it was only a matter of time before me and Chris would work. Shout out to Little Meho for dropping the dime.
YouKnowIGotSoul: You began producing and doing a lot of writing for other artists and had a lot of success with it. Was that something you ever thought you could focus on primarily or did you always still have dreams of doing your solo career?
Kevin McCall: The writing and producing thing wasn't even something that I thought of at all. It kinda just happened by accident. I've always been an artist first. It's just a lot of the songs I've found success with, they were just songs I wrote for myself and gave away. It's not like I just gave them away all for nothing, it was for the better because those songs did a lot better than they would have done with me doing the song. That's a blessing that I could take something that I was married to and take off the leashes and give it to someone who's going to make it a bigger purpose.
YouKnowIGotSoul: I have a lot of respect for artists like yourself who can write and produce and create music organically from the start. Talk about your creative process.
Kevin McCall: One of two things has to happen. I could either draw from my sad place like a heartbreak or if I'm mad or didn't like how the boss treated me at work; I could draw from those and make good music. Other than that, I need to be in a happy place and a peaceful place where I could make songs that are about love and classic and that really talk about love. This is kinda missing today in music. Sometimes if I'm making music that's for the ladies, I might need some ladies around in the background or a party type scene with some drinks and the lights dimmed and that type of vibe in the studio.
YouKnowIGotSoul: You mentioned Chris Brown earlier and how you got to work with him. When did it become official that you were part of his label?
Kevin McCall: It was after we did the first mixtape "In my Zone". He really saw what I could do as a producer/writer/rapper/singer and he's like basically "I can't let anybody else get you, you're talented and I believe in you". So he helped me and put me on the team and we just started to make more and more music. We developed a sound and people still like that sound today. If it's not broke then don't fix it, we're going to still keep making hits.
YouKnowIGotSoul: You're currently working on "The Definition" mixtape. Tell us about that.
Kevin McCall: It was a lot of confusion in my career in the beginning, people didn't know if I was a rapper or singer or producer. The answer is I'm all of those things. I want to in this mixtape define who I am as an artist. Also, I want words to jump out at people like "young, fresh, cool, creative" and I think that's what this mixtape is. I think I called it "Definition" because everyone knows I'm Team Fitness, I'm all about fitness, and when muscles are defined, you can really see muscles and the hard work that you've been putting in. I want people to see all of the hard work I've been putting into my music as well.
YouKnowIGotSoul: Something I've been reading about you is you consider yourself a male version of Lauryn Hill as someone who is soulful but raps too. Do you think that will be reflected in this upcoming project?
Kevin McCall: It definitely will. Another thing I liked about Lauryn is she sang songs and did songs with substance that kinda educated the people. With me being an educated black man, I think it's important I don't dumb down my stuff because people always say "dumb it down so it's for the club!" You do have to do that too, but I'm trying to mix the two and still have some substance and things you can take home too when you're old.
YouKnowIGotSoul: With triple threats like yourself who can sing, write and produce, I feel like sometimes the music is more real and heartfelt. Do you feel that's the case when it comes to your music?
Kevin McCall: I feel like it really can be confusing when you do so many things and stretch yourself thin. It's kinda hard to be great at one thing. What I do is I rotate them, I focus on one at a time. If you can kinda imagine a revolver that goes around. I focus on my singing but my rapping might be a step behind and my producing might always stay the same. I just keep revolving them. I might hear a hot song by an artist and feel "Ok I gotta get back on my writing." I get back in the lab and it's just like practicing and being on the football field. If you're not working on your cuts or in the gym lifting, you're going to be a step behind the reset of the competition. I just try to work on all of those muscles, and sometimes I fall back, but that's why it's really good when you're in a good space and making creative music and riding that wave to make as many songs as you can. So if you do have a dry spell, you can just pull from those old songs from when you had that stroke of genius.
YouKnowIGotSoul: Looking past the mixtape, will the debut album be coming soon after?
Kevin McCall: Yes, the debut album will be coming soon. My goal is just to make myself more aware to the streets and also to the rest of the world. Then I'll put out an album because then I'll feel like my music will be appreciated. I don't want to be basically a diamond in the rough. If you picture a diamond in the coal mine, what good is it doing in the dirt if you can't even see it shine? I want people to know who I am before I even put out the album. That's what this mixtape is going to do.
YouKnowIGotSoul: Are you currently working with any other artists doing writing and producing or have you worked with any recently?
Kevin McCall: I just worked with 2 Chainz, he's on the mixtape. I just did some new stuff with Chris Brown in the studio. I've got Travis Porter working with me. I'm going to do some new stuff with Marcus Canty. I've really just been focusing on my project and making sure I have the right material to please my fans and also to wow people. I want them to be surprised when they hear it like "Wow, that's cool".
YouKnowIGotSoul: Anything you'd like to add?
Kevin McCall: Make sure you follow me on Twitter @KevinMcCall and also check out my website IamKevinMcCall.com for updates on the new music, pictures, tour dates, etc.