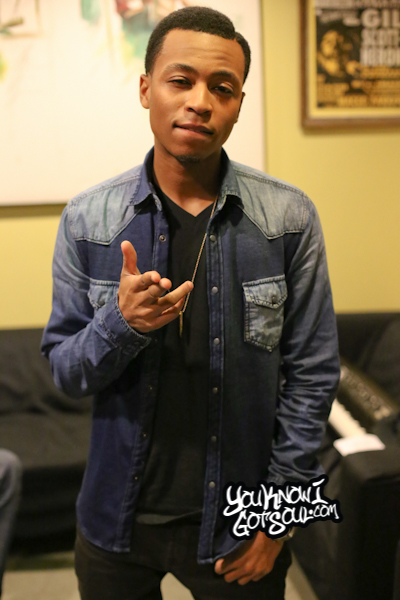 Things have really progressed for Kevin Ross since our first meeting and interview with him at the 2014 Essence Music Festival. Not only has he toured with Maxwell and Ne-Yo, and released his "Dialogue in the Grey" EP, but he's also become the face of the new Glade "This is My Wish" campaign which has brought a ton of recognition his way. That's not even to mention the huge singles he wrote for Trey Songz. 2014 was a great year for Kevin Ross in terms of increasing his identity, and 2015 is poised to be the year of his breakout success. With Motown Records backing the cause, all of the pieces are lined up. YouKnowIGotSoul once again sat down with Kevin Ross, this time prior to a recent performance in NYC, and discussed leading the Glade campaign, reaction to his "Dialogue in the Grey" EP, touring with Maxwell and Ne-Yo, his upcoming debut, and more.
YouKnowIGotSoul: You're all over TV right now as part of this Glade campaign "This is My Wish". What does it mean to be a part of something like that?
Kevin Ross: It's a blessing for me and Glade to do such an amazing partnership. I feel like I'm really favored and God is definitely moving in an awesome way in my life. Just to see how the record is moving up on iTunes right now. It's number 2 on R&B. It's really great that people resonate. You never know when you create something like that if it's going to resonate with so many people and touch them. It's been amazing.
YouKnowIGotSoul: I was reading that you picked your favorite Glade scent and it inspired you to create the music. How did it all come together?
Kevin Ross: Pretty much me and Glade talked about it and our theme was basically scent inspires feeling. When I smelled "Sparking Spruce" for the first time it brought me back to Christmas morning; going downstairs, opening up presents, being around family and feeling that love. I went downstairs in the basement where my studio is and just really hashed out the chorus. The song was already created, they did one version last year with Jordin Sparks which was amazing. I wanted this one to fit who I was as an artist so I had to reproduce the record along with Troy Taylor and Ezekiel Lewis as well. We really created something that we thought was special and Glade felt the same way. I'm glad that the people feel the same way too.
YouKnowIGotSoul: You recently released your EP "Dialogue in the Grey". How have fans been responding to it?
Kevin Ross: Man, "Dialogue in the Grey" is an awareness project. I knew that when putting it out that it wouldn't be a sudden rush of fans or people to say "Oh my gosh, this music, we love it!" With music, it has to be worked. You've gotta go out there and tour. I've been blessed to go on two tours, the Maxwell "Summer Soulstice" tour and I just did Ne-Yo's "Non-Fiction" tour a few weeks ago. With having a product and then going on tour, it brings more awareness and you get more organic growth as far as a fan base. People feel like they are watching you develop and progress. They have more invested in you. That's important nowadays as far as artists, they need to feel like there is something connecting us all. I feel like the people rocking with me are rocking me grow from the first time seeing me on tour to this Glade commercial.
YouKnowIGotSoul: Talk about some of this touring you did. I remember as you were on tour with Maxwell, seeing you ReTweet many fans who were discovering you for the first time and loving it. What did you learn most on that tour?
Kevin Ross: Maxwell is one of my favorite artists and just going through his catalog and just understanding he gave me some great tips on the road. One thing he told me was "Always do the records that you love." He meant that if I pick out a single, you may not always want to go with what the record label wants to go with, you want to go with something that you can sing 10 to 20 years from now. That meant a lot coming from him because he's 20+ years into the game, so for him to say that and pass that knowledge down, it only felt right to share that with everyone else. There's nothing worse than to sing a song for 10-20 years that you never really liked.
YouKnowIGotSoul: How about the Ne-Yo tour you recently came off of?
Kevin Ross: He is super cool. Salute to Ne-Yo and Motown Records. Motown really supports me and trusts and believes in what I do as an artist. Ne-Yo was one of the first people to get into the studio with me. He listened to the records, commented on the records, and then jumped on the records. He heard "Dream" for the first time and was like "Dude, I just want to do backgrounds on the record!" He went in there and did backgrounds! Then he said "You know Overrated from 'Dialogues in the Grey' is one of my favorite songs!" So I had him hop on it. He played it for 30 minutes and came up with an amazing verse. I'm blessed to have both Ne-Yo and T.I. on "Dialogue in the Grey".
YouKnowIGotSoul: You mentioned making music you'll love 10-20 years down the road and not just for the moment. I know a lot of your influences are some of the legends of r&b from years past. How do you manage to bridge the gap between the legends of r&b and what's current?
Kevin Ross: To me it's not that hard because I am of my generation. I don't wish that I was born 20 years ago. I love where I was born. I'm right in the place where I need to be. It just so happens that my parents were playing Marvin Gaye and Donny Hathaway and Stevie Wonder in the house; that's just in me. I still love what's on the radio too. You can't deny that. I am the bridge. A lot of up and coming artists, we are the bridge to bridge the gap between this progressive world and what we call Urban A/C. We need to bridge that and that's what we're doing and that's what I intend to do as well.
YouKnowIGotSoul: You've had success writing for other artists such as Trey Songz and Johnny Gill. How do you manage to balance working on your own music and creating for others?
Kevin Ross: When I go into the studio I know exactly what I want to hear from myself and having conversations with different artists and seeing what they want out of their project. With Trey, I have four songs on there. I have "Touchin Lovin" with Nicki Minaj that went number one on rhythmic, "What's Best for You" which went #1 on Urban A/C. It was fun for me. I enjoy listening to the radio and staying current and staying ahead of the curve. For me, I have a good time. When it's time for me to go in with my own stuff, that's a whole different thing. I know how I want to sound and how I want to sing on stage. It's all about me connecting with the audience; if I don't believe it, you guys won't believe it.
YouKnowIGotSoul: What's next from you?
Kevin Ross: 2015 hopefully some more tours. I know for sure we are going to drop my LP in 2015 in the Spring. I'm really excited about that. We're dropping my single "Dream" in January. The video will be out soon. There are several visuals that go along with "Dialogue in the Grey". My first album will be a lot more brighter and in depth about who I am and where I stand; my morals and my beliefs. I'm excited for the world to hear it. Hopefully they will accept it and it will resonate as well.
YouKnowIGotSoul: Anything you'd like to add?
Kevin Ross: Follow me @KevinRossMusic on Twitter, Instagram, and Facebook.