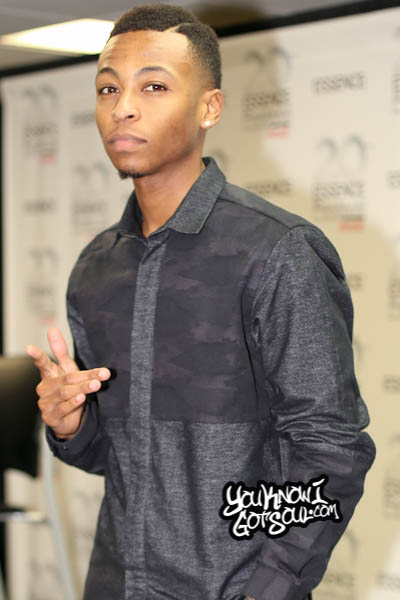 From an outsider's point of view, it would be easy to assume that education and the music industry are not connected at all. However, Motown artist Kevin Ross would beg to differ. The singer/songwriter started his journey by going to school at Berklee College and perfected his craft at school. The hard work has paid off for him as he was handpicked by Maxwell to be opening act on Maxwell's "Summer Soulstice" tour. Kevin Ross has also been dubbed as the next big star by Ne-Yo. After spending some time in the background as a songwriter for artists like SWV, Johnny Gill and Trey Songz, Kevin Ross is ready to put out his EP "Dialogue In The Grey". YouKnowIGotSoul had a chance to speak with Kevin Ross at the 2014 Essence Music Festival about his project, his influences growing up and his songwriting experience.
YouKnowIGotSoul: You have a lot of old school influences, so talk about your sound a little bit.
Kevin Ross: My sound is R&B/Hip Hop. I grew up on old school music such as The Stylistics, Marvin Gaye, Stevie Wonder, Donnie Hathaway, Curtis Mayfield and Smokey Robinson. You name it, I've listened to it and you can hear it in my music. It's a mesh of the old and the new. Here I am trying to bridge the gap.
YouKnowIGotSoul: I noticed on stage that you can play keys. How did you develop those skills?
Kevin Ross: I picked it up in college. I went to Berklee College. Just being around dope musicians that were way better, I was like "What's that?" and I caught onto it.
YouKnowIGotSoul: You mentioned you went to school for music which is rare in the music industry. What kind of advantage is that for you?
Kevin Ross: It didn't give me an advantage, it gave me time to grow up and gave me to develop as a man and an artist. I think that there's no shame in being 17 and going after your dreams, but if you have no clue on what you're trying to do like myself, college is a great option to do. I encourage everyone to go to college if they can afford it and they're able to.
YouKnowIGotSoul: As far as college to Motown, how did that whole transition happen?
Kevin Ross: From college I moved down to Atlanta and I started off as a writer. I was writing for a minute and then I ran into my manager Ezekiel Lewis. We really bonded and he heard some of the stuff I was doing. He was like "We can get you signed!" I was like "Alright, let's just see". Ethiopia Habtemariam who is now the President of Motown, we were introduced at BET Music Matters and she thought I was dope and signed me. Two years later, here I am.
YouKnowIGotSoul: You mentioned you're going on tour with Maxwell soon?
Kevin Ross: Yes I'm going to be opening for Maxwell.
YouKnowIGotSoul: And I know you had a placement on SWV's last album?
Kevin Ross: Yes and Johnny Gill as well. I have four records on Trey Songz's new album, so I still dabble with writing here and there.
YouKnowIGotSoul: How do you gain that respect from the veterans?
Kevin Ross: I think it's about what you bring to the table and you being fearless about your ability and talent. I've been blessed enough on this new project that I have called "Dialogue In The Grey", I have T.I. and Ne-Yo on the project. I remember on one of the songs, I played Ne-Yo a rough version of the song and he was like "Man, I just want to get on backgrounds for it". Of course, we ended up doing a song together but I think that it's a humbling experience for veterans in the game to respect you. It all comes from mutual respect and being bold enough to show your talent.
YouKnowIGotSoul: For your upcoming project, what producers and writers have you had a chance to work with?
Kevin Ross: Including myself because I'm producing a lot of this, there's some up comers such as J Kicks, Mayo and SK. Shout out to Troy Taylor and Ezekiel Lewis for executive producing the project. Motown is backing it, so I'm truly humbled by it and they let me do me. They let me do my thing and you can't ask for anything else as a new artist. There are so many instances of stuff like "You got to make it to radio!". I was blessed enough to do a project that I wanted to do sonically.
YouKnowIGotSoul: For your album, how do you kind of balance what's true to you and what's current on the radio?
Kevin Ross: As a writer, that gave me a great sense of it because you have to keep your ear to the radio and all the platforms that are out there. There's always music that's going on every day. You have to be aware of it. You can't just call everything garbage. With that being said, I found that balance. I figured out what was dope and what was happening on the radio. I found a happy marriage, so I think my upcoming EP "Dialogue In The Grey" will display that.
Follow Kevin Ross on Twitter @krossonline.