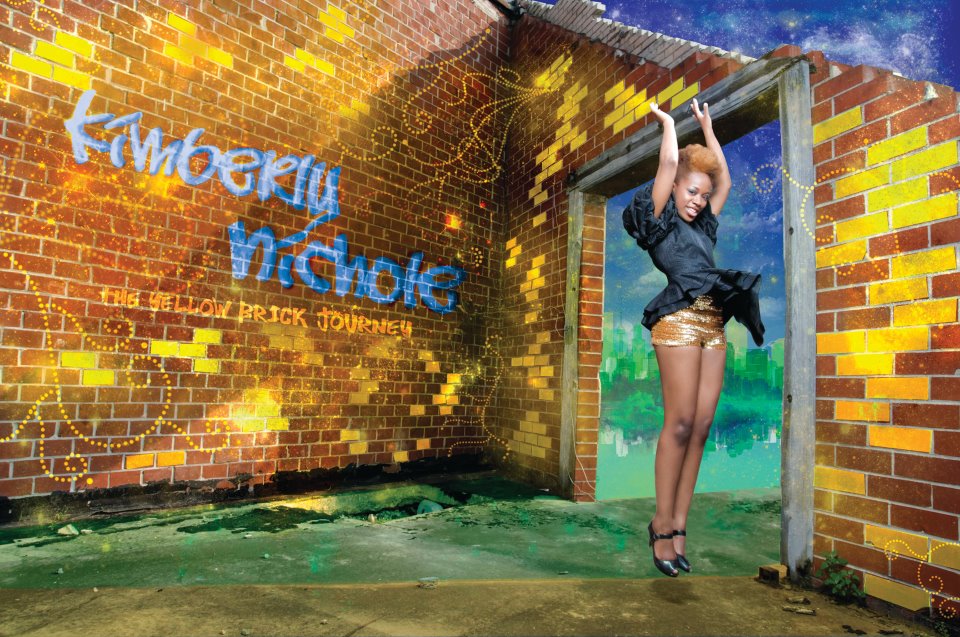 Bridging the soulful gap between grunge and gospel, Kimberly Nichole a.k.a. the Rock Ballerina made her indie soul debut in 2009 with The Yellow Brick Journey. Since then, she released the Reloaded version earlier this year and most recently dropped The Rock Ballerina EP for free now at KimberlyNichole.com. YouKnowIGotSoul had an opportunity to converse with Kimberly about her Seattle upbringing as well as receiving the stamp of approval from icons like Ashford & Simpson, Quincy Jones and Andre Leon Talley.
Interview by Akim Bryant
YouKnowIGotSoul: Who is Kimberly Nichole?
Kimberly Nichole: Seattle born rock ballerina.
YKIGS: Is Kimberly your real name?
KN: Yes, my mother named me Kimberly Nichole.
YKIGS: When it comes to your stage performances, even when you're not on stage, you have a personal style that works best for you. It's very unique. How would you describe it?
KN: I really love classic pieces. I love vintage clothes. I'm really inspired by the Harlem Renaissance and the timelessness that the women exhibited in their dress. When I shop, I always have that in mind when I'm picking out things. As far as my performance attire goes, I always perform in a custom made tutu. That of course came the whole ballerina thing.
YKIGS: Are you a trained ballerina?
KN: Some people ask me that. No, but one day I may learn. The whole rock ballerina came about because Ashford and Simpson are two of my mentors, big supporters of mine, and Valerie spoke about me during an interview for Vogue magazine. She said "Kimberly Nichole is a rock ballerina, wild and wonderful." I just ran with that and that was like the perfect statement. It really described me.
YKIGS: So is that where the tutu came into play?
KN: It was before then. In 2009 I started doing a collaboration with my best friend's mother in law who is a designer and a seamstress but she specializes in classical tutus because her son has a ballet company for children. So we kinda collaborated. There was a vintage dress I bought and I told her I kinda wanted her to embellish it a bit, take things apart and make it new. She added in the tutu bar, she put Swarovski crystal on there and it was a white cute dress, one of my favorites. We've made a total of almost ten since then.
YKIGS: It's incredible to look at on stage.
KN: Thank you! It's fun.
YKIGS: Considering how unique your style is and it's really in tune with your music and stage performance, are there other artists you look up to such as Lady Gaga who is known for her style?
KN: Yea definitely. I really appreciate artists that, as a creative person, there's always things you think about when you're in the zone. Whether it's me putting on a tutu, it makes me feel some kind of way, I feel like I have a performance attire. Me personally as an artist, my mother always taught me, "Kim you have to look the part and you have to sing part. So get up looking good and give a show and sing your heart out." So that's what my mother taught me, she's a baby boomer, she's all about the Motown era. I definitely appreciate artists that take time and think about what they're wearing as well. That's not the most important, but to be physically appealing on stage is a good thing.
YKIGS: It doesn't hurt!
KN: It does not!

YKIGS: So you reside here in Harlem now. You're originally from where?
KN: Seattle, Washington!
YKIGS: What was it like growing up there?
KN: I enjoyed my childhood in Seattle. My parents are from the south so they moved to Seattle in the 70's and married in the 80's and had me and my sister during that time. I think I always had a balance. My parents were brought up in the Southern Baptist Church so they raised me and my sister in the church with gospel and r&b and soul music. Seattle is definitely a city that gave birth to the grunge rock movement so that also influenced me. It was fun growing up, I had friends that are dear to me to this day that I grew up with in Seattle. So I appreciate my childhood in Seattle.
YKIGS: Now grunge and gospel are not two G's that necessarily go together! *Laughs*
KN: *Laughs* Why not! I think they do!
YKIGS: But they work for you!
KN: I think they do. I think about rock and roll, rock and roll was birthed from blues. Blues came out of the church and sharecroppers, so grunge does go with gospel. It's a passionate, moving type of music with a lot of intensity in it. I grew up listening to shout music, loud rock with guitar, drums and organ chords. All of that spiritual height of the church. You also have a height that's not like that, but similar, same type of passion in rock and roll as well. So I think they are very much similar.
YKIGS: *Laughs* Your album, was that the debut album "The Yellow Brick Journey"?
KN: Yes, that's my debut project, my bundle of joy. It's a collaboration between myself and my creative partner Q. Kegler. He produced all of the music and I wrote all of the songs except one of them. We worked on it from 2007 all the way up until 2009 or 2010. I was very proud of the project and it's something that I hold dear to me. It's my coming out as an artist and it's self funded and independently released.
YKIGS: Why independent?
KN: At the time I felt like I didn't want to sit around and wait and shop for someone to pick something up that I believed in. I had saved money and I had the means with the internet and social networking and disc makers who had the tools you need to get your music out to people. I didn't feel I really needed the machine behind me to put out something.
YKIGS: Even without the machine you've been able to do very well so far. A lot of attention, Vogue magazine has done a feature on you. Also, you've had a number of celebrity endorsements to say the least. Quincy Jones, Maya Angelou and of course Ashford and Simpson. How does that feel to be in that position?
KN: I think it's humbling. It's like these people are the best at what they do. Like Maya and Ashford and Simpson, they are like the greatest writers in the last 30 years. Quincy Jones just being such an evolutionary in music. For them to believe in me and see something great, it speaks volumes to my passion and what I feel I have to offer people. I'm just honored that they even believe in me a tiny bit to provide assistance or guidance when I needed it. I'm just really grateful to God for that.
YKIGS: Was it something where basically they came to you or did you have to run into them somewhere?
KN: I met all of them at Ashford and Simpson's Sugar Bar. When I first moved here, I started going to the different open mics like the Village Underground and then to the Sugar Bar. One of my friends when I first moved here told me "You should go to the Sugar Bar" and I asked "What is the Sugar Bar?" and he said "Ashford and Simpson have restaurant". So I went there and I would perform all of the time and I saw that they would pay attention to me and come to me telling me I'm great. I remember Valerie buying my cd and she was like "You are a really good songwriter and I love your CD." They always have their friends visit the Sugar Bar here and there and they sometimes are able to capture the artists that perform and those particular ones captured me that day.
YKIGS: It sounds like divine intervention!
KN: Yes! So I love Ashford and Simpson, they mean a great deal to me.
YKIGS: So of course unfortunately recently we had the passing of Nick Ashford. How did that affect you?
KN: I called them my fairy God parents. So it was like me losing a musical father. He was one of the sweetest men I ever met, so stylish. He had such a great way with words and lyrics and the way he treated people. He was really a great spirit. He's definitely going to be missed. I'm grateful that I even knew him and I was able to learn and get something from him and then I was able to show him my gift as well and he believed in it. It was a blessing to have known him.
YKIGS: What is the "Young Soul Movement"?
KN: *Laughs* That is null and void! When I first started, me and my best friend came up with that, but there is no young soul movement. I remember us brainstorming when we were thinking of different slogans and what I should coin myself as. Early on me and my best friend came up with that but it's kind of trickled away as time has passed. I guess at the time what it meant to me was I was a young artist with the soul of our past musical legends. I wasn't comparing myself to them, but I really at the time could not relate my voice and style to anyone that was current, like mainstream current. I felt I'm a young lady but I still have the familiarity you see and hear in the great soul artists of the past.
YKIGS: You've been able to be influenced and touched by larger than life type of celebrities and individuals. Who are some artists who you'd like to work with in the future?
KN: I'd really like to work with Cee-Lo Green. Cee-Lo is at the top of my list right now. I would love to work with Slash too.
YKIGS: All on the same record?
KN: Definitely! *Laughs* Why not! There are many artists that are long gone that I would have loved to work with. Jimi Hendrix, Jim Morrison, Josephine Baker. People like that.
YKIGS: Kinda digging more into your personal background, what is the last album that you bought?
KN: Lenny Kravitz "Black and White America" and Young the Giant.
YKIGS: Lenny Kravitz is an obvious one, but why Young the Giant?
KN: I was very impressed with their performance in the MTV Awards this year. I was like "Who are these guys rockin out!" I could feel like the blues in it. Then I bought their album and their album to me is a blues album. I really like them, they're great.
YKIGS: Is Kimberly Nichole single?
KN: Yea, that's right. I'm married to my music!
YKIGS: Is that a permanent thing?
KN: Who knows, I'm just living. If something falls at my feet, maybe then it would come about, but I haven't really focused on that.
YKIGS: When it comes to the music, do you write from personal experience?
KN: I do. I write from personal experience and sometimes I'm inspired by friends and family around me as well. All of the songs I wrote are always about me.
YKIGS: What would you say is the most personal one that you've written?
KN: I think my song "Disconnected" is very personal. That's a hard question because every song when I think of it speaks to me and is a piece of Kimberly Nichole in my journey. "Disconnected" is a song I've found that people really relate to. That one is very, very personal to me.
YKIGS: Have you ever had your heart broken?
KN: Yes!
YKIGS: How many times?
KN: Only one time that mattered. I think it was both of us, we did it to one another.
YKIGS: Does that help more than it being one sided with you being affected the most?
KN: I just think personally with that relationship, we were just both very young and we're very strong minded and strong-willed individuals and a lot of times our personalities clashed. We tried to hold on to one another in our relationship, but it hurt more than it helped.
YKIGS: Another thing that's great about you and your style is the natural hair. You made a conscious choice to go natural. Why is that?
KN: I remember wanting to be natural for a while, but I was so used to having a perm from elementary school to when I was 19-20. I was fearful at first because I didn't know what I would look like. I didn't know my hair texture was like. The whole stigma with natural hair is that it's nappy or whatever. I just cut it off one day and started wearing an afro and I've never gone back.
YKIGS: No regrets?
KN: No, I think it fits me. One time my dad told me and he was so not someone who compliments on hair. He was like, "So baby, you look good with your hair like that". I was like, "Okay I'll keep my hair like that!"
YKIGS: Is there something new coming soon?
KN: There's no set date yet, but I'm releasing an EP called "The Rock Ballerina EP" and it's me covering my favorite Rock songs. Next year, we're really going to start working on my next album. There's no rush though. I'm just living, writing, growing and an advantage of being an indie is that I don't have time constraints or due dates. I do it how I want to and when I want to.
YKIGS: Any collaborations?
KN: On the EP, there's a collaboration with me and an artist named Johnny Mercury who is kind of progressively getting out there to the people. I'm excited. I can't wait for everyone to hear it.