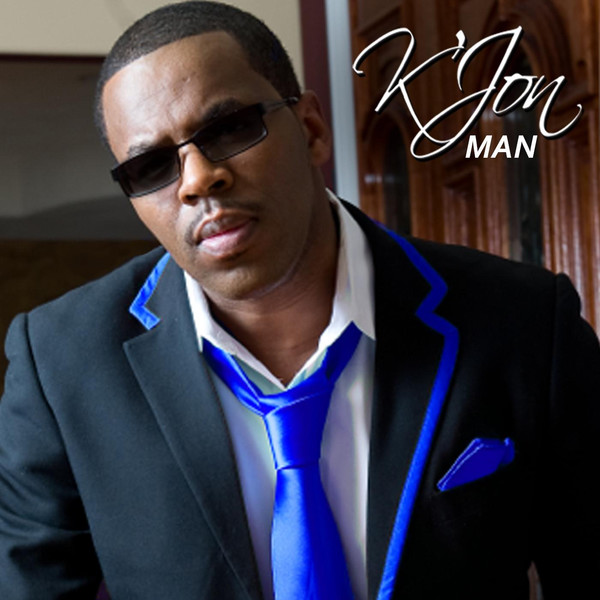 Having a number one single isn't always all that it seems. Although K'Jon's had great success with his debut single "On the Ocean" and it landed atop the Billboard R&B Charts, he quickly found out that many music fans knew little else about him and didn't have a face to go with the song. However, things change quickly when you're able to sign with a label and don't have to put out your project independently; and that should greatly benefit K'Jon now that he's signed with Shanachie. Now he's preparing to release the follow up to his debut album "I Get Around" with the new album "Moving On" led by the first single "Will You Be There". YouKnowIGotSoul caught up with him to discuss what to expect on the album, disappointment he felt after "On the Ocean" came out, the support he's garnered from the steppin communities, his new situation with Shanachie, and much more.
YouKnowIGotSoul: What can we expect on your new album "Moving On"?
K'Jon: You can expect a continuation from what you heard on the "I Get Around" CD plus where I want to be positioned at in the industry. There are also a lot of urban mainstream songs which I've always recorded and produced. I don't want to cheat myself nor the audience of all ages that heard "On The Ocean". I'm excited to let people hear the complete artist…, all of me.
YouKnowIGotSoul: How did you decide on the title "Moving On"?
K'Jon: Well, I'm moving on in a lot of ways in my life. Relationship wise and business wise. I'm in new situations with Shanachie Entertainment and I now have someone who supports me tremendously. So I'm moving on to bigger and better things.
YouKnowIGotSoul: Talk about the first single "Will You Be There" and how it was created.
K'Jon: When a person goes through their toughest times in life, that is what you wanna know? It's cool when everything is going great but what about when the rain is pouring down and adversities are piling up along with the bills…, will that person still be there? It's again something in common like "On The Ocean" that we've all have experienced; some greater than others.
YouKnowIGotSoul: Who did you work with on the album in terms of collaborations, producers and writers?
K'Jon: I worked with super producers Nephew ("Take This Dollar") & Adonis ("Ex Amnesia"). I worked with all of the artists on my label Up&Up Records (D.U.B.B., Seven The General and Misty Merritt). I wrote the entire album and co-produced it as well.
YouKnowIGotSoul: Since your debut album "I Get Around" had a lot of success and was number one on the Billboard "Hip Hop/R&B" Charts, did you feel any pressure to match that success with this album?
K'Jon: Not at all. It would be great to match it! And although I feel no pressure, it's highly possible to exceed what was accomplished with "I Get Around" because of multiple songs to promote to my fans. I feel the entire team behind the artist and music will make this album one of 2012's best!
YouKnowIGotSoul: I read that you felt disappointment from a lot of people only knowing "On the Ocean" but not knowing you. Can you expand on that?
K'Jon: Yes I was very disappointed! Although appreciative of the success of "On the Ocean", the main objective in this business is to capitalize off the success of a hit record. However, due to many reasons, I was not afforded the opportunities to brand my name along with the song via promotions that come when you sign with a major on television or radio interviews; basically any outlets to secure a name to be able to benefit financially. "On The Ocean" was the only song pushed on "I Get Around" CD, which in my opinion was filled with other big records. It would have been nice to at least get another video after proving myself and doing well with album sales. To this day, people are just finding
out who actually sings the song and some still don't know the face. But again, that's one of the reasons why the album is called "Moving On"; that's out of my system now.
YouKnowIGotSoul: Did you do something differently on this album to avoid that type of situation?
K'Jon: Just being able to partner up with Shanachie Entertainment was a tremendous move for me and my career. I'm used to working independently and making decisions and they embrace that. Also, I know that my team has to do a better job this time out. I can say that I'm more prepared than I was before.
YouKnowIGotSoul: Despite that setback, overall would you still consider your debut a complete success?
K'Jon: Definitely! So many people have eventually discovered who I am. I mean, even Michael Jordan reached out and we've developed a relationship because of my music. So the last album gives me this opportunity to show everyone that I was born to do this! I'm consistent and God willing, I will continue to write, produce and sing songs to make people move, inspire and connect with their emotions. I'm thankful for the last opportunity!
YouKnowIGotSoul: Talk about the support you've garnered from the "steppin" community since your debut.
K'Jon: Wow! Tremendous support from the "steppin" and ballroom communities throughout the entire country. Long before I had radio, I ran atop of the charts, a string of songs with all the DJ Pools throughout the
Midwest. Even in Chicago today, my song "This Time", which was on the last CD "I Get Around" has become equally a "steppin" favorite like "On The Ocean". Much respect to the Detroit DJs and Chicago DJs when I can hear 4 or 5 K'Jon songs when I come out and the floor response doesn't skip a beat. I'm forever honored! I always will make music for my long time supporters.
YouKnowIGotSoul: Anything you'd like to add?
K'Jon: I'm excited for this album's release! It's an album that caters to the ladies while addressing what a man goes thru. It embodies my urban lifestyle while not forgetting the sound that made me. It's the
opportunity to reveal all of me, K'Jon!