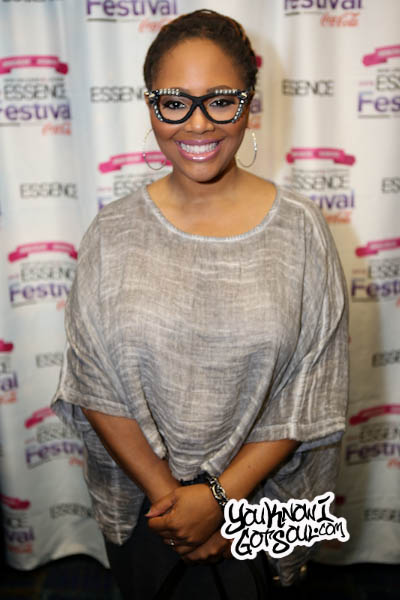 YouKnowIGotSoul caught up with Lalah Hathaway down at the 2015 Essence Festival in the press room just prior to her performance in the show. We touched on what went into her upcoming live album, the inspiration she drew from her father and his live album, working with DJ Camper on her new studio album, her legendary vocal abilities, and more. Check out what she had to say!
YouKnowIGotSoul: Tell us about your upcoming live album and what we can expect on there.
Lalah Hathaway: My live album is called "Lalah Hathaway Live!". I'm so excited to present it, it's really a full circle moment for me. I grew up listening to the live albums of the 70's and 80's. Earth Wind and Fire, Donny Hathaway, Peter Frampton. I wanted to create that kind of moment for the fans so I created a live record at the Trubador, which is one of the venues that my father recorded his live record in 1971. Very much a full circle moment for me.
YouKnowIGotSoul: What inspiration did you draw from your father's live album?
Lalah Hathaway: Oh wow. You know I grew up listening to that record and wondering what was happening in the room and what the people were wearing. You could hear the crowd, it was so ambient. Really understanding that people come to hear music as part of a total experience to be transported. That's what we tried to provide in that experience. When we say a night out, we really mean a night out. Wherever it is you need to go in your mind.
YouKnowIGotSoul: I've read that you prefer performing live as opposed to recording music in the studio. What's the major difference for you?
Lalah Hathaway: The difference between live and studio recording. I really enjoy both, both are art forms within themselves. I enjoy the immediacy of the live performance. I enjoy the breath and conversation between the live audience and the artist. I enjoy the conversation on stage. You just never know where it's going to be. Where you have time to perfect that craft is in the studio, I love that art as well. I really love the lighting in the room and the dust in the air and the people responding and becoming a part of the music. That spontaneous realness I love about it.
YouKnowIGotSoul: Talk about your contribution to the Nina Simone tribute album.
Lalah Hathaway: I did just a very small part, I'm on a song with Common called "Young, Gifted and Black" which is also a song that my father recorded. I'm so honored to be associated with legends and I always try to do whatever I can to show up when I need to.
YouKnowIGotSoul: We talked to our friend, the producer DJ Camper who said he's been working with you on your new album. Talk about the works you guys have done together.
Lalah Hathaway: I love working with DJ Camper he's so much fun. We really got in and got two bangers really quick, and I look forward to going back into the studio with him. I love that part of my business as well, being able to work with really young, exciting people that are into music. They have really figured out how to work the industry side of it but also the music side of it. The two of them are sometimes very different. He's a great musician that I enjoy working with.
YouKnowIGotSoul: Talk about the two songs you guys worked on together.
Lalah Hathaway: Yeah! "Whatever" is probably my favorite of the two. There's a sample of me just singing in the studio and built a song off of that sample. I really love that. "Love Don't Love Nobody" is an uptempo banger. I really love the idea of being able to bridge the gap between working with Marcus Miller, Herbie Hancock, Nancy Wilson, Natalie Cole, DJ Camper or Common. I really like to paint all the pictures of the rainbow if I can.
YouKnowIGotSoul: You're one of the most talented vocalists out there. Do you feel like there's pressure to carry on that reputation?
Lalah Hathaway: I don't think about it in terms of carrying on a reputation for having that talent. I really think of it in terms of representing my art and my parents. My brand is strong because it was started twenty years before I got to the planet, so all I'm doing is trying to be the best musician I can be and represent my parents and music in the best way that I can.