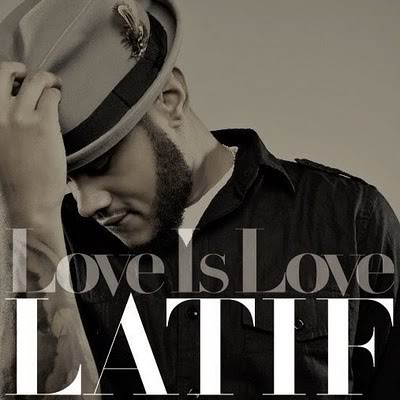 It's very easy for the common fan to assume just because an artist hasn't been in the spotlight making music or putting out an album, they are no longer doing music. From the outside, if you look at the career of Cory "Latif" Williams, his discography will read that he hasn't released an album since 2004. However, to think that he's been out of industry all of that time couldn't be farther from the truth. Having an immense talent in writing and realizing how lucrative it is to write songs for other artists, he's done well in writing a string of hits over the years for some of our favorite artists. As he prepares his new album "Dealing With Life", this will mark a return to the spotlight for an artist who certainly deserves our attention.
YouKnowIGotSoul: Talk about the new album you're releasing "Dealing with Life". What can we expect to find on there?
Latif: The "Dealing with Life" project is going to be exactly what it says. It's going to be music that deals with life, all aspects of life, spirituality, sexuality, sensuality, in a real sense. Not necessarily like a fantasy, because that's my mantra actually, if you don't deal with life, life will deal with you in the right way. That's just the vibe in short. I'm still recording, and actually I just completed a project for Japan which is called "Love Life" and it's a little vibe of it and where it's going. "Dealing with Life" is going to be super soulful; I'm going to put my whole entire soul into it.
YKIGS: You currently have out the single "One Kiss" and the video recently released. Give me some background on that song.
Latif: It's a feel good record to me. It's a classic r&b track. I wanted to bring that feeling back that, it has a New Edition feeling to it, and it feels really, really good. I just captured it with a visual and everything. It's produced by Matrax here in Philly. It's a straight down the middle r&b record but it still has soul to it and I like the way it came out.
YKIGS: You mentioned you're doing a project for Japan. I know you were overseas for awhile doing touring and stuff and you have a lot of popularity overseas.
Latif: Thank God for that!
YKIGS: What do you attribute that to?
Latif: To be honest, me and Ryan Leslie used to exclusively collaborate and we used to do a lot of material. We used to have it posted online, and by 2004, hackers had hacked into it and got access to it and starting distributing it across Europe. So actually, I would have to owe all of my popularity overseas to that situation. Some people get mad with the hackers and stuff, but I would say to this day, if it wasn't for that, they wouldn't have ever been able to access my music. Often times these labels here don't go out of their way to promote you in those markets outside of the states.
YKIGS: That's a positive way to look at the hackers.
Latif: Yea, and then if you look at the source of it and why they're doing it, of course some of them were selling it at that time, but it's an appreciation for the music. It was at a time when here in the states, artists weren't appreciated. I was actually signed initially when it first happened and I could go out there pack the house just off of the records that I never even shot a video for or weren't singles. They really just blew up on their own with the underground circuit. I'm just thankful.
YKIGS: Let's talk about your writing. I look at it as being a little unfortunate that a lot of the songs you've written for other artists have had more success than your own songs. Has that ever made you feel a certain type of way?
Latif: No, absolutely not. I mean I'm a songwriter and as long as the music is getting out one way or the other, I'm good. I'm just thankful for other artists taking my records and using them because it gives you a lot of leverage especially in today's music industry. It's a blessing and a straight positive all the way around because you get access to their fan base and all of that type of stuff. You get to sit back and see the reaction of the music. I think that it's good for an artist to do sometimes, just to really see if people really dig the music behind the scenes sometimes. I get to see that; if they like it or they don't, it's all relative.
YKIGS: As a singer yourself, have you ever felt like you could have ever sang one of the hits you wrote for another artist and blown up with it and had that success yourself?
Latif: Initially of course, but as you start to see what it does for you financially and what it does for that artist, it wears off. Everybody that I work with I'm a fan of and normally you write for an artist what you want them to sing and what you wanna hear and what goes with the rest of their body of work. Personally, I tailor make these records for these individuals, so you know from the start. Now if it's a record that I've had for awhile and they want to sing it, you've got to part with it, but it's your children. I look at it like you bring them into this world but you've got to share them with the world. *Laughs*

YKIGS: As you've had more and more hits for other artists over the years, have you gained a level of respect in the industry where more people are coming to you for songs?
Latif: Oh man I mean absolutely! That's worth more than anything to me, especially to just be respected by my peers in this industry is just a blessing. I haven't put out a record since 03/04, I put my heart and soul into it, and I haven't always done as well as I'd like to have done, but still to be able to maintain and be in the industry and people seek out your work, urban music is thriving once again, definitely the phone has been ringing and people need records. It hasn't stopped, I'm thankful. Whether it's been here or whether it's abroad, that's why it's important for writers and people in general. It's cool to be able to do everything but also make sure you have your own style. I think people can get that with my work. I think about what's going on with the radio at that point mixed in with what I feel and bring the world to your vibe. You've got to be a leader when you make music.
YKIGS: I love to hear the stories behind the scenes. We know the hits you've made for other artists. Have there ever been a song you wrote for another artist that didn't get placed on their album and you thought it would have done well if it had released?
Latif: Uhhhhhhh…..yea there's been quite a few records that even an artist might cut it and then they don't use it or it leaks. I look at leaks totally different too. When you walk past a store, you see something in the window and that doesn't stop anybody from buying it. It's happened so many times I can't just narrow it down to one specific time. It's a bummer because when you write a record for a different artist, you've given something of yourself and dug deep and shared a part of your soul with that individual. Sometimes they might not be as passionate about it as you are or they don't understand and that's one of the major things with me being a creator I have to trust myself and my instincts. A lot of times these artists don't. Even their fan base might say they want a certain element from them, and they still want to ad lib and do something on their own. You bump your head and you learn some hard lessons that you look back on and prosper from.

YKIGS: I'd like to get some background on a couple of the bigger hits you've written for other artists. Talk about the song "Teach Me" that you wrote for Musiq Soulchild.
Latif: I was working with Carvin & Ivan, the incredible Grammy nominated songwriter/producers here in Philly. They hit me up and asked me to come to the studio and we were going to do some stuff with Musiq. This was around 2006. We went in and we did like six records, "Teach Me" was the most personal record and I drew from my experiences coming up watching my father not having that relationship with his father and not learning how to love properly and him going through that and swallowing his pride as a man. I think it really spoke for a lot of people because they hide their feelings. With me, I thought it was a little too personal because you get that feeling, but I didn't think that they would prioritize it like they did and put it out there and get behind it. I'm just thankful that they did. It came from a conversation me and Carvin Haggins was having and we were just talking. Once I heard the beat, I knew, because I always love three/four rhythms. I'm talking like "Man's World" for James Brown, all of Alicia Keys' stuff, and even "Half Crazy" for Musiq. I knew that I always wanted to write one, and I heard it instantly and the melody just came and the hook just poured out. It's a divine thing, God is real. Quincy Jones said it best when they were doing the sessions with Michael Jackson, he said "You do as much as you possibly can, but then you have to learn to step aside and let God enter the room and take over." That's exactly what I learned and what I allow to happen because these records are beyond me, I don't even take credit for it sometimes. I can't because it's so divine and I don't even talk the way I write sometimes.
YKIGS: Give me some background on Faith Evans' "Gone Already".
Latif: Once again that was a Carvin & Ivan song. We were in L.A. about a year and a half ago and we were at the studio just trying to make some great records. Actually that was one that I didn't even think it was for Faith, we just wrote it. It was just trying to be as real as possible. I just look at a situation for girls and for understanding, sometimes it's already over, a relationship is dead before you can find it. I hadn't heard a record that was really vivid and spoke about that topic. She definitely made it her own and I was blown away with her being one of my favorite female singers of all time. It was just a blessing.
YKIGS: I was listening to your "Breath of Fresh Air" mixtape last year and you had the duet with Michael Jackson on "For all Time". What made you decide to put that together?
Latif: Before he passed away, they were doing a revisiting of some of his records and things like that. So they asked us to remix one of his records and we made it and they didn't use it for the album. Everybody that was in the studio always loved the record, so we just threw it on there. I thought it was tasteful and Michael Jackson is so incredible and the way his vocals are layered, you learn a lot about how he did it. For me, I went in and did it the same way he did it. A lot of times people nowadays everything is so digital and everything is so clean, but if you listen to the vocals on that, he probably had on one of those jackets with the zippers and you can hear him stomping and clapping. *Laughs* It was incredible. I always loved the lyrics and I definitely appreciate the lyrics and that is one of those records where I just wanted to compliment what he did.
YKIGS: Growing up around Teddy Pendergrass as a mentor, what did you learn from him?
Latif: Being so young at that time, I didn't even understand the wealth of wisdom and knowledge that was bestowed upon me. He was so passionate about music. He taught me the delivery. He taught me about picking the right musicians and picking the right tracks and writing emotions and just not singing. If you listen to his ad-libs, a lot of the time he didn't write a lot of the material, but he delivered it so well. I believe he deserves an Oscar just for his delivery on those records, it was that vivid. He would make me sit there and sing and sing and sing and sing day after day. I was in the rehearsal hall with a full band and it was incredible. He loved music and he loved feeling and he was passionate about everything. He gave it to me before I could even understand what it was and it helps me in my writing, my vocal producing, with everything; every aspect of my life. Also to be who you are and stand for what you believe in and make music. Nowadays that's rare. Artists want to do everything and be everybody else when they're already great themselves. That's sorta changing the game. There's music love around the world, you can't think myopic like it's only the 50 states, it's big, people feel it and want it. I'm just thankful that I'm able to be under the tutelage and learn as much as I did.
YKIGS: Anything you'd like to add?
Latif: I want to tell everybody I appreciate all of the heroes because I look at everybody who has followed me all of these years as a hero because it hasn't been easy. It hasn't been easy to go to Youtube and all of these sites and they followed me even when I was on my little writers hiatus. I appreciate it and just the whole H.U.R.L. movement (Heroes Understand Real Lyrics/Literature/Love/Life). I just want to say thank you and keep listening and as long as people keep listening I'll keep being a vessel.