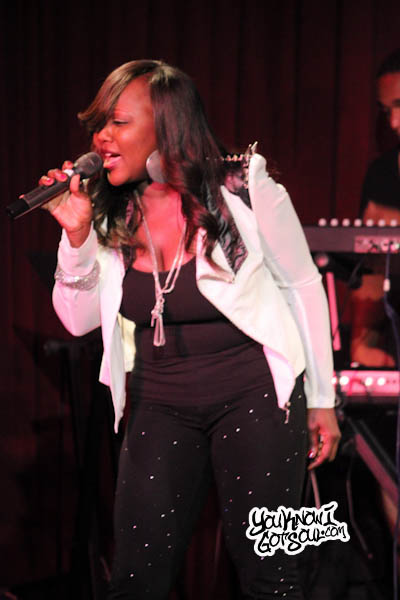 One thing that the 90's of r&b music will always be remembered for is the great groups it brought us and the great voices that came along with those. Xscape was one of those groups and featured lead vocals from the powerful voice of LaTocha Scott. It's been well over a decade since the group dispersed, and besides a 2003 solo album from LaTocha, many r&b fans have felt the void left without her around. This was clearly evident when she released her comeback single "Bad Timing" earlier this year and had over 100,000 downloads on iTunes soon after it released. Now she'll attempt to complete the successful comeback while giving r&b fans more of what they've been missing with an EP and solo album in the works. YouKnowIGotSoul caught up with LaTocha during a recent performance she had in NYC. We discussed if she had always had plans to return to music, how her new album will compare to the sound of Xscape, the foundation she has set up to mentor young women, and much more.
YouKnowIGotSoul: You've made a successful comeback of sorts with your new single "Bad Timing". Talk about the creation of the song.
LaTocha Scott: Well actually it was a personal experience from one of my girlfriends. She was trying to get with this guy, and at the time it was bad timing because he had just gotten out of a relationship. Just sitting down with her and writing down the personal experiences, "Bad Timing" was born. A lot of times when I'm writing, I will take from other people's personal experiences as well as my own to come up with something that's relatable. Something women can definitely be involved in whether it's the feeling of healing or just the feeling singing along. That's just a real good song to me and I've been getting a lot of good feedback from it, so I'm happy about it.
YouKnowIGotSoul: It's done very well, I've read it had over 100,000 downloads as soon as it came out. I think people were happy to hear your voice since they knew you from Xscape. In a time when r&b is changing so much, do you think music fans are just happy to have a voice like yours back?
LaTocha Scott: I think it's a familiarity because they know the voice, like you said before, because of Xscape, and because the music has a message and has substance. A lot of times when you find music that has a lot of auto-tune, my music is not like that. It's something that they can relate to and just something that they can sing along to, so I think that's what it is.
YouKnowIGotSoul: You've also got out the single "Complicated" with Wale. Talk about that song.
LaTocha Scott: A young writer by the name of Chef Tone came to me with the idea for "Complicated" and then we wanted to get a rapper on it. He suggested Wale and I definitely was like "Yes!" because I love the way his flow is. Wale is one of those types of artists who can rap about anything and it feels good. Plus I love the song "Flower Bomb", that's actually my favorite fragrance, so I was like "Oh yea, this is definitely going to be a great marriage." He did good on the record and I love the record.
YouKnowIGotSoul: I was also reading that you're working on a new album coming soon. What can we expect on there?
LaTocha Scott: Definitely soulful. A lot of people know that I come from the church so that's definitely my foundation. Some hip-hop, I have Wale on the record and a couple more people that I'm going to have on the record. I'm really not done with the album that's coming next year, but I'm going to put out an EP at the end of this month. People can expect some good singing again and because nowadays people are not trying to go out and buy CDs because they are not impressed with the whole record, they think maybe they can just get one song off of the album. Now I have to make sure that I let them know that this is going to stay around for a long time. So the EP is coming, and then at the end of the year I'll have a tour. So I'm working, you'll see a lot of me really soon.
YouKnowIGotSoul: Will the sound on the album and EP be comparable to the sound of Xscape?
LaTocha Scott: Yes. I don't think that's going to go anywhere. I never waver from that. I just have one of those distinctive voices because I hear that all of the time. It's nothing I can escape from.
YouKnowIGotSoul: You released your solo debut back in 2003. Did you always have plans to release another solo album since so much time has passed since then?
LaTocha Scott: I did. Anytime you love music, I don't think anybody can keep you away from it whether you're just writing to have for yourself or writing for others. I couldn't stay away from the music; it's been a part of my life since I was very young. I grew up listening to my father and his brothers, he's got 3. They definitely inspired me to want to sing. You miss a part of your life, and music is a part of me. So it was just the right time. I saw a shift in the music industry, there were songs that I was like "Ok, we need something else. We have the bass driven, we have the auto tune, but nobody is bringing the real anymore." I just wanted to make sure that I had that staple.
YouKnowIGotSoul: I read a quote online about you saying "No matter how long she takes away from music, with your voice, you'll always have an impact on r&b". Do you feel that's the case?
LaTocha Scott: I do! Even now when I hear Luther Vandross or I hear anyone that makes timeless music, that's what it is, timeless, it's not dated. I want the same love and compassion from others when it comes down to my voice. Of course when you do something you want the accolades and recognition from it, but it's good to feel good about the music and also get the recognition for being able to do something that I pour my heart into, which is the music.
YouKnowIGotSoul: Something I was impressed that you talked about on stage tonight was the foundation you have for mentoring young women. I'd love to hear you talk about that.
LaTocha Scott: It started with my nieces. They would come over to my house and we just started talking all night long. Then they would bring their friends, and their friends would bring their friends, and I found out a lot about these young women, how about a lot of them don't love themselves. So I try to teach that and teach self esteem and build it because I had some problems growing up. I felt like I wasn't pretty enough or I wasn't the right size. But being in the industry, I was able to use my gifts to overcome those adversities and I try to let the girls know whatever their gifts are, use them. It's not so much about the size or how you look, it's how you feel on the inside. It's very dear to my heart and they inspire me just watching them. They come and tell me what's going on in their lives and I'm like "What's going on today???" I just want to be that person that I didn't have growing up saying "You can make it, try harder, stay committed". It's important for me to do that to give back.
YouKnowIGotSoul: There don't seem to be too many female groups these days in r&b having success. Why do you think that is?
LaTocha Scott: I can truly say *Laughs*, I don't want to say the personalities do clash, but women are very emotional creatures. We work off of emotion. A lot of times that's not always good. A lot of times men fight it out and say what it is they have to say and say "You're still my brother at the end of the day". Females, we just don't have that common bond all of the time. With that being said, people that are thinking about being in a girl group, just make sure that that's something that you want to do for a long time. It's a marriage, you have to see that person everyday and deal with them all of the time. As far as me and my group, when we were together, we were together for years. You're talking about going overseas, coming back, going overseas again. Sometimes you need that time apart to be able to grow. I think that's where we are individually. As far as the groups are concerned, I don't know, I think it's everybody's own individual path. I think we've all learned from experience and all of us have become students of the game, we learned a lot being a group and now we're able to take that moving forward in our personal endeavors.
YouKnowIGotSoul: Do you find it easier recording solo as compared to with the group?
LaTocha Scott: Being solo is quite different because you don't have somebody saying "Well I don't want to sing that" or "I don't like that!" I can come in and I can really write about everything that I'm going through. It's nothing against anybody else, but I don't have the catty-ness that goes along with it. As far as being around my sisters, because I still think of them as my sisters, it's different because I didn't really have to do any of the bottom notes, Kandi always did the bottom notes and then Tiny would do the top and I would do the middle. That part, all of the burden falls on that one person, so it's now me just doing everything. I just thank God for my gift and just being able to move forward with that gift, it just brings great satisfaction for me.
YouKnowIGotSoul: Anything you'd like to add?
LaTocha: Scott: I would like to say to all of those people that have supported Xscape, thank you so very much from the bottom of my heart. I definitely want to support you with this album, I know that it's time to get back to the real, thank you for your support and look out for the next album, it's coming at the top of 2013.