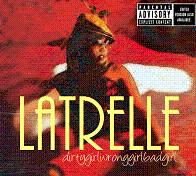 The writers here at YouKnowIGotSoul first got our introduction to Latrelle back in the early 00's when she was working with The Neptunes. She released singles such as "House Party" and "Dirty Girl" and eventually had a shelved debut album and wasn't heard from much in the mainstream after. Little did we know, her musical history actually runs a lot deeper than that! We caught up with her for this interview to talk about how she originally met and signed with Babyface, why her debut album was shelved, working with the Neptunes, what she's been up to you in the past few years, her nickname Mz Munchie, and much more.
YouKnowIGotSoul: Your bio states you got your start as a writer for artists like Next, Monica and Destiny's Child. How did those opportunities comes about?
Latrelle: Well, it all kind of started when I recorded a song called "Now That She's Gone" for myself, which I was also a writer on. Not too long after I recorded the song, I heard that there was a girl group by the name of Destiny's Child who wanted the song. I really didn't want to give it up because I loved that song and killed them vocals. *Laughs* But at that time Sony was also interested in signing me, which would have made us label mates, and I didn't want to fight over it so…. they got the song! From there I started to write more and that's when I signed to BabyFace's publishing company, Edmonds Music Group along with my partner who is my mom, Aleese Simmons. After that I began to write and/or record for artist and producers such as Baby Face, Next, Monica, Shaggy, Mary Mary, Darkchild, Pharrell, R. Kelly and so on.
YouKnowIGotSoul: Talk about originally meeting Babyface and how you originally signed with Arista.
Latrelle: Well there was a song that I recorded that my mom and I wrote called "Mystery of love" which we were trying to pitch to Toni Braxton. BabyFace heard the song and he Loved it, but he also wanted to know who the girl singing the song was. So Tracey Edmonds, his wife at the time set up a dinner meeting for us in L.A. I was really excited to finally meet him. We met and ate at this really cool soul food restaurant, and then at dinner he asked if I arranged the background vocals on the song that he had heard. I said yes, and he said "You need to keep that song for yourself" and asked me if I could come into the studio with him that night to arrange and record some background vocals for an album he was recording. I said "yes, sure", I mean who would say no! It's Babyface! So we get the studio and while we were recording Babyface was acting so serious and I myself am a silly person, so I couldn't help but to break the ice, I said to him "You are being way to serious… I'm gonna need you to talk to me or something" and I made him laugh. From there we began a great friendship as well as work-ship. *Laughs* I like that word!
YouKnowIGotSoul: What role did Babyface play in your early career?
Latrelle: Babyface was key in me signing to La Face/Arista. After we signed to Edmonds I began to work more and more with Babyface. That's when he got a chance to see how talented I really was, along with the fact that he looooved my in your face/silly personality. He was the one that set up the meeting with his partner who was LA Reid at the time with LaFace Records. I will never forget the day that I met LA Reid. I had on a black tube top, a short flowy skirt and cowboy hat. *Laughs* Don't judge me! I thought I looked hot at the time. I mean, I was young, but thank God my destiny wasn't based upon my outfit. We played the song "Mystery of Love" for LA, then I performed and serenaded him and was practically signed that day to LaFace Records. Right after that, LA Reid became the president of Arista Records and that's when I became an Arista artist. But Babyface didn't quite want to let me go. So he talked to La Reid and ask if I could be his first artist on his newly formed label NU America, a label that he formed after him and LA Reid sold LaFace Records (which was also distributed by Arista). Everything was going great until 9/11, after that I ended up back at Arista. But my relationship with Babyface remained. I worked with him on his album "Face2Face" which Pharrell actually called me for to arrange and make some new background parts for Kenny's single "There she Goes". I killed it and I ended up in L.A. recording pretty much his whole album with him. Great times!
YouKnowIGotSoul: The Neptunes also had a big role in your debut album, producing many of the songs. How did you link up with them?
Latrelle: I actually met them through a man named Kenny Ortiz who was helping A&R my project at the time.. He said there were some really dope kid "producers" who were in VA and he thought we would be a great fit musically! Well we met in N.Y. and Pharrell and I hit it off immediately, I mean the chemistry was great musically and I recorded a song called "I need U" just as a try out record and it worked. So then I went to VA where their home studio was and we began to record a bunch of songs. Some didn't make my album like "Nothing Else" which went to Justin Timberlake, "I Still Love You" which went to 702, and "Burning up" which went to Faith Evans.
YouKnowIGotSoul: What was the creative process like with The Neptunes in the studio?
Latrelle: Absolutely fun! Pharrell is silly and so am I, so there was never a dull moment. Between all of his silly friends and my girls who would come to the studio with me to keep me company because I hate being alone in the there! It has to feel like it's a party going on, you know! *Laughs* It was always fun, but really we just had a way of creating hits together. I mean maybe it's because we are both Aries and we understand each other's creativeness, I don't know but it was always a great process recording and writing with him. I mean just being silly we came up with "Dirty Girl".
YouKnowIGotSoul: What do you remember most about the creation of your debut album "Dirty Girl Wrong Girl Bad Girl"?
Latrelle: I had fun! The fact that I got to work with so many A-list producers like Babyface, The Neptunes, Mike City, AllStar Gordon, JR Swinger and many more and we all formed such great relationships it was like a family. Always laughing, always fun. I really felt like this life was meant for me! Being so young at the time and still having the respect from all of them as an artist was awesome. A lot of the times artist are puppets and they don't get to be a part of the creative process on their first albums, but I did!
YouKnowIGotSoul: Why do you feel the album never got released?
Latrelle: Unfortunately for me 9//11 was the beginning of the end for that album. It made me a little sad but, it got leaked, so some were still able to enjoy what didn't get officially released.
YouKnowIGotSoul: Talk about some of the songs you created on your debut album.
Latrelle: Ok, so because "The Neptunes" were located in VA it was time for a road trip! My Mom and I packed up and drove out there to record. I brought my girlfriends too so they could enjoy this experience with me. We got to the studio and Pharell said he had an idea. So he sang part of the hook of "House party" and I was digging it, so we continued to write the song together. I recorded it in a few hours and boom there you go, "House Party" was born.
The next day after stuffing my face full of crispy cream doughnuts, I mean the best doughnuts you ever had in your life and I was on a diet because I was a little chubby. *Laughs* It was just a little baby fat I promise! *Laughs* Anyway we came up with the song "My life" and after I recorded the song Kelis came by the studio with all of her girls to meet me and she loved the record and asked if she could sing on it. So Pharrell gave her a part to sing in the vamp. She was mad cool and she had swag so she could get that! *Laughs* I love Kelly "Kelis".
The song "More Than You Know" was written by myself and my mom and was produced by someone who became a very close friend. His name is David Anthony from NYC. We recorded this record where all the good looking Boricua's hang out, especially on a hot summers day, good 'ol Spanish Harlem. I loved going there because there is a Bodega on every corner and I love junk food, not to mention all the papis whistling and shyte, at ya! Fun times!!! I recorded those vocals straight down that day, quick in and quick out. Also, that's where I got the name "one take willy"! *Laughs*
Lastly, JR Swinger was the producer for "Deal With the Pain" which I recorded in Englewood, NJ. JR is not only a great producer but he is also a great vocalist, so it was really fun to create with him because he knew all of the major and minor notes that I love to use when creating my backgrounds. It was another great musical fit! And you know what? I still feel very blessed to have had each and every song as well as the opportunity to work with each and every producer on that album!
YouKnowIGotSoul: Talk about writing "Nothin Else" for Justin Timberlake and "I Still Love You" for 702.
Latrelle: Well, as I said earlier I recorded a lot of songs with the The Neptunes for my album at the time, but all didn't make the cut which is normal process when creating an album. "Nothing Else", "I Still Love You" and few other songs got chopped from list of the Latrelle's album and "I Still Love You" went to 702. I actually got to meet the girls from 702 when they recorded the song which was nice. Myself and Meelah still speak here and there on Twitter. So the best thing that came out of that was the artists who re-recorded my songs had and still has respect for me and didn't really change a thang in the songs, including Faith and Justin. They loved my deliverance and they are really dope artist who I have much respect for as well, so that means a lot!!
YouKnowIGotSoul: Recently you changed your name to Mz Munchie. What made you go in this direction?
Latrelle: Well, Munchie has been my nickname since I was about two minutes old. A lot of musicians and singers that come from the church world in which I was brought up in know me as Munchie and the name followed me into my music career. I mean, some people called me Latrelle and others called me Munch or Munchie. At one point some people thought Latrelle and Munchie were to different people. They would say things like "Yo, u heard of this girl name Latrelle. Yoooo she's a beast" then the next person would say "I don't know son, you need to here this girl named Munchie, she's the truth". Funny right! *Laughs* So in that aspect I've always been Munchie. I'm just Mz Munchie now and that fits the direction of my music which isn't so much R&B anymore but a fusion of pop, rock and soul with a dance beat sometimes. I thought that the name Munchie was befitting, because it's fun, vibrant, and interesting, which I believe is "ME" so I added a MZ, to give it a little sass and a some weight because I've have more experience now. And I'm ready to bring it!!
YouKnowIGotSoul: What have you been working on over the past few years?
Latrelle: After I got off the label Arista, I took some time to experience the tour life. I went on the road with some of everybody like Blu Cantrell, Lauryn Hill, The Fugee's Reunion, Rihanna, Alicia Keys, Diddy and Snoop and so on. I really got the chance to experience that life and I'm all about that! I love traveling, being on tour buses, playing pranks on folks, sleeping in hotels and let me tell you, I've slept in some of the best hotels hanging with Diddy and Lauryn! I mean at one hotel we had our own butlers for each room! How high class is that! *Laughs* So I really enjoyed that time. Then I kind of got comfortable in that background world because it was like taking candy from a newborn. It was easy and somebody always wanted me on their tour. I got to make money and travel the world on someone else's dime. *Laughs* I mean yes, I would rather be front and center but as long as I got to do what I loved it didn't matter to me at the time, if I was in the front or the back, I wanted to sing because I love to sing! My last background gig was my eye opener. I was on the road, with a certain artist who kinda sort of pushed me back into the direction of being a solo artist because she thought I was too much of a star on her stage. Well thanks! I was already headed in that direction, but that push did the trick. Mz Munchie AKA Latrelle is back!!!
YouKnowIGotSoul: What's next?
Latrelle: Hmmmm….whats next? Everything I can get my hands into…collabs, features, soundtracks; everything! I'm coming out under my jointly owned label, AMI Record Group. It's a company I own with my two partners, my Mom Aleese Simmons, who is Grammy award winning song writer and Rudiger Lanz, a European Sound and Led Lighting Specialist. We are currently in the process of preparing for a distribution deal. I'm really excited to show all of my Latrelle fans that I haven't given up! Music is still the love of my life and I can't wait for u all to hear all the different sides of me from Pop-Rock to Country, a little bit of dance and of course some soulful ballads with a twist! I love to dance and be silly, to just have fun because I enjoy life and my music says all of that! So for those who don't know me, my music will help them get to know me and I hope they love me!
YouKnowIGotSoul: Anything you'd like to add?
Latrelle: I want the world to know that I'm not just a singer, not just a voice, I'm a performer! I love what I do and I give my all and I'm not ever giving up, and I'm willing to prove myself to each and every fan, past and present and future! Going hard cuz I aint going home!