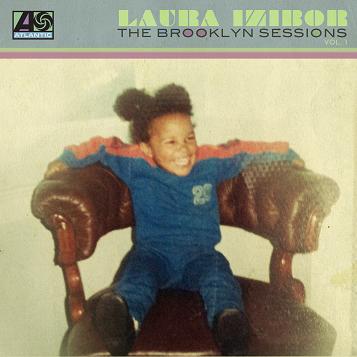 After making a name for herself in her home country of Ireland by winning their National Songwriter's competition at the age of 15, Laura Izibor made a name for herself globally with the release of her critically acclaimed debut album "Let the Truth Be Told" in 2008. She then spent the next few years touring tirelessly, sharing the stage with the likes of John Legend, Maxwell, India Arie, Al Green and James Brown. Not only did she achieve her childhood dream of signing a record deal in the U.S., but she had also developed a global fan base in the process. To hold her fans over until the release of her next album, she recently released "The Brooklyn Sessions Vol. 1" EP which she recorded in Brooklyn with her touring band. YouKnowIGotSoul caught up with her for this interview and discussed what she hoped to accomplish with the EP, what originally drew her to soul music, developing a name for herself outside of Ireland, her acting debut on "One Tree Hill" and much more.
YouKnowIGotSoul: Start at the beginning. I read you didn't grow up in musical household, but eventually found influences like Stevie Wonder, Otis Redding and Donny Hathaway on your own. What made you gravitate towards them?
Laura Izibor: I had heard them, but I was more used to hearing pop/soul singers like Whitney Houston and Mariah Carey. I loved Whitney with all of my heart. I liked music, but it wasn't this passion until I heard James Brown on the radio and I said "who the hell is that, what is this?" I just then found one person after the next. You can go to one section in the music store and you got a whole list of them. I always kept my ears open and a friend might recommend someone or say "Oh well if you like this, you need to listen to Nina Simone!" Probably from 13 to 17 were the most exciting years of discovery for me; I really no exposure growing up. All of the typical people like Bob Marley and Stevie Wonder, I really didn't know them. So over the years I was like "Who's this!"
YouKnowIGotSoul: You're a younger artist but you're influenced by some of the greats of the past. Do you consider yourself an old soul?
Laura Izibor: Oh yes, I've been told that all of my life. I feel like I'm 15 in a 25 year old body sometimes. Yea I guess I'd say that.
YouKnowIGotSoul: What led you to begin you career as an artist and how did you get your break?
Laura Izibor: I won Ireland's National Songwriting Competition at 15 and it went from there. The news made the newspapers over here in Ireland and my manager was like "I think we can get a deal over in the U.K." and I was like "No". I told him I'd only do it in America, that was my childhood dream. Of course I wanted to be heard, but I was stubborn and full of attitude as a 15/16 year old. We got a lot of record label interest and this magazine called A&R Worldwide really supported us. I got my music to some labels and before I knew it I had a big trip planned where I showcased for like 12 major labels and got a few offers. I signed then on my 17th birthday.
YouKnowIGotSoul: You became known as the "soul of Ireland". What's the process been like of developing a name for yourself outside of your home country?
Laura Izibor: It was scary. My manager would always help me get gigs, so wherever I went I did gigs with just my piano and my voice. There was a lot of hard gigs, I was on my own, I would just sing songs and talk crazy with this Irish accent and people were like "What the hell is this?" It was overwhelming. It was a lot of time putting in my mark and trying to appear as a professional but really scared shitless inside! It worked in the end. I don't know if I could do it again. I think it was good at that age because you know when you're a teen and you can really be stubborn and self centered. So I thought you know what, I've just got to keep gigging and keep singing my heart out and hopefully people will take to it. That's kinda what I did and I'm fortunate enough that that's what's happened for me.
YouKnowIGotSoul: On your debut you wrote the whole album. Where did you develop this skill in writing?
Laura Izibor: I started singing when I was 13. Not much before then, I remember the piano in the room that nobody used. So I had a friend teach me a few songs, and I thought it was easy. I just kept playing and playing and then I was able to hear things from the radio and how they sounded. So I literally would just keep tapping the piano until something sounded good. Then before I knew it, I had hundred of songs.
YouKnowIGotSoul: You'll be releasing a new EP "The Brooklyn Sessions Volume 1" next month. What did you hope to accomplish with it?
Laura Izibor: Honestly I wanted to do something for my fans that were patiently waiting because record labels tend to take forever! *Laughs* I felt so sorry for my fans because I was like "Coming this January" then it was February, March…*Laughs* Honestly, it was very simple. I went in with my band and said "Here's some songs, let's just go in and record these and then put these out". Sometimes the whole political thing can take all of the joy out of music. It was just me and my guys in the room, and what you see is what you get basically.
YouKnowIGotSoul: This will lead up to your full length follow up album. What's the progress on that?
Laura Izibor: It's beautiful, I love it. Rex Rideout and JR Hutson are the producers on the album. In a few more weeks I should be able to finish it up and it should be ready to go.
YouKnowIGotSoul: Talk about the experience you had making your acting debut on "One Tree Hill".
Laura Izibor: Oh my gosh, I didn't realize how much acting took, wow! I thought I'd go in, walk on stage, and be like "I got this!" But I walked in and I was scared, I didn't know what I was doing! *Laughs* I was so nervous, I'm not an actress, I've never done anything like this. It was totally out of my comfort zone. God blessed me and it was a great opportunity.