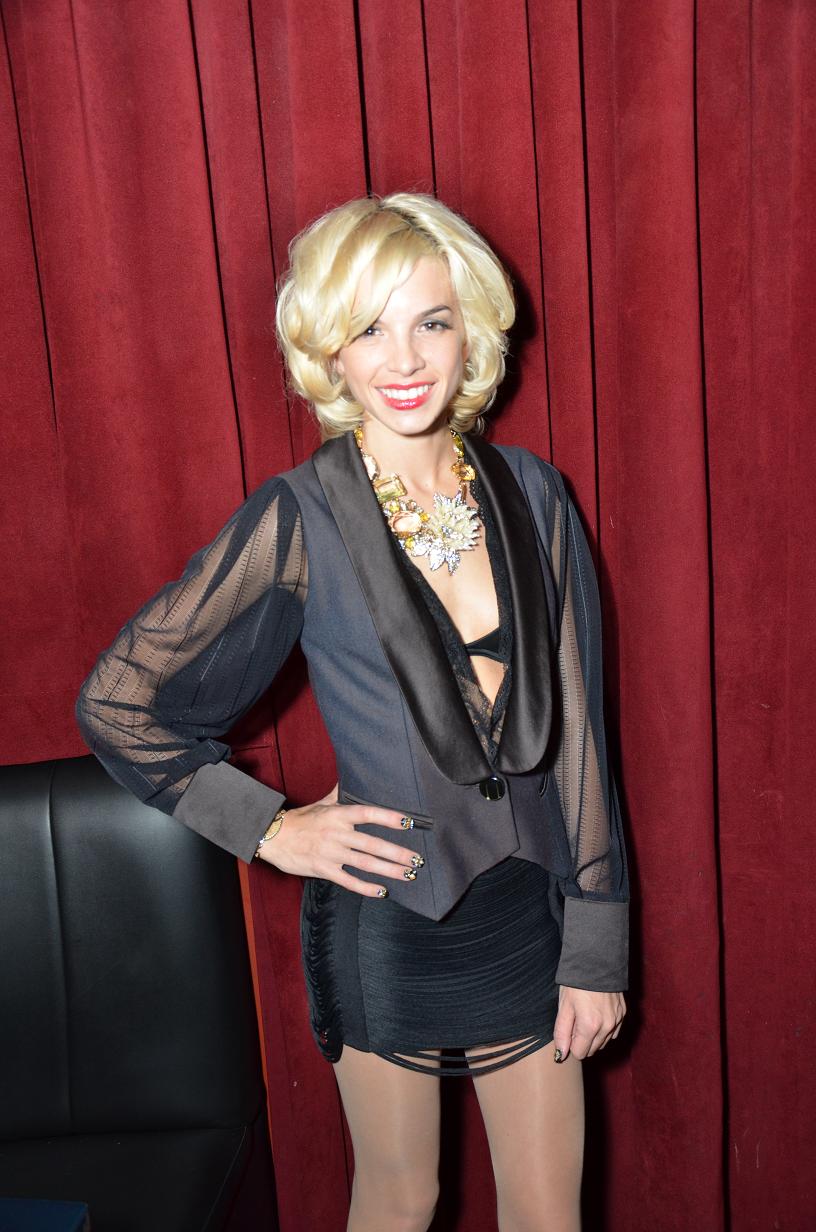 Lauriana Mae is definitely a unique talent. With inspiration coming from legendary artists like Billie Holliday, Etta James and Ella Fitzgerald, combined with a love for modern day r&b and hip hop, she has a style that's not easy to define in words; but is infectiously catchy. We were first introduced to her as a contestant on P. Diddy's "Star Maker" show a few years back, but that has proven to be just a stepping stone to something much greater. After linking up with famed producer Kwame to help her craft her signature sound, she's just released her "Love Mae" EP and is already well into her debut album. YouKnowIGotSoul had a chance to catch up with her backstage at SOBs after her first headlining show. We talk to her about what you can expect to find on the EP, defining her unique sound, working with Kwame, what to expect on her debut album, and much more.
YouKnowIGotSoul: You released your "Love Mae" EP last month. What can you tell us about that?
Lauriana Mae: It's just a few of the songs that I've been working for a little while. We signed with Atlantic Records and already had a band and everything together. We just wanted to put something out while we were doing shows to get people excited about the upcoming album.
YouKnowIGotSoul: I really like the song "Love" from the EP. Talk about how that song was created.
Lauriana Mae: Thank you so much. Kwame actually gave me the track first and I sat in with a writer. I just told her that I wanted to do a record about the emotion Love, but not in such a positive light. I wanted it to be about when love really hurts us and breaks us down.
YouKnowIGotSoul: You mentioned Kwame and I know he produced the whole EP and you've been working with him for some time now. How did you originally link up with him?
Lauriana Mae: My manger just set up a meeting Kwame. The first time I met Kwame actually, I went into this studio and he played me a track that had a Ruth Brown sample on it, which is one of my favorite artists. When I said, "Oh My God! This is one of my favorite songs," he was like "You know this song? I'm so impressed!" We immediately hit it off. The style of music that I wanted to create and what excited him, we just went together. We work very well together.
YouKnowIGotSoul: Something he mentioned on stage when he introduced you tonight was he was still trying to find a definition for your sound. You have such a unique sound. How would you describe it?
Lauriana Mae: Well when I started creating the sound and doing this project, I wanted to take music that inspires me which is like Classic Jazz and Rhythm & Blues and combine it with Contemporary Hip-Hop and R&B. Just being inspired by all of that, this is what we came up with.
YouKnowIGotSoul: Since it's such a unique sound, what's the reaction been like from music fans so far?
Lauriana Mae: So far, we're getting a great reaction. Everybody has been so supportive. No one really needed a definition right away, they just liked the music. I just want to keep giving them that.
YouKnowIGotSoul: I know you write your own music just as you did on this EP. What's your writing process like?
Lauriana Mae: A lot of times I'll come up with a concept first and I'll just start writing lyrics, humming melodies and take it to the producer and say, "I have an idea, we need to do this". Sometimes, the track inspires me and I just write to the track.
YouKnowIGotSoul: Talk to me about your appearance on P. Diddy's "Star Maker" few years back. What did you learn the most on there?
Lauriana Mae: I've learned a lot from being on "Star Maker". Just being a professional at all times. It's a constant competition, but you always have to be professional and just work and being surrounded by so many people that wanted the same thing that I wanted, I knew I had to be constantly on my game. Not just during the show, but after the show. I took that with me.
YouKnowIGotSoul: What can we expect from your album?
Lauriana Mae: I am working on the album. We're doing so many songs. Tonight I think we did 10-11 records and it's just some of the collection of songs that I've been working on. There's so much more to come and we just have to really sit down and eliminate eventually, and try to choose which will be the hardest thing for me because some of these records are so personal to me now.
YouKnowIGotSoul: Besides Kwame, who else did you work with on the album?
Lauriana Mae: Producers wise, I've worked so far with The Remedy, Jerry Wonda, Carvin and Ivan, The Stereotypes and Chuck Harmony. I've worked with so many amazing people.
YouKnowIGotSoul: Anything you'd like to add?
Lauriana Mae: The fact that you're here tonight means a lot to me. This is my first headlining show. Everyone who is watching, listening and playing the EP right now, and I don't even have something on the radio yet, it just really means so much to me.