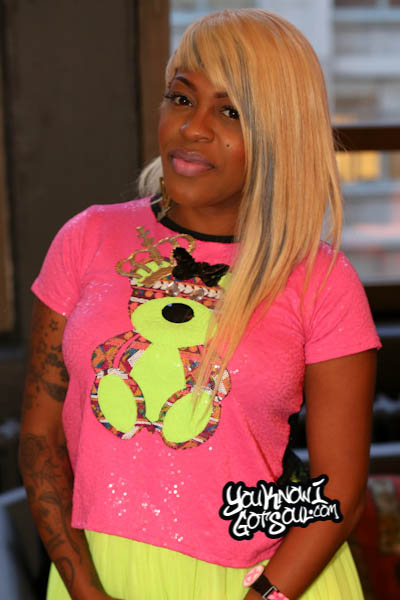 When it was announced that Lil' Mo would be joining the cast of R&B Divas, it seemed like the perfect opportunity to give her the exposure she needed. After all, not only is her voice larger than life, but so is her personality; and now it had a chance to shine on a big scale. However, along with exposure usually comes hate, and Lil' Mo seems to have used that as ammunition for her new album "The SCARlet Letter". It's our pleasure to always support the best r&b vocalists, and Lil' Mo has been near the top of that list since her introduction in the early 00's. YouKnowIGotSoul sat down with Lil' Mo and discussed what to expect on the new album, how she has used R&B Divas as a platform, her music being therapy to her, and much more.
YouKnowIGotSoul: You've got the new album "The Scarlet Letter" out now. What does the title mean?
Lil' Mo: It was a book that we've all read in high school. The theme behind the book is that everyone has something that they can use against you to destroy you, you have to use that as your foundation to build yourself up. Being that I'm on reality TV and a lot of things in my life are played out in the front of the audience, my life was basically being showcased. You saw my children, divorce and so many things that may be frowned upon whether it was adultery, smoking, drinking or cussing. All of them are negatives, but I turned them into a positive. Not only is it a positive, but I turned it into therapy. This album is therapy for me. I'm not perfect for me, I'm not an angel. But at the end of day, I'm human and I make mistakes. I own up to every mistake I've made and I don't regret anything. At the same time, I'm learning from actually seeing myself. "The Scarlet Letter" is my natural reaction and therapy. It's every component and piece of Lil' Mo.
YouKnowIGotSoul: Would you say you approached the writing by things you've been through in life?
Lil' Mo: What I've made been through and what I've seen people go through. Just topics I've seen discussed and topics on social media. There were so many elements that went into making sure that the project lived up to its title as well as me being not on the scene for awhile, I had to make sure I came back with some good music. No sense of having this "The album has a messy title, it sounds like it'll have some tea". Then you're like "What? The album had nothing to do with the title". I stuck to my script like with everything else I do because I want to make sure I don't want to lose people by going too deep. I just want to keep it basic enough to where people can understand it and be like "I feel you. I can see how we relate". It's basically getting back to the essence of what you know and love about Lil' Mo. I'm the girl that started out with the blue braids and everybody got kicked out of the school for that, but I'm taking it back to those days.
YouKnowIGotSoul: Have you approached your music differently now that you've had different exposure like R&B Divas?
Lil' Mo: I don't approach it differently. I've always been confident in who I am and so I think I approach it more aggressively. I always talk about "This person can't sing". I have to make things more firm. I'm not hating on anyone and their success, but there's a lot of people who slip through the cracks and when the real singers are absent or take a back, which I think we're allowed to do, I just keep it real because that's one thing I do. Even with coming up with the concept for the album, all of that plays a part and everything that I'm doing this day forward from reality TV show, to the album and to the book, I have to make sure it all makes sense. I know that I'm a bit much and I know I easily can easily go over people's heads. For everything that might be too much from music, they go to the book and if the book is too much, they go to the TV show. You have to take something from me. *Laughs*
YouKnowIGotSoul: Talk about the single "Should've Never Let You Go" and what made you decide it would be the lead single for the project.
Lil' Mo: Social media plays a big part in everyone's life today. I always see these little memes about people saying "Hoes be winning". What does that mean? It doesn't necessarily try to degrade someone because of their presence, it's basically saying "You have to embrace the fact that you let good one get away. You may have pushed them away or a hoe may have stolen them". Whatever the case is, there's someone out there like "Damn!" I look at a lot of situations that are appearing in the media, you know a girl is going through something when they change their hair. Recently we see that Wiz Khalifa and Amber Rose are going through something. I never thought they were going to get together, but to the media and to us, it seems like it's all of a sudden that they're getting a divorce. It's like "Two weeks ago, she was making it clap because his album came out". But I know how it feels to be rooting for a person that you're with and then 2 weeks later, it's like "Oh well". Even though I know I'm not going to say to myself "I never should have let him go", but looking back at it now, there's a couple of people that I dealt with that have said "Mo was the one I let go". Maybe you can't handle it because there's a big difference between Cynthia and Lil' Mo. There's been a lot of times in relationships that I've been Lil' Mo and that's who they get attracted to. They get attracted to the artist and not the person I am at home. They never got to figure out who I really am and what I'm about. I didn't know myself. I think that's what's going on in society. A lot of us give up on relationships so fast, but we're selfish. We don't want to move on and we don't want to be with them, but we don't want them to be with anybody else. This song helps you make peace with that.
YouKnowIGotSoul: You have this larger than life personality and it's perfect for TV. Was there ever any hesitation on your end to do TV?
Lil' Mo: There wasn't any hesitation because I got approached by a couple of reality shows. The reason R&B Divas caught my attention was because I knew that it allowed me to go there when it came to the drama, antics and the comedic side. They didn't want to totally be nostalgic or just go for an old audience, I know they were trying to bring a younger audience. They were trying to bring in new viewers. They were trying to pick pieces of each of our fans and make it a whole collection of our show and that makes for great rating. If you get to see your favorite or least favorite artist act up and sing, it works because it's their reality. I know there wasn't going to be any violence and I know TV One had a certain standard for the show. We know stuff gets real behind the scenes because when you're with someone for 10 weeks, something is bound to happen. We want to see that natural reaction and there's no way you're going to sit in your house or around people for that long and no one is going to get on your nerves. That's why I was like "I think this is not only the perfect platform for me and my fans, but it's also for me to be around my co-workers who are artists like Chrisette Michele, Leela James, Claudette Ortiz, Chante Moore and Michel'le. It's that balance because some of us have the same fans and some of us have new fans. Some of us are created as enemies, but at the end of the day, we tell our story our way. Nobody can tell it but us.
YouKnowIGotSoul: Has it been what you've expected?
Lil' Mo: It's been more than what I've expected. You never know with these shows because you could do one season or one episode and they could be like "You're out of here". You just never know. What if my personality was too big? I think I was prepared because I've done radio. Radio and TV work hand in hand because if I had a number 1 show on radio and they didn't actually get to see me, if they love my personality and they just heard me, imagine what would happen if they could see me? The fact that people stay up at 10 at night just to watch us, it's like "This is more than what I expected" and we're about to go into a third season. Our second season just ended and now we're about to tape the third season. You can't knock this platform at all because it has honestly breathed new life into all of our careers. Even if they're still popping, it's pushing everyone to the next level.
YouKnowIGotSoul: Since you've been in the industry for a long time now, has your motivation for creating music changed at all?
Lil' Mo: No, my motivation will never change because even when I do little snippets on Instagram, people will be like "You can really sing". The fact that people are like "I don't care what you're doing on TV, I just want to hear you sing". Just that, I can't stop that and I can't ever change that. Maya Angelou said something like "I've learned that people will forget what you said, people will forget what you did, but people will never forget how you made them feel." I know no matter what happens on the show between me and anybody else, when it comes to my singing, the people are like "I forgot about all the crazy comments". I realized that's how I make people feel a certain way, so I can't change my gift. I know that I have to conform to what's considered the norm because nobody wants to see me sing old songs, it's not going to happen. With music changing so much because no one from the 90's is coming back, let it be. That's the last era where you had to sing and sing for hours. They don't do that anymore, so you have to conform with the change. Then you have to know when to change because even though I know I can sing with the big dogs, sometimes I had to step back and be like "I don't have to holla and kick off my shoes". That's me though, that's all I do in church. I'm learning how to pace myself and everything. That's why I'm like "This platform has opened up a great space for me to pace myself". That's why I have a book dropping and a movie coming out. After that, the album comes out. Everything has to be strategically planned. Pace yourself and plan it out until the end because you will get to the end, it just depends on you how you're going to get there.
YouKnowIGotSoul: Anything you want to add?
Lil' Mo: Congratulations on being one of the top R&B sites. That's major, a lot of people don't know. Everyone is trying to do what you do. Just like I have to remain humble and stay in lane, you were chosen for this and I commend you for still remembering me and interviewing me. That interview was one of those where I was like "Had it not been for certain people in my life and just around who gave me a chance, you always respected people who respected you". You always respected me, so you know I got you and you know I got soul.