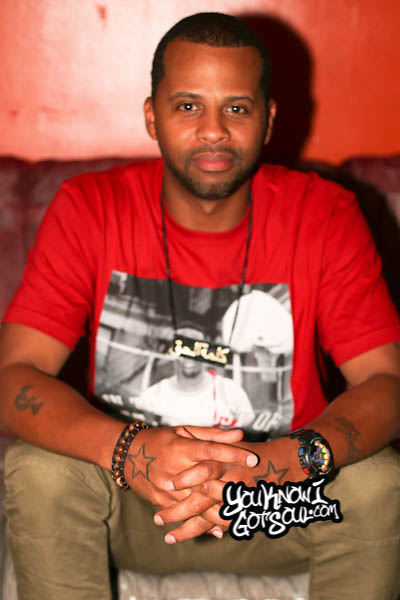 When Robert Glasper won the R&B Grammy Award for his "Black Radio" album a couple of years ago, he proved that musicians could be successful in releasing their own projects in this day and age. Lil John Roberts is of that same mold, a world renowned drummer who has played with many of the greats, and is now branching out to releasing his own music. His debut project "The Heartbeat" is out now and features some all star collaborations including "It's Your Time" with Musiq Soulchild and Chante Cann and "Space" with Musiq, Eric Roberson, Stokley of Mint Condition and Anthony David. The eclectic project crosses many genres and even includes a well placed interlude with the man himself, Robert Glasper. "The Heartbeat" is already getting great response from music lovers who've had a chance to hear it, and it serves as a great introduction to his sound. YouKnowIGotSoul sat down with Lil John Roberts at his recent listening event in Brooklyn and discussed his origins as a drummer, what caused him to do a solo album, his all star collaborations on the album, the challenge of promoting the album, and much more.
YouKnowIGotSoul: You've performed with some of the greats and you're a well known drummer. How did it all start for you?
Lil John Roberts: It started in my dad's church. A lot of musicians in the R&B and Jazz world start out in church and a lot of us still play in church now. That was my first introduction to music.
YouKnowIGotSoul: Take us through some of the names you've worked with throughout the years.
Lil John Roberts: I got the call to go out with Janet Jackson. I've worked with Dion Farris, Xscape, Monica, and The Goodie Mob. Just a lot of styles of music throughout the timeline of my career. Then I was introduced to George Howard who introduced me to George Duke who introduced to Rashard. A whole other worlds opened up as far as that side of the music concerned like Jonathan Butler and Diane Reeves. I was doing a lot of contemporary Jazz records for Boney James and Walter Beasley. Janet Jackson was the one who took me over with the Pop world, so I played with her for about 17 years.
YouKnowIGotSoul: At what point did you realize you wanted to do a solo album and build up your own name?
Lil John Roberts: I've wanted to do that for awhile, but I had always been investing my time into everyone else's project. Every time I did somebody else's stuff, it would push me back from doing my own thing. One day I just woke and said, "It's time for me to do my own thing". I reached out to all of my friends, musicians and artist that I respect and that's how that all came together with this record.
YouKnowIGotSoul: We hear a bunch of different sounds on the project from r&b to rock to soul to jazz. What influenced you on all those different sounds?
Lil John Roberts: Just doing so many styles of music with different artists. I never wanted to ever put myself in one box. I love Rock, I love to rock out. I love to play Jazz and I love to play R&B. I had to do a record that best described me as a musician and producer.
YouKnowIGotSoul: You just released a video for "Space" which is a huge collaboration of stars. Talk about how the song came together.
Lil John Roberts: That was the first sessions I did for this record. I went in the studio with some friends that were in town. They were on the road with D'Angelo. Chris Dave played the drums, we played double drums together. Pino Palladino was there. James Poyser played keys on top of it. Melvin Jones was on there too, he's a drummer from Atlanta. We put the track down first and once I listened back to it, because we had like 3 hours to record a bunch of stuff, that was the first recording we had done that night. I was like, "this is the song and I have to do something with it". I went back in and started cutting things up like to make sense for 16 bars or 12 bar verses. I started sending it to people like Stick from Dead Prez. He was the first guy I got on there. I was like "maybe I should get a rapper on this because of the vibe". He sent stuff back to me and it was killer! We never had a chance to finish it though, so I had to move on. I was like, "who else can fit this track?" because I didn't want to just put names on there. I reached out to Eric Roberson who is my homeboy. He heard it and immediately wrote a hook to it. He sent it back to me and I loved it. I was like, "can you put a verse to it?" and he put a verse on it. I reached out to my boy Anthony David. He rolled with me a lot and we've been friends for almost 20 years. He wrote a verse and sent it back. I had been talking about doing something together with Stokley eventually, so I said, "yo I got this track, you want to check it out?" I sent it to him and he wrote a verse. Musiq heard the track before any of them and when he heard the little breakdown where he comes in, he told me he wanted that breakdown. He came in and did his breakdown and his verse. That's how that song came about.
YouKnowIGotSoul: You have another song on the project called "It's Your Time" and that one has Musiq Soulchild & Chante Cann. Talk about that one.
Lil John Roberts: That song came from Eric Hartley who is in DC. He sent me a track because we had talked about doing things together. He sent me a few tracks and that one stood out because it had no drums on it. It just had keys and bass on it like he played on it. I went in and played drums on it and I was like, "I need to get someone to sing on this". At first it was going to be an interlude. I was like, "Musiq, listen to this!". He didn't want to jump on it and be like, "I want to jump on this". He was like, "I feel something. Let's see what is up!" I saw Chante Cann at a spot in Atlanta and pulled her over. I was like, "listen to this!". She was like, "this is sweet". I told her that Musiq heard it and liked it as well, so I was like, "why don't you guys sing on a duet together?"
YouKnowIGotSoul: Someone on your album who has a had a lot of success as a musician and a producer is Robert Glasper. He's had a lot of success with his albums as well. Were you influenced by that at all?
Lil John Roberts: Me and Robert are homeboys too. When he comes to Atlanta, we set up sessions and we've even done a few nights together and playing with Chante as well. He heard the record for "It's Your Time" and was like, "we should do an interlude for this!" We went in the studio and started messing around. First take, that was what came out from the interlude for "It's Your Time". I hit up Derek Hodge afterwards and I said, "Do you mind playing on this and send it back to me?" We do that a lot these days because everyone can't be in the studio at the same time especially with our studios and also, we can do tracks and send the files to each other. After that, Muhsinah wanted to jump on the song. She went in the studio and started vibing. She layered the stuff out and that's why you hear her singing in that song. Then I brought some Cuban drummers in there as well to play some stuff on there.
YouKnowIGotSoul: How has it been stepping out from behind the scenes as a musician and now promoting this album. Has it been a challenge?
Lil John Roberts: Coming out as an independent artist, I've had help from Purpose Records. I'm very grateful to George Littlejohn, Russell Johnson and my friend Jordine Dorce who has been very instrumental in helping me put this together. It's an independent venture and I have a distribution with them. I'm not signed as a major artist, so I don't have that machine like a lot of people have. Basically it's really off the reputation of me and my history and in conjunction with the machine that Purpose Records has. It does so good with online interaction and people just getting the word out to the right place and the relationships that we all have. That's the main thing. It's just to get it out to where it needs to go for people to hear it and then they want to get it. I've been fortunate to have those good combinations together.
YouKnowIGotSoul: Anything you'd like to add?
Lil John Roberts: I'm just happy about the response of this record and the love I've been getting all over from the US to Japan to the UK. I just want to thank everybody for believing in my project and investing in it with your money. I'm very happy for the responses that I've gotten.