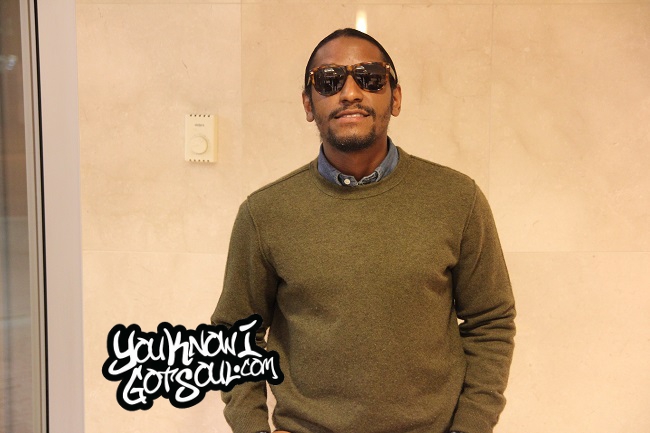 Lloyd soared to new heights when his last album "King of Hearts" came out in 2011. He teamed up with Polow Da Don to put together a project that turned him into one of the most popular male R&B singers. His singles "Lay It Down" and "Cupid" both made an impact on Urban radio and "Dedication To My Ex" crossed over to Pop stations. After that, it seemed like Lloyd randomly disppeared off the face of the earth. After going through some changes with his record label situation, Lloyd is finally back. YouKnowIGotSoul talked to him about his new independent situation and what we can expect from him moving forward.
YouKnowIGotSoul: Your last album "King of Hearts" came out in 2011, so bring us up to date with what you've been working on since then.
Lloyd: I released my last major album and then I just disappeared off the grid a little bit. I went home and spent some time with my family. I was there the night before my niece was born and then I had to leave to go to Los Angeles. I worked with the likes of Childish Gambino who is a good friend of mine. I just worked on some other artists' material. As of recent, I got the inspiration to start making some new music. Hopefully in the next year, I'll finally be able to say something. Until then though, I've been appreciative of all the experiences I've had.
YouKnowIGotSoul: "Kings of Hearts" was released on Interscope. Are you still signed to them?
Lloyd: No, I am a free bird.
YouKnowIGotSoul: What made you decide to go independent?
Lloyd: I've always been independent naturally. I grew up with 6 brothers and sisters, so I've always had to find my own way. I always had to have my own thing and yeah, I just think it's 2015 and the world doesn't depend on a major label anymore to get the message out. I think that if you have something to say that's worth hearing, you can do it on your own and still deliver it.
YouKnowIGotSoul: You released "Playboy Diaries Volume 1" a few years ago. What was that mixtape about?
Lloyd: That was my first stab at free music. I was doing something that didn't cost the people anything to download, but cost me everything to make. *Laughs* I spent a few months working on that. It happened relatively fast and easy. I had a lot of ideas from a lot of movies that my mom used to play for me from the 1970's. They were blaxploitation movies like The Mack or Petey Wheatstraw. I just drew some inspirations from some old films that I grew up watching and I also met a very cool guy named TK Kirkland who is a comedian. We had some ideas about some skits and we were just having fun. It was the first time I was able to make a project with no strings attached. It was fun and whatever we wanted. That's what you got with that mixtape.
YouKnowIGotSoul: On your 2006 hit "You" with Lil Wayne, you were able to push that on your own without the backing of a major label. How were you able to do that?
Lloyd: Believing in the song was half the battle. Having good friends in good places at the radio in Atlanta was a quarter of the battle. I guess the undeniable talent of Lil Wayne by my side helped. My good friends Jasper and Reese worked with me on that song. We worked on that song in Reese's garage and I remember Hurricane Katrina happened around the same time that the song was made. Murder Inc at the time wasn't able to release any music. I needed to work and put stuff out to support my family. My whole family was staying with me in my condo at the time. They were eating military meals. The shit was real! We just basically did a few shows, saved all our money and spent every dime to promote and market the song locally. It took off and it grew to become what everyone knows today.
YouKnowIGotSoul: Do you think that approach would still work in today's market?
Lloyd: I think what's interesting about the paradigm between major labels and independent is the real excitement and the organic following that comes with doing it yourself and that comes with superseding the radio or bypassing the system to reach the source. The source is always the people. Sometimes without a lot of money, which is basically what a major label is, it can seem harder to actually reach a lot of people at one time in order to create a movement. At one time, people enjoyed movements. I think as someone who has been in the mainstream for most of his life, I started to cherish most of the underground artists that were coming out. I was downloading albums on iTunes for a dollar from these college bands and I was enjoying the music they were making more than the music the machine was turning out because it felt more organic. It felt more reflective of the truth and I found that to be really interesting. I just wanted to adapt some of that. A lot of my biggest heroes and influences entered the business and did it themselves. They were all self-made.
YouKnowIGotSoul: On your debut album, the sound was very Hip Hop driven in a time when R&B and Hip Hop hadn't really merge into what it is today. Was that your vision?
Lloyd: I guess back in 2004 when "Southside" came out, Hip Hop and R&B weren't the same category, but they shared the same energy and the same messages. We all came from the place, but some of us spoke with melody and others spoke with a different dialect. I'm not sure how or why things are the way they are. I just know it's about evolving and it's inevitable. I like what it has become. I'm a fan of music today. I'm not a cynicist. I don't think music was better yesterday than it is tomorrow. I just believe that the next song is the best song and all genres are being whited out. I think everything is being connected now. We all crave the same thing, which is some form of expression.
YouKnowIGotSoul: Of course you came from that mid 2000's artist where major labels were all trying sign to male artists to form the next Usher. "Confessions" was a big success, so it seemed like labels were trying to find the next Usher. Did you have to deal with that?
Lloyd: Yes and no. I was lucky and different because I actually started before that era. I signed my first deal when I was 1997 and through making my first album as a kid, I was able to have relationships with a lot of producers and record executives in my own way. It was never me being modeled after someone else. It was just about continuing to grow from where I started when I was 10. But in working with a lot of major producers, it's only natural that a producer will create a song with someone in mind. On more than one occasion, I had to deal with "Hey, I wrote this for such and such but I think you can pull it off!" It never worked for me, but it happens.
YouKnowIGotSoul: Take me through what you remember about recording the follow songs. The first one is Wale's "Sabotage".
Lloyd: Finally some instruments!
YouKnowIGotSoul: Ashanti's "Take Me Tonight".
Lloyd: Finally we get to record again after so many years after "Southside".
YouKnowIGotSoul: Ja Rule's "Where I'm From".
Lloyd: I've come quite a long way from where I started, but I'm still affected by everything that's still happening in the neighbourhood.
YouKnowIGotSoul: Your song "Valentine".
Lloyd: I thought about the Jacksons. It was Michael Jackson meets Decatur.
YouKnowIGotSoul: What about "ATL Tales"?
Lloyd: I felt like "Hello".
YouKnowIGotSoul: What about "I Can Change Your Life"?
Lloyd: I can change your life if you give me about 4 minutes of your time.