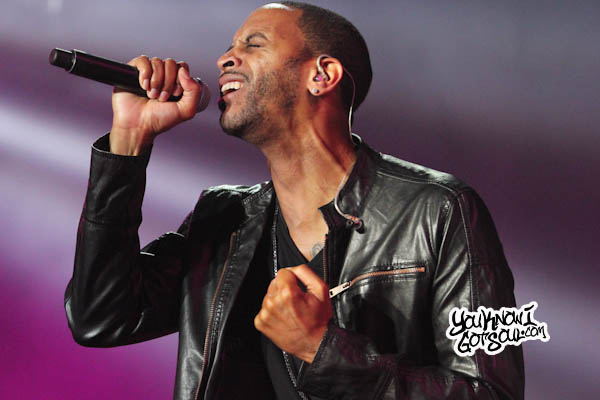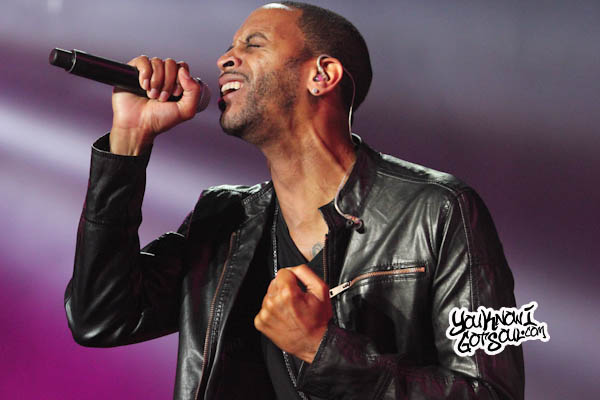 When we interviewed Lonny Bereal a year ago, many just knew him as the guy who wrote for Tank and Chris Brown. A year later, Lonny has been able to establish himself not only as a Grammy Award winning writer, but also as a solo artist. Lonny is finally set to release his debut album "The Love Train" later this month after paying his dues in the music industry. YouKnowIGotSoul had a chance to catch up with Lonny to discuss his debut album, his new single "Make You Mine", his Grammy award and his frustrations dealing with the politics from the music industry.
YouKnowIGotSoul: Talk to me about the overall sound of your new album "The Love Train" .
Lonny Bereal: The overall sound of the album is really just a combination of all my inspirations growing up from Jodeci to R Kelly to Tank to Brian McKnight. I took all of those sounds and made Lonny Bereal's sound. I call this album a blast from the past because it gives you all that good feeling from the R&B music back when I was growing up. It's classic R&B music and baby making music. It's good time and cleaning up the house, driving type of music. It's a little bit of everything.
YouKnowIGotSoul: Talk to me about the title.
Lonny Bereal: "The Love Train". The concept behind the title is if we just respond to adversity or whatever we're going through with somebody, a friend, a family member or anybody. It could even be a stranger on the street that you have odds with. If we all just respond with love to any situation, we can stay connected some kind of way and create this movement called "The Love Train".
YouKnowIGotSoul: For this album, I'm sure labels and critics have expectations for you. What is your personal goal for this album?
Lonny Bereal: My personal goal for this album is just to get started and get my foot in the door. I want to get out on the road and touch some of these fans and gain new fans. I just want to give my personality and spread love. Of course everybody is going to have their opinions and you can't please everybody. That's something that I asked my boy Ne-Yo like "How do you please everybody?" Sometimes there's a song that I might love that nobody else loves, and there might be a song that I hate that everybody loves. Ne-Yo just told me, "Man it's impossible. For you to try, it sounds crazy." I just took that advice and said, "I"m just going to do my music and whoever embraces my music, they do. Whoever doesn't, it just wasn't for them. You're not going to win everybody over. Hopefully I can win them over with the next album."
YouKnowIGotSoul: You've written for the likes of Chris Brown and Tank. What kind of approach did you take with this album to make sure people knew that it was Lonny Bereal and not just someone who wrote for Tank and Chris Brown?
Lonny Bereal: On this album, it's the beats that I love. It's the songs I wanted to sing. I never really think about what I've done when I go into the studio. I don't think about what I did yesterday or what I got an award for and the people I've worked for. I just go in there and whatever feels good to me, that's what I roll with. That's what I did with this album. Of course you're going to hear a little "Yeah he may have written with Chris Brown and Tank. I can tell on this song and that song," because I always give everyone a little bit of me. I don't really think about proving a point that it was me on this guy's song.
YouKnowIGotSoul: Last year you released your first single with Kelly Rowland, but we haven't really heard too much from you as far as a mainstream single. Are you putting out a new single anytime soon?
Lonny Bereal: Actually we just put one out last week. Some radio stations picked it up. It's called "Make You Mine". I'm getting ready to do some radio interviews and also some in studio interviews as well. I just had to make my way since "Favor" came out. I had to finish the album and the politics of the music industry that nobody really ever hears about. Everybody just wants the music like "Where is he? What's going on?" I had to fight through a few things, but the album is coming March 27th now. We just came with the single "Make You Mine". You'll definitely see a couple more videos. I'm shooting a video to "Make You Mine" next week and I have a new video that I shot already called "Michael Jackson Thriller Swag". I'm getting ready to load ya'll up real heavy.
YouKnowIGotSoul: Your first single came out last year and there's been a huge wait for your album. As a writer and an artist, does it ever get frustrating because I know you're always in the studio working on music? Did you have to revamp your album because it took so long for your album to come out?
Lonny Bereal: It definitely was frustrating. It takes a lot to bite your tongue and not say what you want to say. Some songs didn't make the album because of the politics. I had to pull some songs from different areas. As far as revamping the album, maybe a little bit. For the most part, it was solid and stayed the way it was. As a new artist, I understand everything can't go my way. I'm grateful to be here. Whatever didn't make it on this first album, I can hold it for the second album or give it away on my next mixtape. My fans are going to get the music that I want them to have, one way or another.
YouKnowIGotSoul: Give me some background on your new single "Make You Mine".
Lonny Bereal: I was just working in the studio with Troy Taylor. Shout out to Troy Taylor who found Trey Songz and has a lot of Trey's hits. He did four songs on this album. I was actually working with him that week along with J-Doe and another writer/artist named Seven who is signed to Chris Brown. We brainstormed. Troy played the track, I loved it and I said "I gotta have this track, we have to figure something to it." We sat in the studio for about three or four hours and then "Make You Mine" came out. I loved it. The concept of it is "Every day, a man is looking for that woman," and on this concept, I actually find that woman and I'm asking "What do I have to do to make you mine?"
YouKnowIGotSoul: For a lot of artists that come into the music scene, they expect their albums to drop right after they're signed but that isn't always the case. For you, did you kind of expect the wait or did it catch you by surprise?
Lonny Bereal: I knew what to expect from "Favor" being released because when I actually signed my deal, I did a single deal first, not a deal for my album. Immediately in the contract, it gave the release dates for "Favor". I was hoping "Favor" did well enough for the label to go ahead and want to do the album. I had a lot of songs done already as a songwriter, so I came with enough songs and "Favor" did well enough to say "We want to put this album out." I wasn't sure the timeline and I didn't think it would take this long, but God's timing is better than mine. I'm just happy that it's coming out March 27th.
YouKnowIGotSoul: Of course you're on Notifi Records which has had some success with male R&B artists like Ginuwine and Johnny Gill. Do you feel like this is a good marriage for you?
Lonny Bereal: I think it's a great time for Notifi to try something new. I'm a new artist. Ira Dewitt is known for what she's done with Ginuwine and Johnny Gill. I think right now for my situation, she let me be me. She didn't try to make me into a different artist or what she thought I should be. I'm just happy to be where I'm at with the album coming. It's a good situation.
YouKnowIGotSoul: Of course, you started out as a writer. I've heard from many artists who started out as writers that they enjoy the whole transition from being a writer to an artist because as a writer, you're able to develop your sound. Have you found that to be the case with yourself?
Lonny Bereal: Well I actually use the process for writing for other people to develop my sound. When I first started writing, I started out writing wanting to be an artist. I was writing for myself. I didn't really have a sound or identity. Over the years I would write songs and sell them and build up my catalog to where people respected me as a songwriter. Meanwhile, people didn't really know that I was developing me. I definitely used that to develop my sound. I love writing for people now though. It's something that I'll never stop doing. I'll probably create a newer sound on the next album while I'm still writing for everybody else.
YouKnowIGotSoul: You won a Grammy for being part of the Chris Brown "F.A.M.E." album. Where does that rank as far as your accomplishments in the music industry?
Lonny Bereal: That was so big for me. It's one thing to be nominated and that's exciting too. Like Tank's "Please Don't Go" was nominated and I actually got a certificate for Pleasure P's "Under" being nominated as well. For me to actually win with Chris Brown, it took me to another level as a songwriter. I was all smiles. I'm still all smiles. I can't wait to get back and hopefully win again. That's definitely something I have under my belt and I'm happy to have it.
YouKnowIGotSoul: Who are you currently working with?
Lonny Bereal: I'm actually getting ready to head to the studio with Kelly Rowland. I'm back in with her, working on her new project. It's sounding amazing already. I just finished up with Chris Brown on the "Fortune" album. I been in with Tank on his new album. His new album is crazy. A couple of others like LeToya, Brandy and Usher. I'm just staying busy and "The Love Train" is coming so I'm going to be on the road and back home in the studio. I'm trying to clone myself as we speak.
YouKnowIGotSoul: Give me some background on the song "Overdose" you wrote for Jamie Foxx.
Lonny Bereal: Wow I was just thinking about that song last night. Me, Jamie and Tank were in the vibing in the studio. Tank had this beat and Jamie loved it and we just started humming different melodies. Tank went in the booth and he just came up with one word which was "overdose". We were like "Wow that's it!" We vibed and went back and forth. We got that song done in about an hour. It just came out special. That's one of my favorite songs, believe it or not, out of all the songs I have out there.
YouKnowIGotSoul: Another I'd like to get some background on is "Girlfriend" by Day26.
Lonny Bereal: Another one I did with Tank. We were actually at the Boom Boom Room in Burbank, California. We just locked in the studio for about a week or two and just came up with a bunch of songs and "Girlfriend" was actually in the batch of songs. We had fun writing that song. That song was a fun record. Shout out to Day26 for putting that on their album.
YouKnowIGotSoul: Anything you'd like to add?
Lonny Bereal: "The Love Train" is coming March 27th. Make sure you guys support that.
You can follow Lonny Bereal on Twitter @LonnyBereal