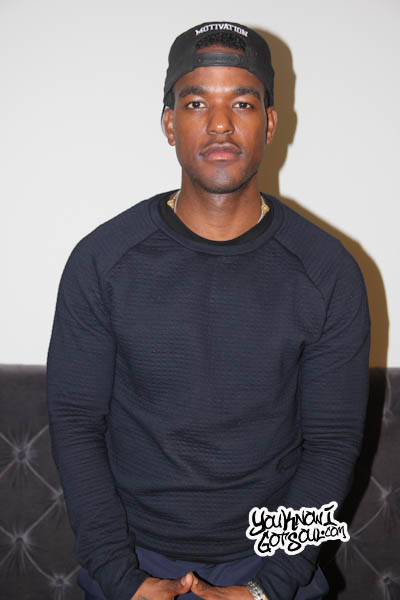 Luke James has been on fire lately with his music career. Opening for Beyonce on her "Mrs. Carter Show" has allowed him to gain new fans as he's been showcasing his powerful vocals all over Europe and North America. The interest generated from the tour, along with the music, has the industry buzzing as everyone anticipates his debut album "Made To Love". YouKnowIGotSoul had a chance to talk to Luke James about his upcoming album, his touring experience with Beyonce and his early days working with Tank and The Underdogs.
YouKnowIGotSoul: Talk about the overall sound of the album.
Luke James: The overall sound of the album is love. It'll be similar to the complimentary album "Whispers In The Dark". It'll have a little bit of Jazz, Funk, R&B and a mixture of genres like Alternative. It'll be a very emotional roller coaster, very dramatic theatrical.
YouKnowIGotSoul: Aside from Danja who you are signed to, who else have you worked with?
Luke James: Producer-wise, I've worked with Salaam Remi and Chuck Harmony. I've mainly worked with Danja. I've worked with lots of other people, but we're still putting it together.
YouKnowIGotSoul: Do you have a release date yet?
Luke James: It'll be out in September. Not sure of the date yet, but September for sure.
YouKnowIGotSoul: One producer that I spoke with sometime back is Jerry Wonda and he mentioned you have a duet with Estelle. Will that appear on your album?
Luke James: Not sure if it's going to be on the album, but it is something I've been thinking of putting out. Something like a Luke James duets with the girls kind of taking off of Marvin Gaye.
YouKnowIGotSoul: Who else do you have on the album?
Luke James: On the album, we have Hit-Boy. We just put out the "I.O.U." remix featuring Wale, that will be on the albun. The rest, people will have to just get the album and see.
YouKnowIGotSoul: On your "Whispers In The Dark project, it had a very dark sound to it. With your singles, I've noticed it's been more of the traditional R&B, so is the process different when you're writing different types of songs?
Luke James: The only single that I've written is "I Want You". The other two have been Ne-Yo and Kevin Cossom, so you hear the difference. The process doesn't really change as long as I'm in a good vibe and I want to create. The album will have a dark tense to it but there's always light at the end of the tunnel.
YouKnowIGotSoul: This dark R&B sound is really popular right now and a lot of fans seem to be loving it. Do you think you're able to connect to both the newer R&B fans as well as the traditional fans?
Luke James: Yes, I think I do connect with the traditional audience and our generation of what R&B is to us. I think it's only because I sing. The way I sing translates well to the more traditional audience.
YouKnowIGotSoul: Talk about your experience being on tour with Beyonce right now.
Luke James: Being on tour with Beyonce right now has been an awesome experience. Being both overseas and now US/Canada tour, it's been awesome. I'm just having a great time, the audience has been great. The whole Mrs. Carter family has been tremendous to us.
YouKnowIGotSoul: I know you came from The Underdogs camp with Harvey Mason Jr and Damon Thomas. It seems in recent years, everyone is having a lot of success from that camp such as Tank, yourself and James Fauntleroy. What was so special about that camp and what did you learn from that experience?
Luke James: It was like a hub. It was basically a hallway or floor of us creating and just being around each other. It was an awesome experience and just being around, I learned to create, record and learned certain formulas to writing and the basics.