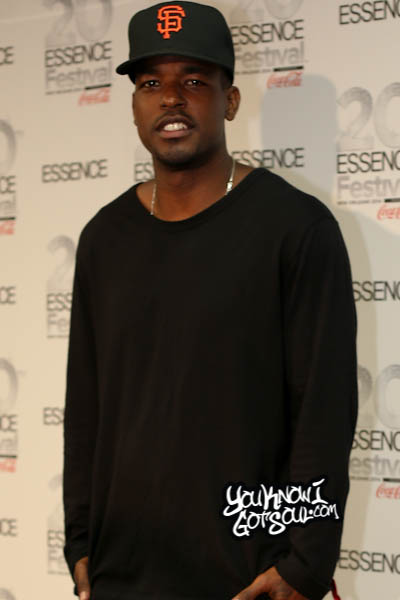 It's finally time for Luke James to shine. He's spent the last three years building his name for the day that he could finally put out his debut album. From his Grammy nominated single "I Want You" to opening up for Beyonce on her tour, the anticipation is at its peak for the powerhouse vocalist. YouKnowIGotSoul had a chance to quickly catch up with Luke James in the 2014 Essence Festival Press Room to talk about his upcoming album and thought process behind the title and direction of it.
YouKnowIGotSoul: You just announced that you changed the title of your debut album from "Made To Love" to "Luke James". Why did you make that decision?
Luke James: I made the decision to change the title of my album to "Luke James" because it just felt right. It's my first album. It's just from hanging with friends and playing the album for them, true friends will keep it truthful. They were just big on "Luke James" and I'm just trying to build the brand.
YouKnowIGotSoul: Since you changed the album title, did that change the direction of the album as well?
Luke James: I think the direction had already changed from "Made To Love" just over time of creating new music. I'm still creating today, so "Luke James" is fitting for what it is now.
YouKnowIGotSoul: Your last project "Whispers In The Dark" came out in 2012, so how did you know that it was time to put out an album?
Luke James: I think it's just a feeling. I think it's just a feeling and idea. Just getting out there with the people, being on tour and then paying attention to social media, people will tell you what it is. It's just time. "Whispers In The Dark" was just a teaser, but this will be the official installment of Luke James.
YouKnowIGotSoul: We spoke to Steve Russell of Troop and he told us that he taught you how to write. Talk about that.
Luke James: Yeah, Lil' Steve definitely gave me my first shot. My first placement was Ruben Studdard's "Change Me". That song right there was just him opening that door that allowed me to write songs for so many other artists.
YouKnowIGotSoul: How has your writing evolved since then?
Luke James: It's enabled me to really find who I am as an artist and what I want to say. It's one thing to help tell someone else's story, but the easiest and hardest thing is to tell your own. It's like "How vulnerable do you want to be?" Then you have to perform these songs every night and you have to relive that feeling all over again.