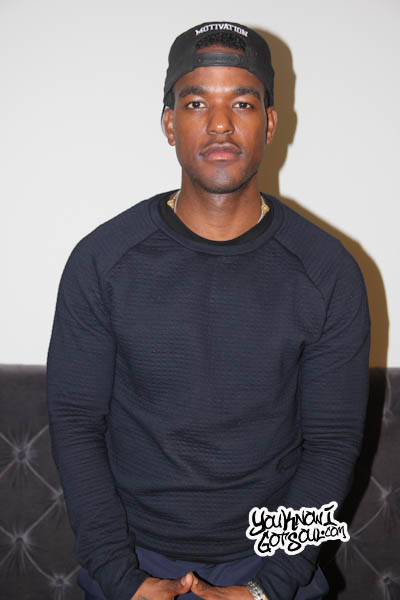 Literally since the moment we began covering Luke James (at a private showcase here in NYC) a couple of years back, we had a pretty good idea he was ticketed for stardom. Over the past year, he was further introduced to the world with accolades like performing at the Essence Music Festival, opening for Beyonce at her sold out shows, and being nominated for a Grammy; and this is all without even releasing an album. Already one of the best performers we currently have in r&b, Luke recently released his edgy EP "Whispers in the Dark" to try and build on some of the buzz he's been getting. As his evolution as an artist continues, he'll soon show his growth even more when he releases his debut album later this year. YouKnowIGotSoul got the scoop and sat down with him while on a recent promo run here in NYC. We discussed with him the feel of the "Whispers in the Dark" EP, the emotion he puts into his music, how his debut is coming along, his upcoming role in "Black Nativity" and much more.
YouKnowIGotSoul: You released the "Whispers in the Dark" EP a few months ago. What do you feel you were able to accomplish with that project?
Luke James: I feel we accomplished just getting noticed and giving people something more about Luke James. I was just showing a side of me that I'm not completely comfortable with showing, but I'd like to think of myself as an honest soul and I think that's something that I'm promoting. My ability to just give my passion and conviction and how I perform. Musically we wanted to give a piece of work and it's just songs to keep people on the Luke James buzz.
YouKnowIGotSoul: You've been building so much since your "Luke" EP that you released last year. I felt like this project was a little edgier and showed a different side of you. Is that where you trying to go with the project?
Luke James: It's definitely where I am. The official album will have more colors to it, but the darker side is just who I am. It's just my expression and my place where my mental is and with "Whispers in the Dark", it was just the way we put the songs together. It just says a lot about myself and my growth in relationships and life in general.
YouKnowIGotSoul: Talk about the song "Strawberry Vapors" because I love the song, but I have no words to describe what I'm hearing on that song. How did it come about?
Luke James: I feed off of life and I use life as my muse. It was an experience that I had with someone. Danja created this composition and it just said that to me. We created it and that's what it is. It's a vibe of something. There's always someone who can help you let your hair down. That's basically what the song is about.
YouKnowIGotSoul: Along with the EP, you also released the single "Make Love To Me" which was written by Ne-Yo. Talk about that song.
Luke James: That song came to me and I couldn't deny it. The song had a great feeling and it had an R&B traditional vibe to it, but it also transcends melodically. It's very sensual and I believe in music that has some type of closeness that it feels like it's right on you. This song made sense to my whole being and someone who believes in love.
YouKnowIGotSoul: So much of your music involves emotion. How hard is it for you to put your emotion into a song that wasn't necessarily written by you, but for you?
Luke James: It's not hard for me to put my emotions into a song that wasn't written by me, but for me. Sometimes the song isn't even written for me. It's all about feeling and if I feel it then I can do it. I won't do any song. I'm not going to do random songs because it sounds good to everyone else. I should do it, but it's not for me. For me it's about feeling. I think if I can feel it, then I can portray a feeling and I can give something more to the song rather than just the lyrics and the melody.
YouKnowIGotSoul: You've also got out the single "I.O.U." What inspired you for that one?
Luke James: That was actually written by my brother Kevin Cossom. When I heard it, it's a lot more R&B than what I've done or what people have heard from me. I think it has a great message and feeling and it feels good. I did it and the label heard it and wanted to put it out. I think it's a song that's effective and I'm all about it. People are loving it. I'm getting hit left and right about how good it makes them feel. The song also has a great message.
YouKnowIGotSoul: Talk about how your album is coming along.
Luke James: Right now we're in the stages of putting it together like what comes first and what comes last and what's in the middle. "Whispers In The Dark" is somewhat of an album. Those are interludes, they're just in their entirety. Hopefully when people get the official album, they can make their own album up and you can listen to this movie. The album is coming along real nice. I'm thinking about going back in the studio and giving it a little more to it because until it's on the shelf, it's not done.
YouKnowIGotSoul: Of course you're signed to Danja who is a very talented producer. He's told us that his sound is constantly evolving. How much is your sound influenced by his evolution over the years?
Luke James: We're like-minded and we like a lot of the same music. The music he finds, he puts me on and vice versa. I think it's all about growth and understanding because we're collaborating together and creating something. We want it to be great and felt. I guess as I evolve, he evolves and vice versa. We basically live together and that's always a tremendous thing because you can really get into each other's energy and just find different places to go musically. There are so many places you can go and so many colors you can add in with music and it's just a matter of figuring it out.
YouKnowIGotSoul: You're one of the most buzzed about artists we've had in r&b in a while. Is it ever a challenge or is there ever pressure put on you to meet those expectations?
Luke James: The only challenge I find, because this is show business, is staying true to myself. That's the very thing that creates my buzz. The thing that makes me buzz worthy is who I am and how I feel and how I portray that. The only challenge is just to stay in my place and my world that I am not so comfortable, but it's me. It's not someone else's thoughts or how they see Luke. It's how I see myself and if there's more. It's up to me to express that.
YouKnowIGotSoul: Anything you'd like to add?
Luke James: I just want to thank you. I don't take this lightly, I really appreciate the love and support. I hope we can have many, many, many more years together as we take this journey in my life. Also, there's a new movie coming out November 27th. It's a movie that I'm featured in called "Black Nativity". It's myself, Angela Basset, Forrest Whitaker, Mary J. Blige, Nas, Jennifer Hudson, Jacob Lattimore, Tyrese. It's a beautiful movie about the Langston Hughes Broadway musical of the same name.