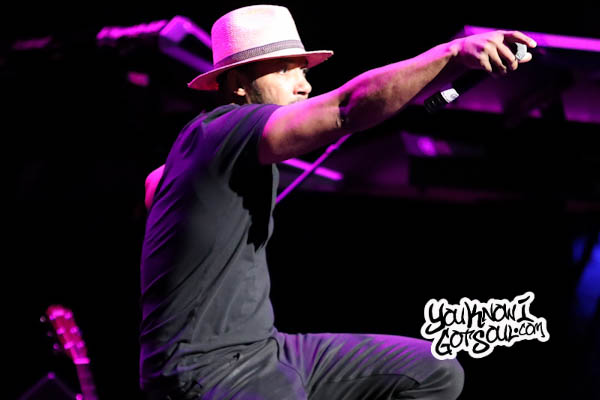 Although Lyfe Jennings has had a lot of negative press over the years for personal issues and jail stints, one thing nobody could ever question is the talent he possesses. Despite the fact that it may never earn him an invite to an award show, he's always focused on providing the conscious side of music and touching on social issues when others were afraid to. This has allowed him to become a permanent fixture in the r&b scene, major label or not, and earned him the respect of music fans around the world. That realness was certainly present on his new single "Boomerang", and will be on full display for the world to see in his upcoming reality show. As he prepares to release his fifth studio album "Lucid" independently, there's no reason to not expect the same quality artistry that Lyfe has always given us. YouKnowIGotSoul sat down with Lyfe after his recent performance in NYC for Summerstage. We discussed what to expect on the new album and new reality show, making conscious music, and his inspirations.
YouKnowIGotSoul: What can we expect from your new album?
Lyfe Jennings: I've got a dope album. You'll be able to hear it from love, situations, falling off to getting back on. It'll be like my regular stuff. Everybody else is talking about "Yo I changed my style and I'm new!" I'm not becoming new, I'm going to keep giving you the same thing I've been giving you which is the truth.
YouKnowIGotSoul: I was reading that you reached out to your Twitter family for help finding a title. Did they help you come up with "Lucid"?
Lyfe Jennings: Everybody was just telling about clarity. Nobody actually said "Lucid". I guess it was accumulation of everybody they said, like there's subconsciousness and clarity.
YouKnowIGotSoul: You released the "Boomerang" video recently. It sends a strong message against bullying with the bunny in the video. What inspired you to do something like that?
Lyfe Jennings: I go through stuff in my life. It might not be something physically harassing me, but it could be something else. I take situations that have happened in my life and talk about them because I don't want anybody else to have to go through them.
YouKnowIGotSoul: What inspired you on this project?
Lyfe Jennings: Just different things. Sometimes it's just a concept or a situation that happened in my life. Sometimes it's a situation I heard about. It's just whatever strikes me and interests me, I write about it.
YouKnowIGotSoul: Your material has been very conscious in the past. Can we expect the same on this project?
Lyfe Jennings: Yeah, we got the "Boomerang" joint. We got situations like "We're in relationships and what do we do? How do we bring that fire back into the relationship?". I got some other stuff like happy music such as "I finally made it and I'm where I want to be." It's a great album.
YouKnowIGotSoul: Who have you had a chance to work with?
Lyfe Jennings: Just really Wale and Fantasia. That's pretty much it.
YouKnowIGotSoul: You've been working on a reality TV show as well?
Lyfe Jennings: They told me not talk about it anymore because all the ink isn't done. But yes, there is a reality show in the works. Yes and it's going to be interesting.
YouKnowIGotSoul: Did you have any hesitation doing a reality TV show?
Lyfe Jennings: They're not going to control me. No one is going to make me or my folks look crazy. If that happens, keep your bread and we'll keep our life. This is an even exchange like I give you my life, you give me that bread, but you won't be able to turn my life into something that it was not.
YouKnowIGotSoul: Anything you'd like to add?
Lyfe Jennings: We're going to keep bringing you guys new music. Album is out October 8th. I'm everywhere, we're on tour.