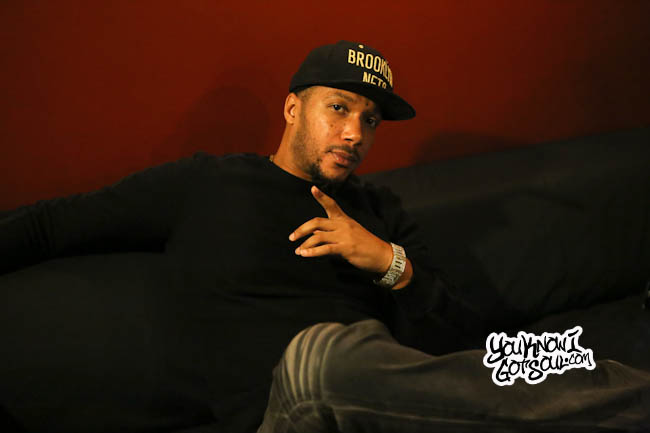 Since his debut album "Lyfe 268-192" over a decade ago, Lyfe Jennings has made a name for himself creating conscious r&b records. From songs like "S.E.X." to "Statistics" to "Boomerang", the lyrics run deep and are extremely relatable. Following the release of his latest single "Pretty Is" from his upcoming album "Tree of Lyfe", things are on track to stay the course. The follow up to 2013's "Lucid", this is Lyfe's 6th album and yet another chapter in what is slowly building into one of r&b's most consistent of his generation. YouKnowIGotSoul sat down with Lyfe Jennings during a recent promo run in NYC and discussed what to expect on "Tree of Lyfe", continuing to create conscious records, what he'd change about his career, and much more.
YouKnowIGotSoul: The new album "Tree Of Lyfe" is coming in June. You had the great album "Lucid" that came out in 2013, so how did you know when to get started on a new project?
Lyfe Jennings: I'm a funny guy. I don't really write songs for albums. I just write all of these songs and if they fit into an album that's coming, then I'll put them on there. I'm always writing. Even now, I'm done with "Tree Of Lyfe" but I've already started working on the next project.
YouKnowIGotSoul: How did you know you had a body of work ready where you could make a project out of it?
Lyfe Jennings: I think you never know. You just keep creating and then when the deadline comes, you just pull some songs together. I probably have 5-6 body of works ready to go. I'm just continuously writing.
YouKnowIGotSoul: I was reading that you called this album your most personal work to date.
Lyfe Jennings: Lies! I did not say that. People keep saying that. Every album, I give myself a 2 year period to go through different experiences and then I write about those experiences. So to say that this is my most personal album to date would be non-sense because my last album was the most personal at that point because that's what I went through for 2 years.
YouKnowIGotSoul: "Pretty is" is the first single. It's a conscious record like we're used to from you, so talk about that song.
Lyfe Jennings: The stripper game is phenomenally crazy right now. It's an epidemic right now. You hear a lot of cats like Usher, who is one of my favorite artists, he's like "I Don't Mind, you can stay out all night and get your bread". Well, I don't want you staying out until 4 or 5 smelling like wet wipes. I'm not hating on anybody, but that's not on my to-do list personally.
YouKnowIGotSoul: How does a record like "Pretty Is" come together? Do you have the motivation to create conscious records or are you moved by the production?
Lyfe Jennings: Sometimes I'm moved by the production, but this was a particular scenario that I had seen and I wanted to write about. I never immediately jump on any topic. I let it find me and I'll find a melody and beat. It'll just come by itself because I don't want it to sound forced. On none of these songs do I say "I'm going to write a song about love or sex". I've always had the experiences and I waited for the song to formulate itself.
YouKnowIGotSoul: You've always talked about real topics and you've stood out because of that. How do you keep that going?
Lyfe Jennings: I just keep on going through life. I'm not afraid to live life. I'm not afraid to be hurt or lose. Even more importantly, a good situation can be wasted upon you. All these situations I go through, I feel like God puts me through them because he knows I'm going to write about them. My happy times are going to be real happy and I'm going to tell you how I got so happy. But the bad times, I'm going to write about them to too.
YouKnowIGotSoul: Did you introduce any new elements to the new album?
Lyfe Jennings: A lot of hollering. *Laughs* A lot of emotional stuff. I haven't really introduced anything new because the truth is never new. It's always the same old truth. I think I've made the beats a little more contemporary and Urban, but that's the cats that are doing the production. I let them do that and I take care of the production.
YouKnowIGotSoul: What is your goal when creating music? Your music is so personal, so what do you set out to create?
Lyfe Jennings: I want to be a library. You know how you go on the internet to find out the history from the 40's and 30's? I want to be the go to person when they're going through something emotionally. Even if I've been dead for 30 years, I want this body of work to be right there and as soon as their kids are going through something, they can say "Put this Lyfe Jennings album on right now. This is what you're going through right now".
YouKnowIGotSoul: Have you considered making a musical or something that's visual with all your stories?
Lyfe Jennings: We're doing a tour this year and it's called "My Funny Life" and there will be a comedian that will tell stories about my life. As he gets to certain junctures in my life, I come out and sing these songs. It's almost like a play and I'll script it like that just to give people a visual for the songs.
YouKnowIGotSoul: Your first album came out almost 10 years ago. If you could go back in time, what would you tell a young Lyfe Jennings to change?
Lyfe Jennings: I wouldn't change a thing because I'm really happy right now. I might not be happy if I changed anything. I would just tell him to keep living and don't be scared to try new things. Don't be scared to go through those new things so you can come out of those things and write about them.
YouKnowIGotSoul: Anything you'd like to add?
Lyfe Jennings: Album is coming out June 23rd. I appreciate everyone supporting me this long.