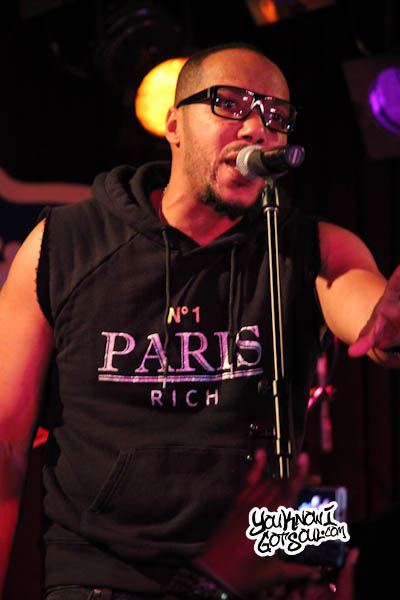 At this point in his career, Lyfe Jennings has unfortunately been known just as well for his music as the legal issues which he's suffered over the years. Having recently returned home from incarceration, the road to reproving himself begins now. As we exclusively revealed last month, Lyfe is already at work on a new project. His motivations are a bit different this time and he has shifted his perspective on his road to redemption. YouKnowIGotSoul caught up with him after a recent performance in NYC. We discuss what to expect on the new project, his new motivations in life, being considered a social conscious singer, and more.
YouKnowIGotSoul: Your last album "I Still Believe" came out in 2010. You mentioned on stage tonight you've got a new project coming. Talk about it.
Lyfe Jennings: It's more thoughtful music. At some point in my career I tried to upgrade to something that was more timely, but I think the truth is timeless. You get more of that on this album.
YouKnowIGotSoul: What influenced you this time around?
Lyfe Jennings: Just my situation and introspection. Something that you don't necessarily get a lot of time to do when you're out in the world, so being locked up gave me a lot of time to re-evaluate some things.
YouKnowIGotSoul: Who have you been working with on this project?
Lyfe Jennings: I've really been working with me. I've been working with a producer out of Atlanta named B.G. and have had very private studio sessions. Just really long hours, not necessarily the big producers. I don't think anybody ever said "I love Lyfe because he had this great beat right here." I want to give them what they want.
YouKnowIGotsoul: On stage you mentioned you've gotta reprove yourself. What's your whole label situation like?
Lyfe Jennings: My situation is I'm currently signed still to Warner. I'm always looking to upgrade myself business wise. When I say reprove myself, right before I went to jail I was on tour so a lot of people had shows booked, even this spot [BB King's] had a show booked. Then I had to go off so those people were kinda, I don't wanna say left out in the cold, but obviously I had to go fulfill another obligation so I have to rebuild that relationship.
YouKnowIGotSoul: You've always been labeled as a social conscious singer with songs like "S.E.X." and "Statistics". Do you like that title for yourself?
Lyfe Jennings: I like whatever title that a person felt like that they wanted to put on me; it really doesn't matter to me. I know that some people like different stuff for different reasons. If you feel like it's gospel to you, if you feel like it's cleaning your house music, it's whatever.
YouKnowIGotSoul: Some people would say that you're brave for challenging those subjects because a lot of artists won't touch those. What motivates you to want to touch on those subjects?
Lyfe Jennings: I think because it's just real life situations. Like I always say, you can only spend so much time at the club before you've got to go home. You don't have to go to the club. I think brave is a perspective. I write about the things that are close to me that affect me. If that's brave, then yea, that's good.
YouKnowIGotSoul: Anything you'd like to add?
Lyfe Jennings: I'm definitely touring the country right now, I appreciate all of the fans support. Look for me coming to your city, come through, we've still got a great show, we're still gonna pack the house. We're still going to leave people feeling like they got their money's worth, it's hard out here, I want to make it a little easier when you come to a Lyfe Jenings show.