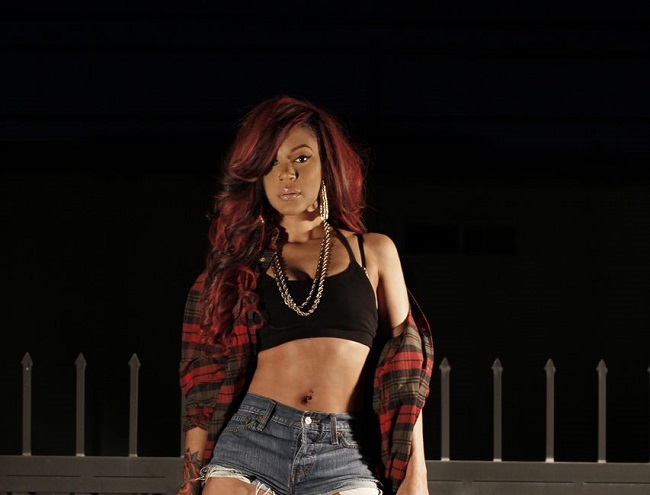 It's almost expected at this point for a new artist to announce that their new project will be 90's R&B influenced. After all, that era of music was undeniably the peak of R&B, which is why people still listen to music from that time period. Many people have tried to duplicate the sound, but only a few have been able to actually do it. One singer/songwriter who has been able to do that is Lyrica Anderson. Working under the tutelage of Timbaland, along with her own musical talents, has allowed Lyrica to capture that 90's R&B sound that everyone has been craving for a long time. Need proof? Check out Jennifer Hudson's new single "Walk It Out" which was penned by Lyrica. YouKnowIGotSoul had a chance to talk to her about her upcoming EP "King Me 2", her work with Jennifer Hudson, her grind as a songwriter and her love for 90's R&B.
YouKnowIGotSoul: Talk about the new EP "King Me 2" and what we can expect from it.
Lyrica Anderson: It's really feel good music. It's 90's R&B and yeah, I have some cool features like Wiz Khalifa, Ty Dolla $ign and Kevin Gates. I'm really excited. We worked really hard on the project and I feel like it's really special to me. I feel like it's just that feel good 90's R&B that music has been missing.
YouKnowIGotSoul: You've mentioned that you wanted to go back to that 90's sound. What motivated you to go in that direction for this project?
Lyrica Anderson: Just different artists that I loved from the 90's like Mary J. Blige, Aaliyah, Sade, R. Kelly and of course the girl groups like 702 and SWV. Also Timbaland and Missy Elliott who are influences on me.
YouKnowIGotSoul: You have the single "Unfuck Me" with Ty Dolla $ign. How did that song come together for you?
Lyrica Anderson: I was in with my writing partner A1 Bentley and we wrote the record together. Him, myself and my producer Arturo Ayers were working on it together. Ty Dolla $ign heard the record and loved it. I asked him to jump on it and he wanted to do it because he loved the song. Basically it was history from there.
YouKnowIGotSoul: This is the follow up project to your mixtape. What kind of growth will we see on this new EP?
Lyrica Anderson: Well the first mixtape was really R&B and 90's, but we really captured the sound for "King Me 2". There were so many sounds of R&B in the 90's and I can name so many singers that were 90's R&B, but they all had different sounds. I feel like we really connected to a sound that's really special on "King Me 2". It's really who Lyrica is.
YouKnowIGotSoul: In addition to Lyrica the artist, I know you've also been writing for other artists. Talk about Jennifer Hudson's new single "Walk It Out".
Lyrica Anderson: I was in with the great Timbaland. We actually wrote that song together. He produced it and we were in there writing it. Initially it was for his album, but I think J-Hud heard the record and she loved it. He got it over to her and she cut it. She sounds amazing on it, so I'm really happy about that.
YouKnowIGotSoul: What is your songwriting process like?
Lyrica Anderson: It's really funny. I have different things I do. Sometimes I just record melodies on my phone first or I'll go in the booth with the microphone and record melodies first before the words. Sometimes I'll open a magazine and draw inspirations from there or experiences from someone or myself.
YouKnowIGotSoul: What's your chemistry like with Timbaland?
Lyrica Anderson: Amazing, one of the best I've ever heard. Our chemistry is really amazing because he's so much of a genius and he's that amazing. You can be running off an hour of sleep, but once you're around Timbaland, you get this energy from him and you're like "I've got it!" You're just super inspired because he's that amazing, so that inspires you.
YouKnowIGotSoul: As a writer, you've had a chance to work with a lot of different artists and different genres. How have you been able to put yourself in these opportunities?
Lyrica Anderson: Basically through relationships and my team. My management, my publisher and my writing partners. Just me knowing people.
YouKnowIGotSoul: How difficult was it for you to get your first placement?
Lyrica Anderson: Very difficult because people aren't so quick to just let you in. Especially in LA, it's very stingy here. You can't just get in with anyone you want to just because you know that you'll come and bring great work or write them an amazing song. You really have to knock down doors and prove yourself. You have to get people's ears and call people a bunch of times to get meetings. It's stressful which is why I wouldn't put my kids in the business. *Laughs*
YouKnowIGotSoul: What was your first placement?
Lyrica Anderson: My first big placement was this artist named Charice. She was signed to Warner Brothers. I wrote a song called "Pyramid" featuring Iyaz. Prior to that, I did some stuff for Miley Cyrus as well, but that was one of the biggest. It went number one on Billboard and it was performed on Oprah. I think it went gold or platinum. It just did really well.
YouKnowIGotSoul: Is there a shift in gear when you're writing from one artist to another?
Lyrica Anderson: No. I'm kind of like a chameleon so I tap into the people I'm around. It's pretty easy to tap into someone's personality and giving them what they need.
YouKnowIGotSoul: Who are you currently working with?
Lyrica Anderson: I'm hoping to do some more stuff with Jennifer Hudson. I did some stuff with Robin Thicke and I have something coming on Jeezy's album. I'm definitely going hard on my own project.
YouKnowIGotSoul: Anything you'd like to add?
Lyrica Anderson: Make sure you get "King Me 2" on iTunes.