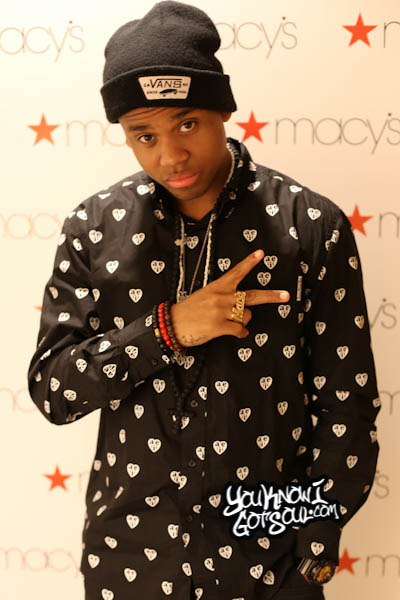 When Mack Wilds went from acting to becoming a recording artist, many did not know what to expect. After a Grammy nomination, a few smash singles, and many headlining shows, I think it's safe to say he's created a movement. Although his debut album "New York: A Love Story" released a few months back, people are still catching on and his following continues to grow. The focus will soon turn to what's next, and it sounds like he's got a lot in store for us with his sophomore album. YouKnowIGotSoul sat down with Mack Wilds once again prior to a recent appearance at Macy's in NYC and discussed building his brand over time, being a triple threat, the transition from acting to performing, his upcoming second album, and much more.
YouKnowIGotSoul: Your debut album "New York: A Love Story" has been out a few months now. The thing that's impressed me most about it has been it's not only about first week sales; it's been growing and building. Was that the plan for you?
Mack Wilds: It was, honestly. I think my main objective for this album was I just wanted people to hear the music. Bigger than having that big first week or anything else, I just wanted to give people an opportunity to experience me, musically, rather than acting wise or anything else. I really just wanted the people to take a chance on something that could be dope.
YouKnowIGotSoul: The album got nominated for a Grammy, and now you recently announced you're going to be doing Summer Jam, which for a New York native, is a huge deal. What's that mean to you?
Mack Wilds: Yea! It means a lot. This is something that as kids, especially growing up in New York, you dream about. Anyone of us who does music, it's a dream to do Summer Jam and be on that stage that Jay-Z touched, that Michael Jackson touched. This is my opportunity and this is my time. It's just crazy.
YouKnowIGotSoul: When you listen to your album, you've got some different flavors. You've got hip hop records like "Own it" and "Henny", and then more r&b records like the Michael Jackson cover and "The Art of Fallin". Is there a song on this album embodies totally who you are?
Mack Wilds: If I had to pick one, it would be something with me singing and rapping on it, like maybe "Wild Things" or maybe "Sober Up". Just something that's in essence seamless. It's not necessarily "Oh he's a singer" or "Oh he's a rapper". It's that fine balance between both r&b and hip hop, between spoken word and notes.
YouKnowIGotSoul: You've been able to turn a successful acting career into a successful music career. How was the transition for you, was it easy?
Mack Wilds: No. Just like any transition, it definitely had its up and downs and turn arounds. At the end of the day no matter what, the cream of the crop always rises to the top.
YouKnowIGotSoul: I know you're still going strong with this album, have you been looking at your next album yet? I know you had mentioned you were working on it already.
Mack Wilds: Yea we were, but because of songs that we had on the album that we didn't use on this album, I was already damn near halfway through it. But I kinda scrapped a lot of it because I felt like I needed to live life a little more, there was so much happening. I really just had to step back and really take a different perspective look on everything that's happening and apply that to the music. Yes, I'm definitely looking forward to the next album, it's definitely going to be more introspective, more about who I am. We know where I am now, now we need to talk about who I am and what I'm trying to become.
YouKnowIGotSoul: This "New York: A Love Story" album is kind of a whole storyline about where you've come from and speaks to your love for New York. What do you feel like this new album will show us about who you are and what you've become?
Mack Wilds: I think if all goes the way I want to, this next project is going to be my coming of age story. It's the world's opportunity to take this journey with me from being a teenager and a young man, to a man. It's that transitional period, doing stuff that you know is wrong and being places that you know you shouldn't be, but just doing it because you only live once.
YouKnowIGotSoul: Will you be staying in the hip hop/r&b lane, or trending more towards one side?
Mack Wilds: I like to play the middle line. I have so many influences in other genres as well, so it would be nice to really tap into the other genres of music that have touched me since I was growing up.
YouKnowIGotSoul: You're a triple threat, singer/actor/rapper. Which one of these art forms touches you the most?
Mack Wilds: Honestly, I don't know. There's nothing like building a character and making it real. There's literally nothing like writing a song that you know is going to touch a bunch of people, because it touches you in a certain way. It's hard to really choose. I would say the music side, the singing, the rapping, it's more of an instant gratification. With movies, you gotta wait for it to come out for the gratification.
YouKnowIGotSoul: Anything you'd like to add?
Mack Wilds: Just man, it's been a crazy ride, we've got so much more to do. I feel like we're just starting to scratch the surface. It's only going to get crazier from here.