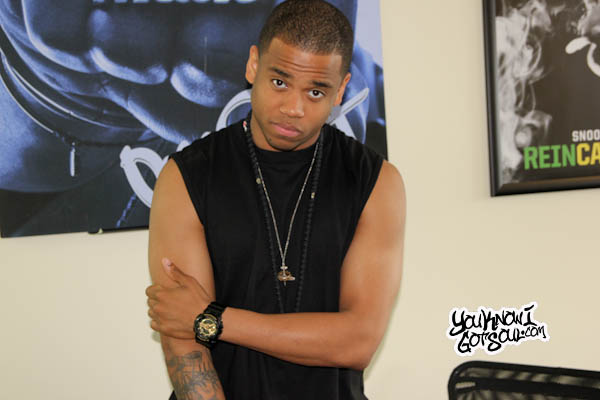 You're probably familiar with Tristan Wilds from his prominent acting roles in "The Wire", "90210" and most recently the movie "Red Tails". Last year, he made the successful transition to singer with his debut EP "Remember, Remember" and a personal favorite song of ours "Cold". After signing a new label deal with Salaam Remi at Sony, he's recently re-branded and now goes by Mack Wilds. The most impressive part of his artistry so far has been the sound he's been crafted and has delivered. As a NYC native, his intention is to give us that gritty sound that we first heard when hip hop thrived here, and if you listen to the first single "Own It", you can hear just that. When Mack releases his debut album "New York: A Love Story" later this year, he'll make us feel what New York is all about with an r&b twist on it. YouKnowIGotSoul sat down with him recently in NYC while he was doing promo and discussed the risks of changing his artist name, originally linking up with Salaam Remi, his gritty NY sound, acting vs singing, and much more.
YouKnowIGotSoul: Many knew you as Tristan, but you re-branded as Mack Wilds now. What made you decide to go in that direction?
Mack Wilds: Honestly with music, I want people to understand who I am more so as a person. With music, you have to be a little more personal. With acting, you're putting on different roles. With music, my family calls me Mack so I just went with Mack Wilds. I'm bringing you guys into my personal life so you might as well call me such.
YouKnowIGotSoul: Are you concerned that people are going to lose sight of you after your name change?
Mack Wilds: No, at the end of the day I'm still the same person. It's not like an alter ego or anything, you don't have to worry about that.
YouKnowIGotSoul: You're now signed to Sony through Salaam Remi. How did you originally link up with him?
Mack Wilds: I met Salaam like four years ago at the BMI awards and from then on, we were just cool. Eventually after talking about how much we missed New York and our love for it, we just decided to do an album and this is what we came up with.
YouKnowIGotSoul: The album is called "New York: A Love Story". I was at the listening party and Salaam talked about this New York sound he's crafting with you. Talk about that sound.
Mack Wilds: It's just a growing version of the original boom pap sound of New York city. It shows the grittiness and also how beautiful the city is. I think that's one of the main things that is missing from music right now. You don't necessarily see what New York is. The kids from Harlem listen to artists from Harlem because it sounds like Harlem, but you don't really have those acts that are seen nationally. I think that's what we wanted to do.
YouKnowIGotSoul: What artists inspired you to go into that sound?
Mack Wilds: It was a lot of old school artists like Lauryn Hill, Mary J Blige, Puff, Notorious B.I.G., Jay-Z, Rakim, Pete Rock, CL Smooth, Gangstarr and just iconic New York figures that helped the craft sound of New York city.
YouKnowIGotSoul: It sounds like from the first single "Own It" you're mixing Hip Hop with smooth R&B?
Mack Wilds: In a sense yeah. Ne-Yo wrote the first half of it and then I got to write the second half. It was amazing. What he started was pretty amazing. It's supposed to be a blend of iconic Hip Hop sounds and the beauty of what R&B is.
YouKnowIGotSoul: You had the "Remember, Remember" EP a while back. Are you building on that project or are you going in another direction?
Mack Wilds: Of course "Remember Remember" was what it was and now this is what it is. It's just another step in the direction in the artistry of Mack Wilds.
YouKnowIGotSoul: You're known for your acting, but at what point did you want to do music for a career?
Mack Wilds: I've always wanted to do music, that was my first love. I also fell in love with acting, but music is and will always be my first love.
YouKnowIGotSoul: Do you feel like your acting fan base is going to be the same people who listen to your music?
Mack Wilds: I hope so. I pray that they listen to it just as much as I love making it.
YouKnowIGotSoul: Talk about how you approach an acting role versus creating a song.
Mack Wilds: Creating a song definitely involves hearing people's experiences and putting yourself in their shoes. I guess acting is the same way. You have to find something in each character and then bring it to life. I think it's pretty much the same thing only writing a song is definitely more rooted in the truth of it all. Honesty always sells.
YouKnowIGotSoul: Anything you'd like to add?
Mack Wilds: I pray that you guys love it as much as I love making it. It's definitely going to be amazing. September 17th, "New York: A Love Story"