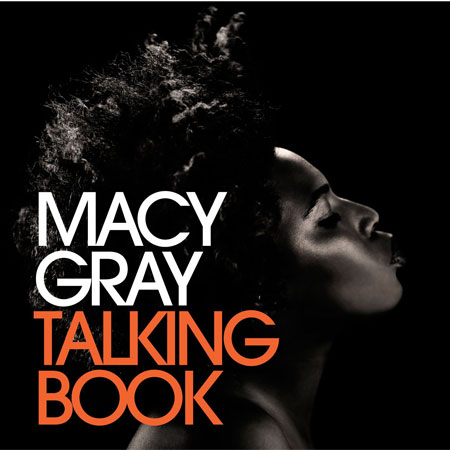 Through the years, we've had many tributes to Stevie Wonder in the form of cover songs of some of his biggest hits and sampling some of his tracks. However, to our knowledge, nobody has been able to pull off what Macy Gray is about to do with the release of her full cover album of Wonder's "Talking Book". We've had movies that have been constantly remade over the years, but what a courageous concept to remake a complete album. Not only that, but she's attempting to recreate a masterpiece on it's 40 anniversary from an artist who has one of the greatest vocal ranges we've ever experienced; no easy task. Macy Gray has made a name for herself over the years with her soulful tone and unique voice, and we applaud her for paying tribute to one of our living legends in this way. YouKnowIGotSoul caught up with her for a phone interview and discussed what motivated her to do the project, the most challenging aspect of tackling the album, if Stevie Wonder has reacted to it, her upcoming acting role, and much more.
YouKnowIGotSoul: You're releasing a cover album of Stevie Wonder's "Talking Book" which is coming out this month. What motivated you to do this type of album?
Macy Gray: I was with a producer in Poland of all places and he was telling me about a song he thought I should do, he was pitching me some real underground obscure stuff. He goes "Really what you should do is remake an album, I don't think anybody has remade an album like people do movies." I said "Oh wow, that's cool, I never heard of that either". He started giving me all of these weird albums I've never heard of, but I just wanted to just do an album I knew inside and out. "Talking Book" was one of them. I just know that so well and I just love it so much so we just ended up with that one. We talked about some other ones, but it just so happens that this is the 40th anniversary of it, it was made in 1972.
YouKnowIGotSoul: I was reading some quotes where you mentioned this was one of your top 5 albums growing up and how it shaped you growing up musically. How do you feel like it had an impact in your life?
Macy Gray: I just remember learning from him that you can write a song about anything. He had a song on there called "Big Brother" and he has all of these crazy love songs and "Superstition" is on there. He just has a really interesting way of putting his perspective into songs, they're not all about love or all political. I thought he was always a really awesome writer. It's just a really beautiful album that has three classics on there. We kinda dissected it and learned about the songs and I discovered just how great of a musician he was. He uses all of these crazy chord changes, like master or doctor of music kind of stuff! I just didn't know what a genius he was until we actually went through the album. It was cool to discover all of that.
YouKnowIGotSoul: As you were going through, were there any songs that were most fun or most challenging to cover?
Macy Gray: It was all pretty challenging because of what we were doing and I was nervous about it not coming out right and people would hate it. I just had to block all of that out to make the record, that was the biggest thing.
YouKnowIGotSoul: Have you had a chance to have any interaction with Stevie about the project? If so, what does he think of it? If not, what do you think he would say about it?
Macy Gray: I don't know, I hope he is proud of it. I haven't heard from him yet. I don't know if he even listened to it or what, it's weird. I'm going to track him down before I leave out of town and find out.
YouKnowIGotSoul: So this was one of your top 5 albums growing up, what were the other 4?
Macy Gray: It was "Purple Rain", that was huge. "The Score" by the Fugees. Led Zeppelin "II". 2Pac's first album.
YouKnowIGotSoul: That's a very diverse list!
Macy Gray: Yea, I listen to a lot of music.
YouKnowIGotSoul: Other than the album, I've been reading you've been touring worldwide. How's that been going?
Macy Gray: The shows are awesome, that's one thing in my life that I actually do pretty well. So that always goes very, very good for us. We're going back out in the winter in November and I imagine we'll be doing the states again early next year.
YouKnowIGotSoul: Besides the success you've had here in the states, you've had a ton of success through your career overseas. Do you feel like there's a different love and appreciation for your music overseas?
Macy Gray: Yea, it's like night and day. We just did Australia and were selling out like 4,000 seat venues, same thing with Europe and Japan. Over here, I don't really know why it's not so great. People ask me what I think is the reason, but I really don't know. I know it's more of an openness, like I know in America, it's just us in the states. But if you're in Europe, you have Spanish speaking people, French speaking people, all these different cultures. You can be excited when you jump on the train and you're in a whole nother country in an hour. I think they're just open to different kinds of music because their cultures are so close together. That's my lame theory, but I really don't know what it is.
YouKnowIGotSoul: In addition, you've got a role in the upcoming movie "The Paperboy". Talk about that.
Macy Gray: I got offered the part and my role is "Anita". It's a very nutty, crazy murder mystery. Matthew McConaughey's character is investigating an old murder in a small town. It was cool, it was really awesome being on the set with legendary actors. Nicole Kidman is in it, Zac Efron, David Oyelowo, Scott Glenn, and John Cusack. It was crazy, I don't want to say surreal, but it was exciting. I felt like I was at Disney Land or something. It was pretty dope.
YouKnowIGotSoul: A lot of people know you for your music, but you've had a lot of acting roles over the years. What originally led you to acting?
Macy Gray: Antoine Fuqua got me into acting. My first record came out and it was funny because people wanted me in their movie. A couple of people wanted me, but Antoine came to the studio and hunted me down. He took me to Mr. Chow's and gave me this script. I thought it was crazy because I had never been in a movie before and all of the sudden he wanted me in a movie with Ethan Hawke and Denzel Washington. I was like "This dude is out of his mind!" I got myself with a coach and I worked hard on it and I studied and I got some advice from some of the actors in the movie and I just did the best I can do. After that, I started getting other offers. It really just fell from the sky because I never thought I had the face for it or anything.
YouKnowIGotSoul: So you've got this cover album coming out, earlier this year you released another cover album. In the future, will you be getting back to original material?
Macy Gray: Yes, my next original album is almost done, we're like six songs deep in it. Hopefully the album will be out early next year.
YouKnowIGotSoul: We have a couple of collaborations you've had through the years we'd love to hear the story of the creation on. The first is "All I Said" with Guru from his "Jazzmatazz" album that was produced by The Neptunes.
Macy Gray: That was a real honor for me that Guru would ask me to be on his record. He was like royalty and untouchable. That was huge. Pharrell wasn't big yet, he was kinda new and he was a kid like 19 and I just remember how he was dressed. That was the first time I had seen him. The way he wore his hat, I thought he was a really interesting guy. He was really excited about being in the studio, like hyped. I just remember watching him. He hadn't really exploded yet. It was pretty dope to be in the room with the two of them.
YouKnowIGotSoul: Talk about your collaboration with Anthony Hamilton on "Love & War".
Macy Gray: We all had a little crew that we hung out with together and we were always in the studio trying to do stuff together. He just kinda threw me on that track, I think I just happened to be there that day. We just started making that record, it was spontaneous for me, I think he had been working it for awhile.