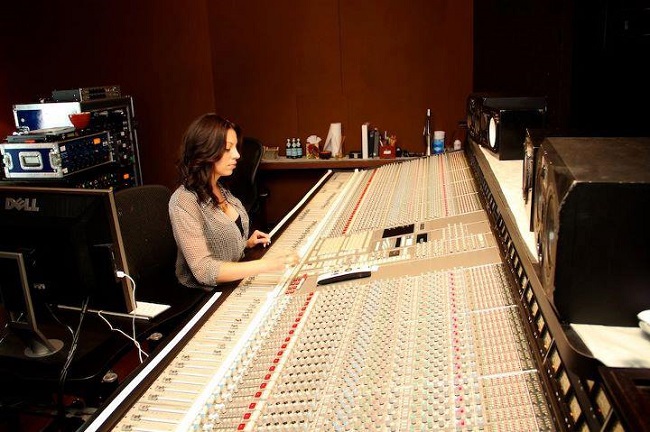 When an artist or producer is in need of that one special person to bring a track to life, there are few better than Grammy Award-winning Engineer Marcella Araica aka "Ms. Lago". Her partnership with producer Danja has been one of the more exciting stories in R&B and Hip Hop as they've put together hits for a huge list of artists such as Usher, Keri Hilson, Ciara and Timbaland. Furthermore, she is responsible for introducing the world to Luke James who is currently signed with her label. YouKnowIGotSoul had a chance to speak with Marcella about her beginnings in the industry working with Missy Elliott and Timbaland, her record label New Age Rock Stars and her musical relationship with Danja.
YouKnowIGotSoul: Talk about your beginnings in music with Timbaland and how that eventually led to you linking up with Danja.
Marcella Araica: I started my career with Missy Elliott, and as we worked on her studio album, "Under Construction" she introduced me to Timbaland and Jimmy Douglass for the first time. Meeting Timbaland inspired an urge to learn more about music from a production standpoint. After nearly a year of working with him and watching his expertise, Timbaland met Danja in Virginia and brought him down to Miami to work with us on our upcoming projects. Our relationship grew from that point on.
YouKnowIGotSoul: You've been working with Danja for a couple of years already. Talk to me about what the creative process is like for you guys because I know Danja's productions are very unorthodox.
Marcella Araica: There is no set standard on how we enter the creative process. An idea can be inspired from a type of sound that we hear. Many times we will start listening to a variety of selections from our vast music library – anything from country, to rock, to dance. We listen to each of them carefully and derive our inspiration from different sources. Danja would begin working with an idea in a program called LOGIC and then send me the sounds, which I enhance using PRO TOOLS. From that point on, I record everything live. Danja will create the main melody and drum beat, then I add my touch and alter the sounds.
YouKnowIGotSoul: Although by title you're a sound engineer, I know you look at yourself more as a co-producer. Can you explain the major difference between what you do compared to the average sound engineer?
Marcella Araica: A sound engineer is someone who absorbs and translates the wants of the Producer with an understanding of the technical side. As a Producer, I embrace more of the creative process and maintain an understanding of the song in its entirety, ensuring that all the ideas are seamlessly fused while adding my own personal hand print to each track.
YouKnowIGotSoul: On the business side, you and Danja started up the record label New Age Rock Stars. Talk about the decision to start your own label because a lot of big named producers have tried that type of thing in the past and it hasn't really worked out for the majority of them.
Marcella Araica: We made the decision to launch New Age Rock Stars in order to have our own brand and freedom of creativity to make music that really inspires us. We identify artists that we truly believe in, working to nurture and develop their talent. Kevin Cossom was our first signing. With major labels, you are told what to do and how to do it. At the end of the day, your work is reflective of the direction of the company, even though you may not believe in it.
YouKnowIGotSoul: What has been the key to you and Danja working so well together for so long? In the music industry, partnerships usually don't last very long.
Marcella Araica: The key is that we are both on the same wavelength. We may disagree about most things outside of the studio, but with music, we share a mutual understanding and vision. We also have trust in each other and nothing is taken personally. I believe that trust is the foundation for any relationship.
YouKnowIGotSoul: One of your major signees has been Luke James who is creating quite a name for himself currently. What kind of potential did you see from him initially?
Marcella Araica: Even from the beginning, I knew he was going to do extremely well. I was introduced to Luke over 5 years ago and at the moment I met him, I believed that he had an aura of success – major star quality. I felt this way, and I didn't know that he could sing until 2 weeks later. When I finally heard his amazing voice, it all made sense.
YouKnowIGotSoul: I've noticed that Luke has been releasing both traditional R&B songs as well as songs that have elements of that "Alternative R&B" sound that is going on in music. Is that something that was done intentionally by your team?
Marcella Araica: Luke has taken a great leadership role when it comes to his sound and he has a unique understanding of how he wants to express himself. It's our job, as producers, to take what he's doing and be sure that it translates clearly. Sometimes we have to reel in his ideas, so his style is not rooted too far in the past or too far in the future.
YouKnowIGotSoul: Talk about the creation of "Strawberry Vapors" off Luke James' "Whipser In The Dark" EP. That song in particular really stands out to me.
Marcella Araica: When Danja first played the beat for all of us to hear, Luke immediately hummed the melody without any lyrics and we could tell that he knew exactly what he wanted it to sound like. The melody ideas began right there in Miami, and then he continued to work on it after he traveled back to LA. Once we heard what Luke sent over to us, we knew it was brilliant – we loved it.
YouKnowIGotSoul: I know Danja produced the song "Add Me In" off Chris Brown's upcoming album. Talk about that song a little bit as far as the sound and what we can expect from that.
Marcella Araica: It's a funky, really dope track – from its lyrics to the production. I didn't record Chris, but I did record the music and I mixed on the record.
YouKnowIGotSoul: Who are you currently working with?
Marcella Araica: I'm working with a few acts on Cash Money; an act on RCA: Jacob Latimore – a young, thriving artist who is a triple threat. And I'm also back in the studio with Keri Hilson and other amazing talents.