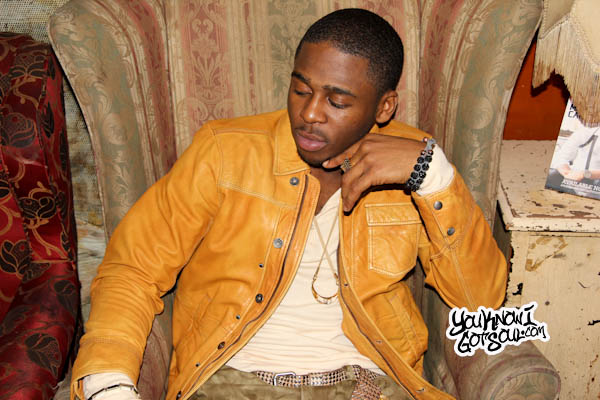 With the success that L.A. Reid has had in successfully breaking r&b acts through the years, it should be surprise that Marcus Canty is already off to a great start under his tutelage. Although they first officially linked up during Marcus' stint on the X-Factor, little did L.A. Reid know that he had been idolizing him all along. After signing with Epic Records last year, Marcus Canty has been positioning himself as the next true entertainer in r&b, molding himself off of the likes of a young Usher. When his debut EP "THIS…Is Marcus Canty" hit #1 on iTunes shortly after releasing, it gave validation to the fact that his career was on the right path. YouKnowIGotSoul sat down with him at his EP release event in NYC and discussed what inspired his new EP, what he hoped to accomplish with it, his journey so far, working with L.A. Reid, and more.
YouKnowIGotSoul: You just released your debut EP "This is Marcus Canty". It's been quite a journey for you so far, what has it been like leading up to this point for you?
Marcus Canty: From the start to the finish man, my journey has been incredible. I'll take it back to when I was a kid, my first stage was The Apollo Theatre. I was 11 years old and I sung Gospel. I got a standing ovation from the crowd and won second place on the show. At the time, I was 11 years old going against grown ups. It's crazy to be from there to X-Factor and then getting signed, going in the studio and working with some of the people I never expected myself to work with. I always imagined and dreamed to, but for me to come to this moment, it means a lot. My album being number one on iTunes might be the most incredible moment up until this point. I appreciate all the love and support from everybody.
YouKnowIGotSoul: What do you hope to accomplish with the EP?
Marcus Canty: I hope to give my fans some new music and more music from me. Also I want to create more fans. This is only 7-8 songs and it was just a selection of my small stories just to show how I feel about R&B. Hopefully within the next Fall or Winter, I'll bring out a new album. I'll be working hard. I got an album, I got more music and Epic is behind me. It means a lot. I can't wait, I know my fans are loving it right now.
YouKnowIGotSoul: What influenced you on this project?
Marcus Canty: There were a lot of influences. I didn't write anything on this project. I had a lot of writers and producers on this one because I wanted to win. I had Tricky Stewart as my A&R. I had a lot of great writers and producers, but now it's time to turn it up a notch. I'm going to put my input into it. Now I did pick every single record on that EP, so just know that I picked it from the heart because I knew my fans would like it and I knew everyone would like it. People are missing a certain sound in good music in this industry, so I had to bring that good music back.
YouKnowIGotSoul: As we saw here at your EP release event, you're not only a singer but also an entertainer. Talk about that part of your career.
Marcus Canty: God gave me the gift to sing. I thank God for that every day. The entertainment features came from a little confidence. I just started to perform more and I just started getting better and better. I'm not done. I'm still working. I got more work to do. I'm working with more choreographers. I'm getting better and better. This is my story and this is where it starts.
YouKnowIGotSoul: You originally linked up with L.A. Reid on "X-Factor". Now you're on his label. What influence has he had on you?
Marcus Canty: L.A. Reid has had an influence on me for a long time. He doesn't know it, but he has. *Laughs* Usher was my favorite artist growing up. I love old school like Stevie Wonder, Luther Vandross and Teddy Pendergrass but L.A. signing Usher was a great moment for me. I fell in love with Usher when I was a kid. I used to watch his 8701 tour every day and I watched all of Confessions. I pay homage to Usher, I love him. I thank L.A. Reid for molding some of these great artists like Usher, Rihanna, Justin Bieber, Outkast, Kanye West. The list goes on and on. L.A. means a lot to me and I appreciate him for signing me and focusing on my talent.
YouKnowIGotSoul: Looking ahead, what can we expect from your debut album?
Marcus Canty: We're going to tell love stories whether it'll be edgy, straight or real sad. I'm going to tell a love story so you'll know this is my story and this is my own.
YouKnowIGotSoul: Before the whole X-Factor situation, you were signed to an independent label. Talk about that situation.
Marcus Canty: I did work with an independent label. I was still in the studio and recording. Honestly the funny thing is that I auditioned for American Idol while I was signed. I didn't make it. Randy called me a chipmunk, believe it or not. *Laughs* I didn't make it and it discouraged me a lot, but I grew up. I got better and I got in the studio and worked. Then God placed an opportunity on my lap which was the "X-Factor". Shout out to Simon Cowell.
YouKnowIGotSoul: That's all we had for you, anything you'd like to add?
Marcus Canty: Follow me at @IAmMarcusCanty. My Instagram is @TheMarcusCanty. I love new fans, friends, foes, haters. Everyone, come join the party because we'll be here for a long time.