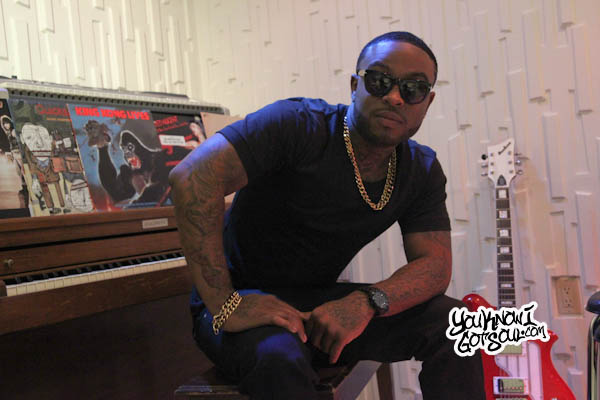 Through the years, artists who have left successful groups to go solo have done so with mixed results. Pleasure P was able to make a seamless transition from Pretty Ricky, releasing his debut "The Introduction of Marcus Cooper" and garnering three Grammy nominations for the effort. However, the transition from major label to independent wasn't as easy, but it's clear the artist now known as Marcus Cooper is in the right spot. With the freedom to creatively express himself in his own way, and armed with the musical knowledge passed down by his late mentor Static Major, he's primed to break out of the box he'd been in previously in his career. YouKnowIGotSoul sat down with Marcus during a recent promo run in NYC and discussed his sophomore album, his name change, transitions from the group and from a major label, what he learned from Static Major, and much more.
YouKnowIGotSoul: Talk about the new single "I Love Girls"
Marcus Cooper: It's targeted to all the beautiful women all around the world. I feel there are so many different girls that I have not yet gotten to know. I just feel that women should be confident in everything they do because they're all beautiful in their own way. In this particular song I'm talking about every type of woman whether she's a big girl or a little girl. I don't want women to have any insecurities when it comes to Marcus Cooper. If you're a confident lady, I'm here!
YouKnowIGotSoul: What can we expect on your sophomore album?
Marcus Cooper: You can expect real R&B. When I say real R&B, I mean not too many features and I'm just talking about the issues whether it's a sexual issue or a love issue. I'm just speaking my mind on this album and I'm definitely pouring my heart out. That's what this album is about for me.
YouKnowIGotSoul: Who did you work with on this album?
Marcus Cooper: The only person I got around to working with as far as rappers is Tyga, but he's not on the song anymore. He did the actual song, but he's not in the video so it's just back to me doing my thing. I got to work with Jim Jonsin, Rico Love, Tank and Ryan Toby. I worked with so many people. I don't want to forget anybody because people get really mad when you forget to call their name out because this is the only time that they get to be heard. If there's anyone I forgot, I'm sorry.
YouKnowIGotSoul: Your debut album "The Introduction of Marcus Cooper" came out in 2009. What kind of growth have you experienced since then?
Marcus Cooper: As an artist I'm just to the point where I feel like I've been in a box. When you're at a label and every song you're doing is single driven, you never get the opportunity to speak about the things that you go through as an artist personally. I've been through 8 years of hurting and pain and I have yet to talk about it yet, but everybody else gets to talk about it. I never got to give them my perspective on things.
YouKnowIGotSoul: You go by the name Marcus Cooper now, formerly Pleasure P. Do you feel people may have lost track of you at all at the name change?
Marcus Cooper: I think my fans know who I am and that's who I do music for. I don't do music for the people who jump from artist to artist. Every fan is not a good fan, so I don't want those fans. I want the fans that know who Marcus Cooper is, that's been following Marcus Cooper and those are the people that I do it for. I'm going to continue to do it and if you ever want to be a fan of mine, you should definitely start doing that because there's no way you can lose track of Marcus Cooper, you make babies to my music. There's no way you can lose track of me.
YouKnowIGotSoul: On Twitter I've seen you talk about how your writing has developed and how that's coming along. How have you been able to progress with that?
Marcus Cooper: I've just been writing from my heart lately. I've just been writing about the things that have been bottled up inside. I've been writing about all the hurting, man. Outside of that, I wrote a song called "Wild Ones" by Flo Rida that did pretty well. I'm just going to now start taking it serious, I never took it serious. It was just a joke to me and I would write little Pretty Ricky songs, but now I'm writing real heartfelt songs that people can relate to. That's my focus for the next albums and mixtapes.
YouKnowIGotSoul: Your solo debut was three times Grammy nominated and now you're coming from Atlantic to an independent label. Has the transition been tough at all?
Marcus Cooper: It's been a fight. I'm not going to say everything has been peachy cream. Anytime you change something in life or go through change, it's going to be hard. You have to figure it out. You work with people who get to know you and then you have to start over fresh. It's like being in a relationship where you're with someone for 10 years and then you have to start over fresh, certain things aren't going to feel right. If you're a strong minded person and that's what I am, you're just going to keep going. eOne is a better situation for the time being and I'm definitely happy with what's going on now, but I know that I can't always blame stuff on other people like my label or my management, I have to do things too as an artist. I just can't sit back and point the finger, I have to be proactive as an artist. That's what I've been working on doing.
YouKnowIGotSoul: Speaking of starting over fresh, you had a lot of success with Pretty Ricky. Was it a challenge for you to have success going solo?
Marcus Cooper: It's been a battle. I've been through so much as a solo artist. Some people are haters. They try to take your talent from you. They try to make my voice theirs because I signed to them or whatever. My voice is mine, God gave me that. It's always going to be a struggle and it's definitely been that for me. I'm a strong guy though.
YouKnowIGotSoul: A few years back I know you were going to release a project called "Suppertime" in memory of Static Major. Talk about that.
Marcus Cooper: I was going to do that, but like I said when you're at a label to where everything is single driven, they sometimes don't get that. I'm still working on it though. I was hoping to get Missy Elliott and Timbaland involved to help finish it but if they don't, it's fine. Static is a wonderful artist anyway, so we're going to get that done regardless. I'm working on like two albums at one time right now. My album "Marcus Cooper" is finished and I'm almost done my 3rd album which is going to be called "From a Man's Perspective". I'm going to be talking about my relationship from the beginning to the end of me falling in love with a woman and then what I felt like when I went through a real bad breakup. I'm just now getting an opportunity to speak about that.
YouKnowIGotSoul: Talk about the impact Static Major had on your career.
Marcus Cooper: Static just taught me everything as far as staying true to who you are to harmonies to being a good friend to knowing how to deal with folks in the music business. A lot of things that he taught me, I didn't really realize until he died. Now I see why he was the way he was when it come to this, he just gave me a whole different insight on it. Now I carry myself the way I carry myself because of that and because of him.
YouKnowIGotSoul: Anything you'd like to add?
Marcus Cooper: To the people who are watching, I just want you to know that I love you dearly. I just want you guys to know that people will sometimes try to keep your creativity in a box and it's up to you to get out of that box. I come from a small town and there's a lot of people who live their life in a box. I'm not talking down at those people because I love them, but hopefully I want them to one day get out of that box. It's like a consistent thing like they go to school, go home, go to work, go home, go to Church, go to the club, go to the movies and that's pretty much their life. If you want more to life, you just have to go after it. I think the thing that got me to where I'm at is me just making mistakes. You're going to make mistakes, so don't be scared from your mistakes, just learn from them. Just keep going and continue to try to get out of that box.