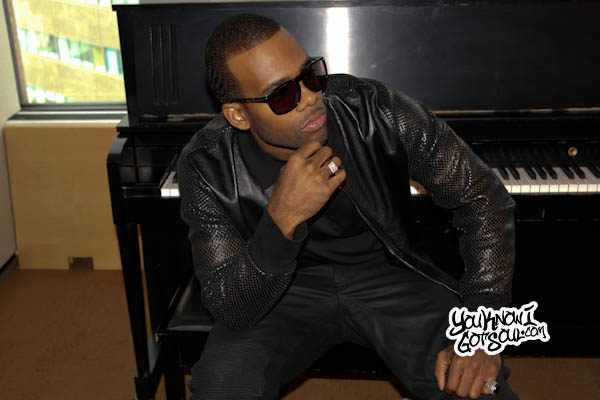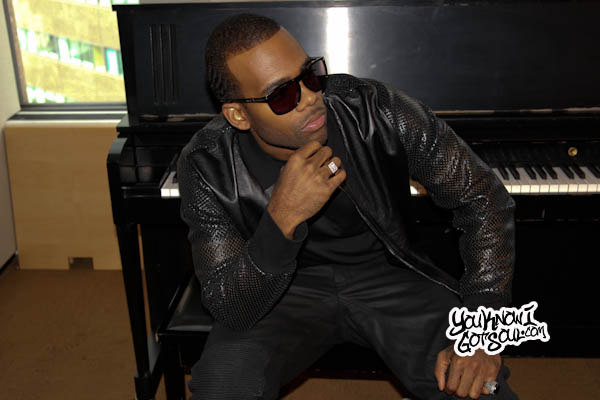 Can you believe Mario has been in the industry for over a decade now? After scoring hits like "Just a Friend 2002", "Braid My Hair", and the super smash "Let Me Love You", he already had Gold and Platinum albums under his belt by the time he was 18. Looked upon as one of the premier entertainers and musicians of his generation along with the likes of Omarion, Chris Brown and Ne-Yo, it's always exciting for fans when an artist like Mario announces his return. Perhaps one of the most underrated qualities about him as an artist has been his constant evolution and reinvention of his sound, with no two albums sounding exactly alike, yet still finding success. That trend should continue on his upcoming album, with the rising single "Somebody Else" giving us a strong indication of his new direction. Having grown since his 2009 album "D.N.A.", Mario appears poised for a another great run. YouKnowIGotSoul sat down with him while on a recent promo run in NYC and discussed what to expect on the new album, his writing echoing where he is in his personal life, his desire to experiment with the euro pop sound, being underrated as an artist, and much more.
YouKnowIGotSoul: You've been working on the new album which is due out later this year. Introduce us to the music you've been working on.
Mario: Man the album is aligned with where I am at personally in my life in terms of creativity and just the texture of the album has a dark sensuality to it. It's kind of like what I did with the video for "Somebody Else". It's dark and sexy and I just wanted to keep it creative and just relatable.
YouKnowIGotSoul: I read another interview you did where you mentioned the album is more refined than your previous work. What does that mean to you?
Mario: Refined in the sense of the content of the album. I think where music is and where I've gone already, I've already done the traditional R&B type of topics, but now with this album, I tried to refine it and make it more detail to the content and the way I say certain concepts and the way I express in certain songs like "Fatal Distraction" for instance. It explains the infatuation that I have with conquering this woman to the point where it becomes a fatal distraction to me. The way it's written is very mature and it's sexy. The way I use my falsetto on the record and the way I sing on the record, it just shows a lot of growth and individuality.
YouKnowIGotSoul: Of course this is the follow up to "D.N.A." which came out in 2009. What type of growth do you think we'll hear from you?
Mario: As you get older, you get more comfortable with your gift. The way that you show growth is expanding and trying new things and evolving and reinventing yourself. I feel like this album definitely has and will show that I reinvented myself. Take the single "Somebody Else" for example, that record shows growth in the way of texture of my voice, the content, the way I'm conversing with the girl on the record. I chose to pick that as a single because it reminded me of the 2013 version of "Just A Friend" where I'm still having a conversation with the woman, but at the same time, it feels more mature and it's classic in the sense that Polow Da Don took a sample and made it into a classic R&B/Hip Hop record. All of these things play a part.
YouKnowIGotSoul: A few years ago, you mentioned that you wanted to work with the Euro Pop sound. Will that be present on this album?
Mario: Not on this album, but I'm definitely looking forward to doing something with some producers overseas or something like that. On this album, I really wanted to stick to just making great R&B music and just a mixture of different textures and sounds.
YouKnowIGotSoul: You had the singles "The Walls" a few years back and then you went in another direction. What made you leave that single behind?
Mario: "The Walls" was written by Rico Love which is a dope R&B record. I enjoyed working with Rico, he's amazing to me at what he does. That particular project that we recorded together, Rico wrote 7 songs that we were going to put out, but that wasn't the direction I wanted to go in for the album. Not anything against Rico, but me and my partners decided to switch it up and go on a different route that I felt was more suitable for music and where I feel music is going and where I am with myself and my brand.
YouKnowIGotSoul: Some of the fans were wondering about the release of your mixtape "Truth Be Told". Is that still happening?
Mario: For all the fans out there, "Truth Be Told" is definitely still in the works. I just want it to be right. I may wait until after the album, it won't be before the album. It'll probably be sometime next year. Right now, it's all about this new album and this new music.
YouKnowIGotSoul: You started so young as an artist and you've developed both a younger fan base and a grown audience. Do you ever feel pressured to cater to both audiences?
Mario: I kind of feel like I do cater to all audiences. I'm definitely well-rounded individual. There isn't a topic that I can't speak about. The thing about albums is that I do a lot of studying on things outside of albums and just different types of subjects, but you only have 12 or 16 songs to tell a story. You can't fit everything in there, so I just try to make it well-rounded. This album you're going to cry with me, make love to it, dance to it and have fun. Some records are just feel good records.
YouKnowIGotSoul: A word I've heard used to describe you is "underrated". Is that frustrating or a compliment?
Mario: It doesn't bother me when I hear people say that I'm underrated. I definitely think that I push myself to greatness, so when people say that "He's underrated", I think they're saying how great they feel I am and where I should be. It's flattering actually because it's them saying "We think you're so great that you deserve much more." In this game, people have to understand that I started at 15 years old, so there are different levels of success and different levels of appreciation for a brand that happens. I think that this album will catapult me to the level of respect and appreciation especially for the simple fact that me and my team put this project together and we're rolling out the way we want to roll out. Really, it's just making the music I want to make and it's another level of respect that I think happens when you have that type of success. God willing, it will be a very successful project. Most important thing is that my fans love my music and music listeners respect it.
YouKnowIGotSoul: Lately you've been more involved with the writing process. How did your writing develop throughout the years?
Mario: I've always been a melodic dude. I've always heard melodies and textures before I heard words. On this album, I co-produced 3 songs. The writing and the concepts always come sometimes after I hear the music because I like to lay the bed before I put the sheets on it. I think I've just gotten more comfortable with experimenting with different concepts. I like more eclectic concepts now than I ever have and finding metaphors and creative ways to say certain things and finding melodies that are R&B and a little unorthodox. You'll hear that on this album as well.
YouKnowIGotSoul: I know the song "Do Right" is a very personal for you. Would you say that's the most important song of your career so far?
Mario: I think that song is a little underrated just in terms of listeners. Not that people who have heard it never liked it, but just in terms of it being heard. A lot of people who have heard it have loved it and been moved by the record, but I wouldn't say it was the best song. Personal-wise though, it was the closest to me expressing my personal life as much.
YouKnowIGotSoul: Anything you want to add on?
Mario: Hit me on my Twitter @MarioSoulTruth and it's the same with my Instragram.