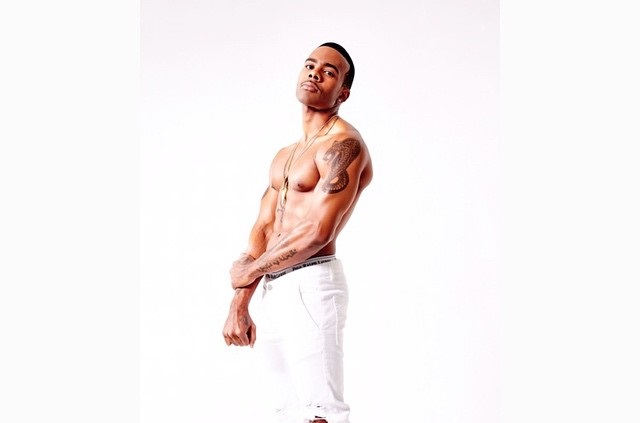 Although Mario is undeniably one of the most talented vocalists of his generation, he's always been overlooked especially when compared to some of his peers in the industry such as Chris Brown and Trey Songz. Now that him and his longtime label RCA Records have parted ways, he's looking to change that as he'll be able to run his own career. We've already heard some change in his music with the new single "Fireball" and it will be interesting to see what else Mario is able to bring to the table. Make no mistake about it though, making a hit record will not be a massive struggle for him as he's been able to find commercial success on the charts since his very first single "Just A Friend" at the young age of 15. YouKnowIGotSoul had a chance to sit down with Mario before his "Fireball" tour to discuss his future plans with music, his new label situation and his vision moving forward.
YouKnowIGotSoul: Talk about your new single "Fireball".
Mario: The single "Fireball" is really just about the turn up. I just wanted to do something fun for the summer. I'm actually finishing up a new project right now, so I wanted to put something out. I won't be done for the next 2 months or so. I wanted to put something out to the fans to just enjoy. The record is just about controlling your environment, having a good time and turning up.
YouKnowIGotSoul: This is your first single since departing from RCA. What's that transition been like for you to go from a major label like RCA to an independent situation?
Mario: The transition for me has been amazing. A lot of it has been super natural. RCA is the label that helped me reach your new heights in my life and leaving Maryland and giving me a platform to perform to my fans. Now it's like a new beginning for me. I feel like this is my first project again where I'm able to do it my own way and with my own label. I'm teaming up with some producers I worked with in the past and I think people will be really excited to hear about that. I'll be announcing that really soon. I just want to make good music again. I want to make music that gives people moments to remember. I feel like that's what is missing. That's what I'm going to bring to the game.
YouKnowIGotSoul: What's interesting is that you left RCA during the middle of recording your album. What was the decision to leave that situation during the middle of the album rather than waiting until the album was released?
Mario: It was just a timing thing. I think the timing was right and I had been talking to my people. It was more of a timing thing and 2015 just happened to be the year that it happened. The good thing about being a writer myself and actually being very involved creatively is that I can find new moments to create. I don't think music is the hard part because that's my gift, so recreating the project won't be hard.
YouKnowIGotSoul: Is there anything that's going to change with your sound now that you're on an independent label?
Mario: I think what you're going to hear in the future is music that can be played in every country. I'm going to give you pieces of universal and classic songs that everyone can relate to. I just want to get back to making music for the world. It's not for any particular audiences. It's just music that people can enjoy and relate to. I want to create moments for people to remember. That's what music does and that's what music is for no matter what genre it is. For me, I want to keep it soulful and fun. I want to keep it classic.
YouKnowIGotSoul: Throughout your career, you've always wanted to be more than just an Urban artist but you have a lot hits in that particular market. Do you think it's going to be a risk to switch it up now because you've already developed a huge following doing Urban records? Do you think the change will scare the fans away?
Mario: I never really think about scaring people. I just think about making good music and there's always a risk factor to it, but when you're having fun with it and you're well-rounded, I don't think you can lose. I'm going to keep the project well rounded, so there's going to be something for everybody on it. It's all about staying consistent.
YouKnowIGotSoul: Your last 2 singles "Somebody Else" and "Fatal Distraction" saw you going into an alternative R&B vibe. Is that still the direction for this new project?
Mario: I would say the music has a little more energy to it. This project is more uptempo. I'll have the ballads, but the main part of the project and the singles you'll hear will have more energy like "Fireball". It's a certain part of me when it comes to just being young and having fun. Then you'll have records I'm doing in the EDM/Pop world, but they're still soulful. Then you'll have my uptempo records with live music. You're going to see a more well-rounded and universal artist in me.
YouKnowIGotSoul: One of the producers you just worked with is Scott Storch. Talk about that session and what you guys have been working on.
Mario: It's crazy because me and Scott have been talking for a few years about getting back in. The time I was on a label wasn't the right timing. Now that I've started my new company and Scott has created a whole new situation for himself, it's worked out. I actually heard some tracks through a mutual friend and I called Scott like "I'm going to Miami to see what you're working with!" I went down there and he played me some crazy records. He's in a great space, so we're going to work and make some hits. Stay tuned because me and Scott have something crazy coming.
YouKnowIGotSoul: Now you have these new business ventures going on such as New Citizen, so how does that help your career moving forward?
Mario: New Citizen is just an umbrella company and an entertainment company. Being that I'm creatively going in so many different directions, New Citizen is a company that I'll be partnering with when I work with other labels or other distribution companies. I won't be signing directly to any labels, it'll just be partnerships.
YouKnowIGotSoul: I read that on your new project, you're looking to put out singles rather than an album. Talk about the idea behind that.
Mario: The first project is going to be all singles. We're going to put all singles and just shock the world with it. We're going to go full force with 5-6 singles that are just amazing and then create a project that is conducive to what people heard.
YouKnowIGotSoul: Now that you're on an independent situation, how will you measure success? You won't have that major machine behind you anymore.
Mario: The crazy part is that I do have a machine, but it's not typically what you see from an artist. I won't be signing with a major directly, but I'll be doing partnerships. There will be partnerships and a machine, but every market is different. The US is different from Australia and every market will have a different partner. I'm still developing some things right now, but just know that you'll definitely hear the music and see me on tour in your city. It's all New Citizen and it's a movement.
YouKnowIGotSoul: Talk about this tour that you've been doing throughout the US and Canada.
Mario: This is more like a promo tour. I just wanted to get out to the fans and let them hear the new music and perform it live for them.
YouKnowIGotSoul: How important is it for you to go on this promo tour because "Somebody Else" and "Fatal Distraction" came out almost 2 years ago?
Mario: Those singles came out more than a year ago and I feel like in that time, I've been able to create a body of work that you haven't heard yet, but I wanted to put something out right before the summer and then drop another record in the summer which I'll be dropping in another month or so. It was important for me to drop something so I could get out to my fans and start to test the market.