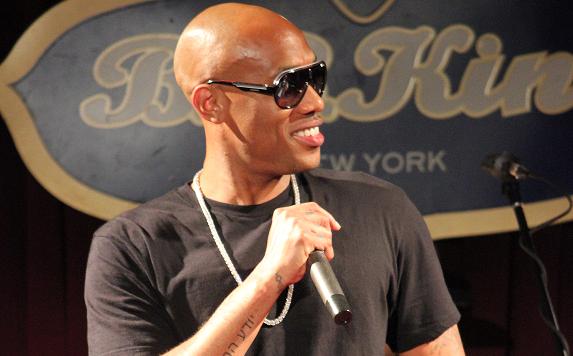 Recently while hosting RnB Spotlight at B.B. King's in NYC, YouKnowIGotSoul caught up with Mario Winans backstage to get an update on what he's been up to and his new project "My Purpose". Check out our interview with him, which also features commentary from event organizer Cory Taylor.
YouKnowIGotSoul: The last time we spoke with you, you were working on your new album "My Purpose". Give us a status update on that.
Mario Winans: I kinda took a little bit of time. As for me, my life and my purpose are really more important than the industry or whatever it may take for me to be in the limelight. That's why it's not out yet, but I'm still working on it and to be honest with you, I'm just making sure I really fulfill my purpose, and that may not be me doing the music, but a new artist that I work with. So that's where I'm at right now. I'm thrilled to be here tonight and it was important for me because it was something that I could support and give my love and strength and my wisdom that God had given me, to other people. Just so they know that they are important. It's not really about me or "My Purpose" album per say, but it's about my purpose in life. That's what I'm doing, fulfilling my purpose.
YouKnowIGotSoul: You may not be in the spotlight like you once were, but you're still writing and producing for other artists and stay in demand. Why do you feel like artists can still come to you?
Mario Winans: I believe it's just God's purpose for me. I don't think it's about the glitz and the glamour, I think it's really about something that God gave me, something that I have to do to share it. My path, when I was early and fresh in this thing, I needed someone to share those things with me. So it's only right for me to really give and to reach and to teach and to help.
Cory Taylor: It's something about his music, something about his writing, something about the way he delivers the message in his songs. He has a church background, he came from the church, and I don't care what type of genre you sing, you can't hide that you have it in you. He has it in him. The church people anointed him. It's something about his lyrics and the way he sings; the way he delivers songs. To me, that's why I think people still come to him, because his message sticks out. It's something about his music that people just gravitate to whether young or old; it's fresh.
Mario Winans: I give all glory to God for that, it's just a blessing, and I just pray that the same attributes and the same gift that God gave me to, that I can help people become comfortable with what God gave them, and that's what it's all about.
YouKnowIGotSoul: Talk about some of the work you've done with other artists besides your own project. I heard you worked on a song with Brandy.
Mario Winans: I finished the song with Brandy recently. I haven't really been trying to place or solicit any music like that. It feels more important for me to be moving on something with purpose. When it comes to money, it comes and goes. When we are all gone, money isn't going where we're going, so it's about purpose and leaving a legacy. The most important thing I can tell to any viewers is to find your purpose that God has for you in life, and that's the most important thing for you in this world. Otherwise, don't chase things that don't last.