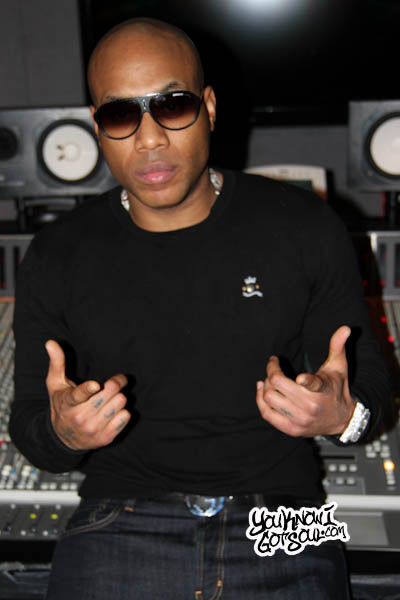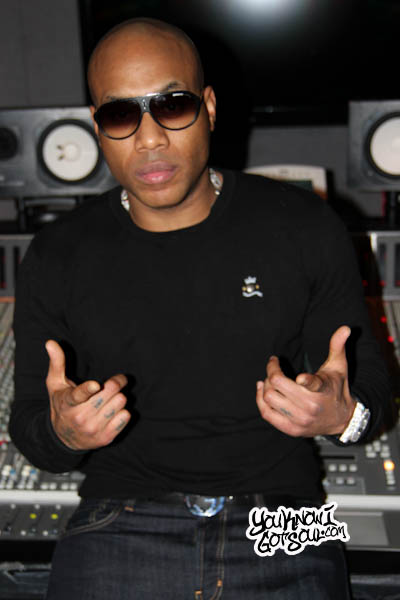 Though Mario Winans has been one of the most consistent producers since the mid 90s creating hits for the likes of Diddy, 112 and Tamia, it wasn't until 2002 where we saw him step into the spotlight with a guest feature on the song "I Need A Girl (Part 2)". He followed that up with "I Don't Wanna Know", which became one of the most successful songs of 2004. That song accompanied by the rest of the "Hurt No More" album world showed that Mario was more than just a producer. YouKnowIGotSoul had an opportunity to speak with "Yellowman" of the Bad Boy Hitmen crew about his upcoming album along with songs he had a hand in creating.
YKIGS: What have you been up to lately as far as your production work? We heard you on Diddy's new album and we also heard you on Trey Songz "Can't Be Friends". What else have you been working on?
Mario Winans: Well I've been actually been grooming my own artist. His name is Superstar Piper. Also just working on my new album called "My Purpose" which I just finished. It's a fabulous album, we want to release that this year. Other than that, I've just been taking some time with my beautiful family, relaxing and you know, just taking some time off.
YKIGS: Tell me about the new album "My Purpose". How does it compare to your previous one and just tell me about the overall sound.
MW: Well the album I have is all the years of R&B that you've heard from Mario Winans. All of my production and all of my influences and everything all in one. This album is a great album with a lot of good dance music, love songs and all kind of good music on there. Also the best of the producer Mario Winans, you kind of get the best of both worlds on this album. It's twelve songs on the album and it's very hot.
YKIGS: What is the meaning behind the title?
MW: During the time when I was working on this album, I was really searching myself and doing a lot of praying and reconnecting myself and connecting with God and really just knowing what my purpose in life is about. I had been living a little differently than what my purpose is, and that is really just to humbly serve others to pray for others and to really be a good person and live the way I believe. From that, I was inspired to title my album that because those changes were going on in my life while I was working on the album.
YKIGS: Your last album came out in 2004, what's been the delay for this new one?
MW: Really, nothing specific. I'm a musician and a producer. That was my first love. That's what I was doing first. The artist thing came in and took over for a while. After that, I just took the time for myself and just producing. I produced some stuff for the Diddy and Dirty Money and with different artists like Rick Ross and all the Bad Boy artists, but it wasn't really a rush for me as far as the artist thing. Once I felt the urge to go out and do it and ready to work it, that's when it happened.
YKIGS: Let's go back to earlier in your career, how did you originally hook up with Tim & Bob?
MW: Oh man, well I knew Tim & Bob from years ago when they used to work in a studio in Detroit called Sound Suite. I had met those guys over there. I was working on something there. They're very talented guys. We kind of connected. Then they left Detroit and went and signed to Dallas Austin and I was on a trip down there and they came and picked me up. I met Dallas and made the connection and started producing with Dallas who I found out was my cousin on my Mom's side of my family. One thing led to another and I was there for a few years and then a guy named Kevin Wells who worked very closely with Dallas Austin and managing the ABC and doing a lot of Boyz II Men and also taking Puff and 112, he introduced me to Puffy and that was it from there.
YKIGS: Talk about your writing process in the studio. How do you put a song together?
MW: It comes in many different avenues. Sometimes it may be just me sitting there with the piano, sometimes it's messing with the drums or keyboards or something I may hear or see on the TV or something like that. It just depends. Inspirations come from different avenues. It all depends on what I'm feeling that day.
YKIGS: You've done a lot of work with Puffy. What is the studio session like with yourself and him?
MW: It's a lot of energy and a lot of hard work. We pretty much focus on a lot of things at one time. We work really hard on quality and we push ourselves a lot, sometimes maybe too much. We've done a lot of great work together. It's very intense and a lot of fun.
YKIGS: On the second album "Hurt No More", you showed a lot of vulnerability. We're not used to hearing that from male artists because they like having the personality of being macho. Did you have reservations about portraying yourself in that light?
MW: No because that's who I am. I'm a very passionate person and sensitive, but I'm also a strong person and I like to have a lot of fun. With this new album though really, it will show you another side of me. Back then I was going through a lot relationship ups and downs and finding myself in love. Now I'm married and very happy, so I know who I am and my purpose being on this earth. So this time my music will reflect that so it'll be uplifting, refreshing and music that will make you smile, feel good and it's just good.
YKIGS: One of the biggest songs to date for you is "I Don't Wanna Know". Did you expect the song to blow up like it?
MW: No I didn't. It was very much a surprise. I knew the song was a great record, but I was just very overwhelmed with the way the world accepted the record. I was very surprised about it. But knowing what I know as a producer, I know on this album I have at least four or five groundbreaking records that will meet and top "I Don't Wanna Know" so I'm very excited about that as well.
YKIGS: You've produced some of the biggest hits so how do you determine what's for yourself and what's for another artist?
MW: It's pretty much just the topic. Some things I just sing it myself and some things are a bit personal so the emotion level you'll get from me singing it as opposed to someone else singing one of my life's experiences is a little different.
YKIGS: What do you remember about Tamia's "Mr Cool"?
MW: Well "Mr Cool" wasn't a Bad Boy situation. I want to make it clear, I had a lot of success before I met Puff. I had worked with R. Kelly, Whitney Houston, Tamia, Pebbles, so I don't want to get it twisted. It didn't just start at Bad Boy. I had really good success before that. "Mr Cool" happened when she was signed to Elektra Records and I've known Tamia since I was like 20 years old. I met her in Atlanta when she was signed to Quincy Jones. Before "Mr Cool", I had a couple of songs with her on her first album called "Never Gonna Let You Go" and "Rain on Me". We later met up and worked on "Mr Cool" in New York. That song came about pretty much just did the record. It was actually a Nile Rogers sample and I took the guitar sample and slowed it down really slow and pretty much came up with the groove. We kind of just started going writing from there with a good friend of mine Michael Jones who wrote a lot of hits for me. That was it and then she was like "Why don't you jump on it? Sing on the record!" and there you have it.
YKIGS: What about "Thought You Said" by Brandy and Diddy?
MW: Oh man that song. That track is a very special track to me. I was working on it in New York and it had kind of had a techno different type of feel to it. Brandy came in and it was a perfect fit for her. That was pretty much it, that song moved on really good. She's phenomenal in the way she came in with her vocals and how unique the lyrics were to the record and she just nailed it.
YKIGS: Is there anything you'd like to add?
MW: Obviously you guys have been supportive and obviously you guys know the music side of things, so I really appreciate it. Once we get it up and running again with the new album, we'll definitely do this again!