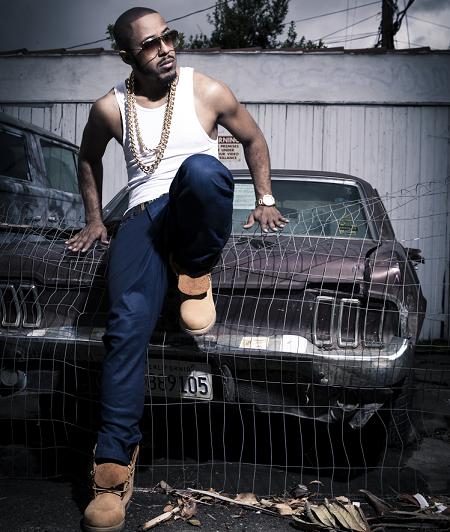 It's nothing new for artists to take breaks from their music career to pursue other endeavors only to return after an extensive absence. It's been nearly three years since Marques Houston released his last album, the longest break he's taken between albums, but he certainly has a valid excuse. After coming into our lives as the lovable character Roger on Sister Sister, Marques has lead an extremely successful acting career that rivals his success in music. As he prepares to release his 6th solo album "Famous", he'll surely be out the prove that the focus on acting has not left his music rusty. In fact, he's developed a new more mature sound that will push his artistry to a more soulful level than what we've heard from him before. What a refreshing concept for an artist who has spent over two decades in music and understands how his fans have grown with him and what they expect. YouKnowIGotSoul caught up with him and discussed what to expect on "Famous", his new sound being a mesh between D'Angelo and Marvin Gaye, approaching acting vs. singing, if he's ever considered focusing on one or the other, and much more.
YouKnowIGotSoul: You're releasing your new album "Famous" next month. Give us an introduction to the album.
Marques Houston: "Famous" is my latest album. I'm very excited about this one because it's a lot different from my previous albums. It's a lot more mature and the major difference is the soul. I really wanted to make a classic soulful album. I feel the industry is a lot of politics and who is on whose record. I wanted to make an album that was all about the music. I didn't want it to be about any politics or any features, I really wanted to really focus on the music. This album is about the soul of the music and feeling good.
YouKnowIGotSoul: You've mentioned that this album has a Marvin Gaye meets D'Angelo type of feeling. Musically, what influenced you for this album?
Marques Houston: I listen to Marvin Gaye all the time. I've always been a huge Marvin Gaye fan. I love D'Angelo and I love Prince. I love that whole live jam session kind of music that you can listen to because you feel like you're in concert when you listen to them. It was important for me because I'm used to making classic R&B music and sensual songs, but with this one I really wanted to do something that was a little different. I wanted to give that live feeling and that Prince/D'Angelo sexy and soulful sound. It's not something people are used to me doing, so I wanted to switch it up a little bit.
YouKnowIGotSoul: Do you think your fans are ready for that type of sound?
Marques Houston: I think my fans are ready because they've definitely matured with me. They've come up with me during my Immature days and a lot of my fans out there want to hear mature and grown songs because they're grown. We're all grown now, I'm 32. It's important because honestly the whole inspiration behind this album was is my fans. I took a little break from my music to pursue my career as an actor and I started my own film company and I produced like four films. I would be out places and my fans come up to me like "When are you going to do some new music?" or they'll hit me on Twitter or Instagram. My fans are definitely the inspiration for me to get in the studio to record a new album in the first place. This album is for my fans.
YouKnowIGotSoul: You've been doing some big things with film in the past few years. Your last album was in 2010, so how did you know it was time to get back to the music?
Marques Houston: I don't think you ever know for sure, but my fans were always asking me about music. I have to give my fans what they've been asking for because I'm the type of person and artist that loves to please my fans because if it weren't for them, I wouldn't be here at all. It was important for me to get in the studio. This whole album I was so inspired by everybody wanting music from me and I just thank god everyday that I'm still able to do it. I just went for it.
YouKnowIGotSoul: This album is being released in a partnership with Shanachie. Do you think there's going to be anything different about the way you release this project?
Marques Houston: I like being independent. It gives me a lot more control to do what I want to do.
YouKnowIGotSoul: Has your approach recording albums changed throughout the years?
Marques Houston: Well I love classic albums and I always wanted to do a classic album. I thank God everyday because my career has enabled me to make a lot of good albums that people love, but I really wanted to do something that was something that you talk about years from now. It's like "Man that one Marques Houston album was like my favorite album." I felt it was important to get back into that frame of my mind. I wanted to make classic albums, not just "Oh I want to do a couple of songs and make some hot tracks for this album." I felt like it was important for me to really think about the entire album and do it as a whole piece instead of just putting a lot of songs on the album.
YouKnowIGotSoul: Was it ever a possibility for you to give up on music and focus on films because you had so much success with that?
Marques Houston: I don't think so because I love to act, produce films and movies, but then again music is part of me. It's who I am and I'm going to love music until the day I die. I don't think I would ever give up on one even if I take a couple of years off to pursue the acting. I may take breaks here and there, but it's always something that I'm going to do for as long as I can.
YouKnowIGotSoul: Can you compare the two creative processes when producing a film compared to creating music?
Marques Houston: The biggest difference is when you create music, you're creating a masterpiece. It's you. Your heart and soul have to be involved. When you're creating a movie, your heart and soul have to be involved, but it's more like a job. You have to be passionate about the job. It's like a 9-5 when you're doing a movie. When you're in the studio and things come up, doing music is all about the feeling. When you're doing a movie, it's not about a fooling. You have to stick the script and the schedule, it's a little bit different. It's not "I feel like going back to work today!" You have to be there everyday like a 9-5 and you can't be late. With music, you can have an idea at 1 AM and go in the studio. The creative process is so different.
YouKnowIGotSoul: You started making music with iMX back in 1992. What changes have you seen in the music industry?
Marques Houston: So much has changed. The industry is now all about popularity and who you know and who you got on your record. Back then when I was coming up as an artist, it was all about the artistry. It was really about the music, performances and being entertained. It was about magazines and hanging posters on your wall. Artists were artists. Now with the social media aspects of the industry, it allows so much more for people to look into an artist's personal life. Back then, artists were artists and what they did with their personal lives was their own personal life. Nowadays, everything is just one big chaotic ball of everything because people feel like the more personal they are with you, the more successful is. Back then, people didn't really want to know who the artist was, they just loved them being artists.
YouKnowIGotSoul: What do you remember about creating your debut solo album "MH"?
Marques Houston: My fondest memory of that album is being alone in the studio kind of recording by myself without my boys from iMX. I wanted to create a sound for myself that was different from the group and it was also weird because I was in the studio by myself and the songs were coming out with just me on them. It was a solo album and it wasn't a group. When you're in a group, your songs are tailor-made for that group. When you go solo, you can really talk about things that you can't in a group because now you're a solo artist so it's just you. That transition concept going from a group to going solo is what I remember about that album.
YouKnowIGotSoul: Anything you'd like to add?
Marques Houston: Follow me on Twitter and Instagram @MarquesHouston. Pick up the album on August 27th and I hope everybody loves it.