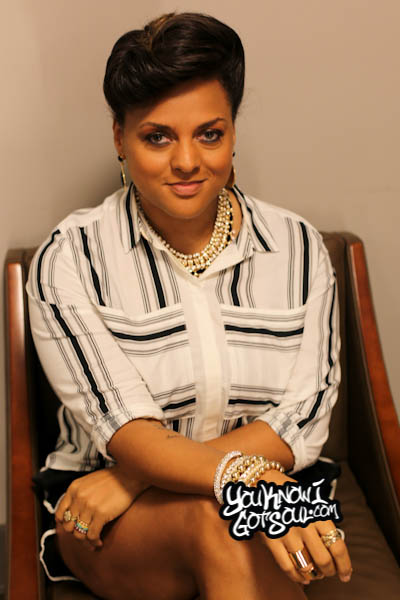 It's safe to say that Marsha Ambrosius' "Friends & Lovers" album has been one of the most anticipated in r&b over the past couple of years. After all, her 2011 debut album "Late Night's & Early Mornings" produced the smash hits "Far Away" and the title track, both of which helped elevate her to solo stardom. Since then she's teased us with great songs like "Cold War" and "Without You", and the album is finally set to release later this month. It's already set to feature two epic collaborations in Charlie Wilson and Dr. Dre, and judging by the time Marsha took to have new experiences to write about, this album should be an epic sophomore release. YouKnowIGotSoul sat down with her prior to a recent performance in NYC and discussed what to expect on the album, how she had to live her life to have new experiences to write about, collaborating with Charlie Wilson and Dr. Dre, how she makes her live show so engaging, and much more.
YouKnowIGotSoul: Your new album "Friends & Lovers" finally has a release date. It will be out July 15th. Your fans have been waiting for awhile, so introduce us to the project.
Marsha Ambrosius: To all my fans that have been waiting for this, I've been waiting too. You can pre-order the album June 23rd. For me, I've been waiting too and rightfully so. I had way too much life to live in order for me to deliver the album as honestly and as forthright as possible. "Friends & Lovers" started out as a sequel to what was "Late Nights and Early Mornings" which resulted in me making some "Friends & Lovers", but I needed to live those relationships and really see them through. It's almost like the tail end to the album and songs that I had already written that I possibly hadn't experienced yet. I went through those songs and I was like "Am I singing to the future?" These songs ring so much truth now that I hadn't experienced parts of me being able to give it all the way, which is why I did the tour first. When the album drops July 15th, I really feel like I'm giving myself away again. "Late Nights and Early Mornings" was definitely me giving myself away. It was the first time around, so now I'm just excited. It's real. Now it's me being Marsha Ambrosius 100% with a new album. I think I spent too much time creating moments that people go through and I had to live it. I don't microwave the music, I'm in the kitchen cooking. Some meat has to marinate overnight, I can't just throw it in there and it's ready because you'll be hungry again in five minutes. July 15th might be later than you expected, but now it's right around the corner and it feels right on time.
YouKnowIGotSoul: Since "Late Nights and Early Mornings" came out a couple years back, what's the process been like for this album? Have you gotten rid of some songs along the way?
Marsha Ambrosius: I've always been a songwriter and producer first prior to this artist thing. It was me behind the scenes really writing and producing music. With the first album, I was touring for the majority of time so any downtime that I had, I was really just experiencing life and writing music. It wasn't necessarily creating the next album. But songs slowly but surely started to make sense as an album. As I said, near the tail end of things, things started to finally fit into place. Working with Da Internz and really just working with them, it started all kind of make sense and tie into the things that I had already done with Eric Hudson and Pop & Oak. Everything kind of just spiraled on top of each other. When I think about the downtime that I did have in between albums, touring from the release of "Late Nights and Early Mornings" to a couple of weeks ago, I was doing so much. I did a whole sold out tour with no album. My Marshians or my fans made me realize that I was doing this for more than me now, so "Friends & Lovers" definitely became a necessity. It was something that I had to do.
YouKnowIGotSoul: You just released the "Run" music video recently and it's very impactful. Is creating a music video that's impactful important to you?
Marsha Ambrosius: For me, the importance of creating a powerful visual surrounding the music is always hand and hand for me. I'm a movie bluff. The marriage between visual and audio just makes sense. The fact that you cannot just associate the visual and the music without each other. When I do my music, they have to marry. I was running towards a dream of basketball and then I tore ligaments, so I needed a plan B. It became music for me. For someone else, it was "Do I leave school or do I go to college? Am I going to mourn my mother's death for the rest of my life?" All of these things that are so human in our moments that I feel not too many people get to speak on. If I'm one of the few that do, then why wouldn't I?
YouKnowIGotSoul: You mentioned collaborating with Charlie Wilson awhile back. Are there any other collaborations on the album?
Marsha Ambrosius: Absolutely. The duet between Charlie Wilson and myself, my brother and I co-wrote it. The song is titled "Spend All My Time". It's dedicated my late great aunt. It was watching someone you care about so much, but still having to live your life and them wishing you well all at the same time. Just to watch my aunt go from telling that she was diagnosed with cancer to deteriorating so quickly and losing her so quickly. I just want to spend all my time with the people I care about and that's how the song came about conceptually. Charlie Wilson, with such an amazing story to tell with his background and what he's been through in his life, he was the right fit for this song. I love him dearly anyway. It's always been a dream of mine to collaborate with him. I'm glad it was this one. Another collaboration is with a billionaire by the name of Dr. Dre. He had heard the "Stronger Than Pride" cover that I had done using the DJ Premier and Jeru the Damaja's "Come Clean" sample. He was like "I can't believe you used this loop!" I was like, "I had to go there!" I asked if he wanted to be on it and he was like "Sure". Before I knew it, I had a Marsha Ambrosius record that was co-produced by Dr. Dre and featuring Dr. Dre.
YouKnowIGotSoul: You had a couple of singles such as "Cold War" and "Without You" earlier in the project. Are those still part of the project?
Marsha Ambrosius: Being a songwriter and producer, I've never held onto music whether I was giving away the mixtape stuff. I have way too much music, so if I can give it to you now, you can go right to iTunes and grab it. If I want you to press play and want something that's cohesive from beginning to end like I did with "Late Nights and Early Mornings". I want to make an album. I'm not out here trying to chase singles. That's never been my goal.
YouKnowIGotSoul: You show so much of your personality during your live show. What makes your live show so engaging?
Marsha Ambrosius: I'm just thankful that I have a faithful fan base that allows me to speak from the heart. I feel like when I'm on stage, it's not even me thinking. I'm speaking from every walk of life from sophisticatedly ratchet people to the classy business woman that wants to turn up, but feels like someone is judging her. We've all come together because of the universal language of music, so if I'm over here singing "Hope She Cheats On You" and this chick is over here singing "Your Hands", they might be two different people, but they're singing the same song. The premise never changes. I'm able to cross those lines and blur them out. They don't exist. Let's exist in those moments where you have those ratchet moments or when you're completely vulnerable and want to cry right now. All of these emotions that I guess as women, we don't speak to each other about because we fear of being judged. I'm no different, so I shouldn't be any different when I'm on stage. I don't know how else to do it.
YouKnowIGotSoul: Anything you'd like to add?
Marsha Ambrosius: Go get this album. Play "Late Nights and Early Mornings" and "Friends & Lovers" back to back and have yourself a movie!