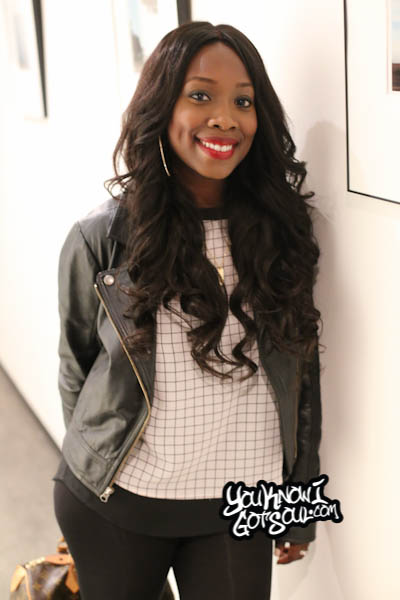 It's not always easy for an artist who was introduced to the music world as part of a group looking to branch out and spread their wings as a solo artist. A lot of times music fans don't have the easiest time separating them from the group, and even if they do, they expect the same type of sound as a solo artist. Over the past few years, Meelah has spent a lot of time reintroducing herself to the world as a solo artist after spending years and three albums in the late 90's and early 00's as part of 702. Her music might not sound exactly like you remember from what you heard in 702, but the signature vocals haven't gone anywhere and the quality of the music is present as ever. We sat down with her after a recent performance at SOBs for RnB Spotlight and discussed her new single "I Should Let You Go", the progress of her solo debut, who she's working with, and the biggest challenge in reintroducing herself.
YouKnowIGotSoul: You've got out the new single "I Should Let You Go". Tell us about the song and how it came together.
Meelah: "I Should Let You Go" is a song that I wrote and is produced by Stevie J. I went in with Stevie and he played me a bunch of different tracks. When it got to that track, I said "It's something special about that track, go back!" *Laughs* I heard it again and I was like "Let me just mess with it and go in and freestyle something". I went in and I just came up with "I Should Let You Go". *Laughs*
YouKnowIGotSoul: I know you've been working on the solo project for awhile now. What's the progress on that and how's it coming along?
Meelah: It's coming along. As I mentioned on stage, I'm such a perfectionist so I keep going back in. I have so many songs records but I don't want just songs, I want great material that can withstand a trend and can be like played down the line in years to come and be something magical. I just continue to over-think because I'm an over-thinker! *Laughs* It's coming along well, I have a lot of different sounds. I don't want to depart too far from what I'm known for, but I am experimenting with something on this one. Yall will hear something cool.
YouKnowIGotSoul: I know you worked with Musiq Soulchild on this project, we mentioned Stevie J was on the project. Who else have you worked with?
Meelah: Mostly up and coming producers in Atlanta. I've worked with Kennard Garrett who also worked with the Pussycat Dolls. Sean Garrett. Kennard actually is the producer that I collabed with for two albums. I've just completed a children's album and it's called "We Are Different" and I wrote and recorded nine songs. It's really cute, it's really dope actually. *Laughs* I worked with Kendrick Dean on some records. It's so many talented songwriters and producers out in Atlanta. I'm going to make sure that it's cohesive, even though I worked with a few producers, I'm going to make sure the sound is not all over the place. I know if you tend to work with a lot of producers it can come out jumbled.
YouKnowIGotSoul: You had success with 702 coming out with the group, and now you're coming out again solo. What's been the biggest challenge of trying to reestablish yourself as a solo artist now?
Meelah: The biggest challenge is kinda like what I just faced on stage, everybody, and rightfully so, wants to know where my former band mates are. That's fine. We were a group, that's how Meelah was introduced to the world. I'll always be grateful to 702 for that opportunity. I think it's tough because sometimes people just want to keep you in that box and keep you joined at the hip and it's kinda tough to say "Hey! I was born as an individual!" *Laughs* I'm not a twin, I'm not a triplet, I'm just Meelah. Every now and again it gets a little frustrating. People don't want you to spread your wings, they want to just keep you how you were. Not that it's a bad thing, because we definitely had a core audience, but it's been so long. Our last album was in 2003 and we're approaching 2013. For me that's probably the only challenge, other than that, I don't think about it being a challenge. I feel like it's a good thing we've had time away from the industry because now I can reinvent myself and come out as a new artist if I want.
YouKnowIGotSoul: Anything you'd like to add?
Meelah: Follow me on Twitter, @ItsMeelah. Instagram MeelahMee. I'm like addicted to Instagram so I had to throw that in there. I'm working on new material which will be out there soon. I'm also going to put a Christmas joint on iTunes for yall, I think I'm going to record "The Christmas Song". I also just finished a song for the producer J Dub, he has a Christmas compilation album coming out soon. It includes myself and Q. and Daron of 112 and Dru Hill. Talk about a 90's flashback! *Laughs* I wrote a little song for that called "Christmas Aint the Same". That will be out on iTunes soon, so look for that around the holidays.