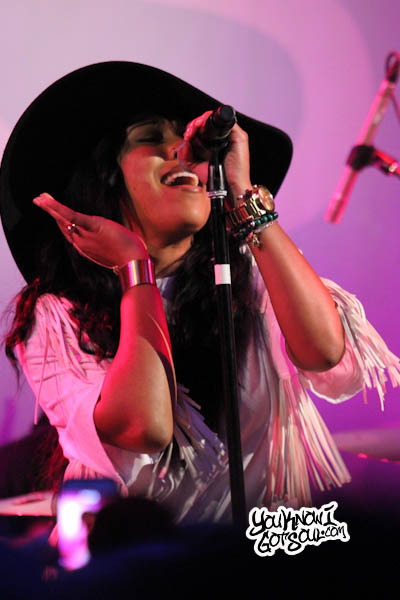 Over the years, many Canadian artists have found success in the United States with their music to the point where this country claims them just like they are one of their own. Toronto native Melanie Fiona had dreams of making a career in music, but it took her leaving her home and coming to the U.S. for her to become an international star with the release of her debut "The Bridge". After the album went on to become Gold, Melanie finds herself not only as one of the brightest young talents in r&b, but also one who has been heavily requested by her peers to work with. Had she remained in Canada, one would have to wonder if all of this would be possible. Now, as she prepares to release her sophomore album "The MF Life", Melanie Fiona looks to shine even brighter while continuing to put Canada on the map. In this exclusive interview following her performance at Summer Stage in New York City, we talk about what to expect on the album, growth she's experienced since her debut, her current single "4 AM", Tyrese reaching out to her for a collaboration, coming to the US to find success, and covering other artists' material.
YouKnowIGotSoul: You just came off stage here for Summer Stage in New York City. Just like tonight, every time I see one of your shows they have so much energy. But talk about tonight, what's it like performing in front of New York City?
Melanie Fiona: It's always a scary experience performing in New York City. *Laughs* New York is tough, they are the realest and they will let you know if they love you or they hate you. I've been blessed to have some really, really great shows in New York City. It was such an honor to sing here and have a show in Central Park, which is so cool because it's so historic and it's so New York. To have people come out in the rain and stay through the rains until it cleared was really great. I just wanted to put on a great show and just show New York that I love and appreciate them so much. It's such a big market for me; I always feel so much love when I come to New York. To feel the good energy from the audience is always energizing.
YKIGS: You definitely did a great show and the crowd was loving it.
MF: Thank you.

YKIGS: You're releasing your new album "The MF Life" later this year. Talk about your progress on the album.
MF: The progress is good. The progress report so far has been really good. I've actually been done with most of it with the exception of a couple of last records I'm waiting to do with The Dream. Finalizing the album is pretty much what it is and I want to make sure on this album people get a real sense of what this album is going to sound like and be about. I think that's important for an artist, for them to have an identity to fans and for people to say "Oh, I feel like getting that Melanie Fiona album because this is what I can expect." It's been important. I've released two singles from the album so far and I probably will release a third by the end of the year before the album comes out. I'm really, really excited about it. I'm just narrowing down the release date; I want to make sure that it's right. To be honest I don't really focus on first week numbers or anything like that. My first album started off slowly and within the last year it went on to be gold. It's a testament to the music that spreads word of mouth and that's just what I want. I want people to keep hearing and talking about it and saying "You'd like her, you should go check that out!" I feel like I do have great fans that really love great music so I want to make a really good musical album.
YKIGS: As you mentioned, your first album was Gold and it was a very successful album. What type of growth have you experienced between the last album and this one that will show on the new album?
MF: I think that I'm having a lot more fun on this album because I feel that I've grown a lot and I'm loving and embracing all of the experiences, high and low, good and bad, great and terrible. I think that's the beautiful thing about life in general. In living my dream everyday and doing this, it's important for me to channel my growth and to show that. Not just to my fans, but to the producers and the people in the industry that I have yet to work with and yet to meet. Now I did a song with Cee-Lo, and I did a song with Jack Splash who's the producer that I've been wanting to work with. For The Dream to reach out and say "Hey I want to do some records for Melanie Fiona" because he knows who I am now. Collaborating with Drake and John Legend. It's really cool just to be able to say "Yea I've grown and I want to show this and share this with the world." I really just want to define who Melanie Fiona is on this album and have people love it for the story telling and the emotional ride that you go on. Just like "The Bridge". But it's just "The MF Life".
YKIGS: The current single you have out now is "4 AM" written by Rico Love. Talk about how that song was created.
MF: Writing with someone and working with a writer is a very personal experience just because I pour so much of my emotion and my integrity into my music. If someone wants to work with me or write with me, it's important that they understand where I'm coming from and it's important that I actually feel what they're writing for me because I have to perform it and live it an believe it. I did a few records with Rico and he came back and called me and was like "Man Melanie, I've got a smash for you!" It's interesting because "4 AM" is such a real situation in my life and so to feel like the writer understood who I am and my story and wrote a story about something that I've actually lived and experienced. I always feel like it was the same thing when I wrote with Andrea Martin on "It Kills Me". I think that's a recipe for success because when you keep the honesty in the music, people love it. They make it my record and get it Grammy nominated. The fans feel what you're saying. It's important for me to share my story and working with Rico is amazing. He's such an amazing producer and songwriter. I feel like the sound of the record and the sounds that he used is good growth for me and something I felt very comfortable with and still allows me to sing and have people appreciate my vocal ability. It's just something different and new. I hope that people relate to "4 AM" like they did to "It Kills Me" as well.
YKIGS: Another person I'd like to ask you about is Tyrese. I know he was looking for you to do some songs and I interviewed him earlier this week and he mentioned you guys did collaborate. Talk about what that whole experience was like.
MF: It was crazy because he just reached out for me on Twitter and then the next day I saw him and we were in the studio. We worked on a song together which was really great. He's amazing, Tyrese has been so talented and so versatile. I remember when I was growing up in Toronto he was in the Coca-Cola commercial singing on the bus. Now he's gone on to be this amazing singer and actor and writer. Now we're in the studio which is really cool. It's amazing to just see for myself when people call me to do things with them. It's really humbling and it's such a cool thing to be respected and called upon by your fellow artists.
YKIGS: Last year I had a chance to talk to an artist you came up with, Aion Clarke, and we talked about how you guys came out of Toronto. He made an interesting point that he had to come to the United States to really find success, he couldn't stay in Canada and find the success he could have here. How do you feel about that?
MF: It's real. Ask Glenn Lewis, ask Deborah Cox, ask Tamia. Unfortunately it's a real thing. I love Toronto where I'm from, I love my country Canada, and I'd move back there in a heartbeat if I wasn't doing music. To be there, it's just not as a developed market as it is here in the states, it doesn't have the power and the drive and the machine behind it. It's still I think a little bit behind when it comes to that. There is so much talent up there. I mean, Drake, Justin Bieber, Alanis Morissette, Shania Twain, Avril Lavigne. It's so many people, Celine Dion. There is talent up there. Unfortunately, we all have to go abroad. Kardinal Offishall is one of my very good friends and one of the most amazing artists from Toronto that I know. He said one of these things to everybody at his album release party when he finally released his album on a major label. He said "You don't become international by staying local." I think it's bigger than America. It's one of your goals. I released my album internationally first and then I came over here. It is unfortunate from an artist's standpoint, but when you can bring it back home, every step helps with putting Canada on the map. All of the artists that are going to come after me, I hope that they appreciate all of the steps that we all took to cross the border for their future.
YKIGS: You've done covers on your YouTube like "Redemption Song" and the Amy Winehouse tribute. Do you think you'll ever do a cover song on one of your albums?
MF: Yea I definitely think I will. I just respect music overall. All different genres, I respect artists for what they create and contribute because it leaves a mark in history. I have no problems and no qualms and no ego about covering other people's songs. If you can get the approval for them to sign off and say "Yea I approve and I like what you did", that as an artist is such a grand respect. Even a lot of the samples I used on the first album "The Bridge", they were an homage to The Zombies, Frankie Avalon, Janet Kay. It's important I think for me to always pay homage and I always love to sing other people's songs just as much as I love singing my own. I think my fans love it too so if that's what they want to see, sure I'll do a cover!

YKIGS: Anything you'd like to add?
MF: I would just love to say thank you for the support. It's been quite a journey for me. I would just encourage people on one thing I've learned in this process and that is to really be in touch and in tune with yourself and how you're feeling. Sometimes people aren't going to ask how you're feeling so it's important for you to be in touch and in tune with who you are and how you're feeling all the time. It's ok with how you're feeling, just as long as you're honest. Most importantly, live your MF life everyday!