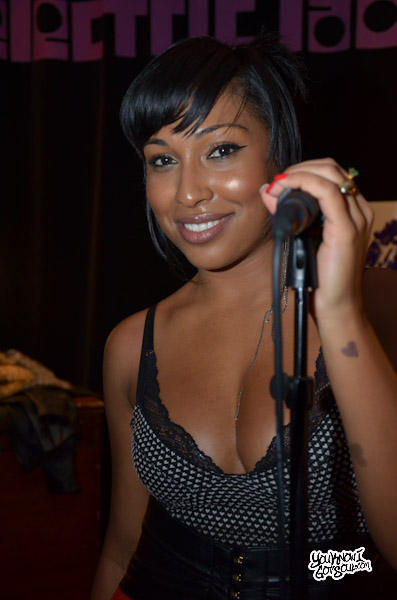 Fresh off of her two Grammy Award wins earlier this year, Melanie Fiona is back with new sophomore album "The MF Life". She's looking to build on the success of her debut album "The Bridge" which was a smash success and showed her diverse sound as an artist. What's interesting is that when we talked to Melanie last September, her single "4 AM" had just released, but here we are over half a year later and the song is still climbing the charts. From everything we've heard from this album so far, fans are going to love it and Melanie is poised to have her star shine even brighter with this release. YouKnowIGotSoul caught up with Melanie once again, and this time discussed what "The MF Life" is, the diversity of sounds she puts on her albums, collaborations with Drake and John Legend on this album, emotion and feeling in her music, aspirations to start a clothing line, and much more.
YouKnowIGotSoul: Your new album "The MF Life" will be out this week. What is "The MF Life"?
Melanie Fiona: "The MF Life" is about the ups and downs of life and love. It is a mentality; it is a state of mind that encourages people to acknowledge, own and strengthen how we feel and the things that we go though. I'm living it every day and I encourage you to do the same.
YouKnowIGotSoul: I was at the listening part you had out here in NY a couple of weeks ago, and I heard a lot of different sounds on the album, and you mixed in a bunch of different genres. Touch on that.
Melanie Fiona: That's typical Melanie Fiona. *Laughs* If you listen to the first album I mixed a lot of different genres in there as well. I never like to be put in a box. I never like to have people pinpoint what it is exactly that I'm supposed to be doing or what I should be doing. I just do what feels right. That is kinda my genre, just a fusion of different music, that's kinda what I specialize in.
YouKnowIGotSoul: Your current single "4 AM" is doing really well on Billboard. You released it last year, and it took awhile for it to take off. We've always loved the song, but why do you think it took people awhile to catch on?
Melanie Fiona: Yea, there's a lot of factors that go into it, why people love the record, why they even know about the record, radio, media, everything has a lot to do with it. I think what happened was that my album started to get more spoken about when it was coming and I started to do a lot more press and promo. I think a lot more people heard it and discovered it and it just became this thing that they wanted to keep hearing more and more. Radio really got on board with it as of late, they've really helped to show the support and give it the support that it needs, and people are loving it and they need to hear it. I'm not a sprint runner so to speak, I'm a marathon runner, and I believe in working if something is worth it. "It Kills Me" was the same thing, it became a number one record on New Years Eve of 2009, but it was released in August. This song actually took longer than that, and that's not actually a bad thing because it's at its peak right now when the album is about to come out. Everything always works out the way it's supposed to.
YouKnowIGotSoul: Following this single, do you have plans to release another single? Have you picked one out yet?
Melanie Fiona: Absolutely, there are a few different options. "Change the Record" is going to be the single overseas. Here, there are a couple of things that we've been discussing, "This Time" with J. Cole, "Wrong Side of a Love Song". A lot of people are actually coming and bringing up the feature with Nas, they are really loving it. I think the cool thing is that the album is coming out Tuesday and we're not moving onto the next single just yet, it's really going to give us a chance to listen to the people and let them choose a single and give them what they want.
YouKnowIGotSoul: During the listening session you mentioned you had a song on the album written by Drake. I know you guys came up out of Canada together, so was that a natural collaboration for you to do?
Melanie Fiona: Yea, you know it's interesting because most people would have expected for him to jump on my record and rap. Drake and I have known each other for years as artists, so I've known him as a writer and a rapper, and he's known me as a writer and a singer. I'm glad that we collaborated in the non-typical expected format just because he is a dope songwriter and I think he wrote a hell of a song after we discussed what kind of concept I wanted to sing about. He's written for Alicia Keys, Mary J. Bilge, he's written for everybody. He's a friend of mine and I'm glad we could collaborate on this album in this way, I think it's really unique and I think the song is dope.
YouKnowIGotSoul: You've got another collaboration on the album with John Legend on "L.O.V.E.". Touch on that song.
Melanie Fiona: It is John Legend and myself, we did this record coming off of his song "Wake Up" for the album he did with The Roots. I love this record. The album touches upon a lot of different stages of levels of colors of love, and this one in particular is very important because it's not the most important, it's the love for each other as people. Love for your brother, love for your sister, love for your neighbor that can make a difference in the world and change the world and save the world. I love this song because it's just such a positive message and I always need to have a record like that. On my first record it was "Ay Yo" and on this record I feel like "L.O.V.E." is that record. Of course I got to collaborate with John Legend and he is one of the best out there and he's such a dope songwriter. To say that I was able to write a song with John Legend is really great.
YouKnowIGotSoul: One thing that's always stood out to me about your music is the feeling and emotion you put into it and what I can feel when listening to it. Can you touch on that aspect of your music?
Melanie Fiona: It's just honest. I put myself into a place of what it is I'm trying to express and I live it when I record. That's the best way for me to do it. I envision how I want to perform this song on stage and I envision where I want it to fall in my shows and I envision what I want people to take from it. I take all of those things into account when I sing. I think that that's just the type of singer that I am, I am an emotional singer and that's just what comes naturally, it's not forced.
YouKnowIGotSoul: Question from one of your fans, they'd like to know if you have any hopes or desires to collaborate with fellow r&b singers out of Canada like Tamia or Deborah Cox?
Melanie Fiona: Yea, that would be cool. I actually know both ladies and they are very sweet and super talented. I'm down to collaborate with anyone who wants to collaborate as long as it makes sense. I have no discrimination against collaboration and I think that would be very powerful, the female voices of Canada, which is sometimes too often overlooked. So yea, they're great.
YouKnowIGotSoul: Speaking of Canada, my partner who I run the site with is based out of Vancouver, and he mentioned to me he didn't feel like they played your music or supported as much as they could. Do you feel like you get the support you deserve from Canada?
Melanie Fiona: That's the truth, I don't! *Laughs* I just did a bunch of press for Canadian media and they're all like "It's kinda crazy that you have so much success internationally but you haven't really made it here." They asked me what it is and it's the industry. It's nothing else but the industry. The industry can decide if they want to support. I've always repped Canada and I've always been proud to be Canadian and I've always done this to shine a light back onto Canada. They are a little bit late to the party, they really are. It's a bit hurtful when that's such a focus of what you're doing, but it is what it is. It's just different territories take different times, and they're not as developed, I'll be the first to tell you. Especially for urban music, they are not developed. They don't have urban stations, it's just one format most of the time across the country. You would think they would just say "She's Canadian, we have to play her", but I guess that's just not all that goes into it.
YouKnowIGotSoul: Another fan question, do you see yourself getting into any ventures outside of music one day?
Melanie Fiona: Absolutely. I love fashion, I love being a woman, I love incorporating functionality for fashion and women and making things that are for real women in real life. I definitely want to expand and do some cool merchandise things and fashion lines and also maybe even a little bit of television. I just feel like wherever I feel comfortable expressing my art, I'm into it.
YouKnowIGotSoul: Anything you'd like to add?
Melanie Fiona: I am so excited about this album and I appreciate the support so much because the energy that I feel as Tuesday approaches from my fans online, from my label, from my team, from people I meet on the street, it's just so positive. I just want to say thank you and I hope that you love this album when you hear it and you celebrate it for a long time and it inspires you to live your MF life.