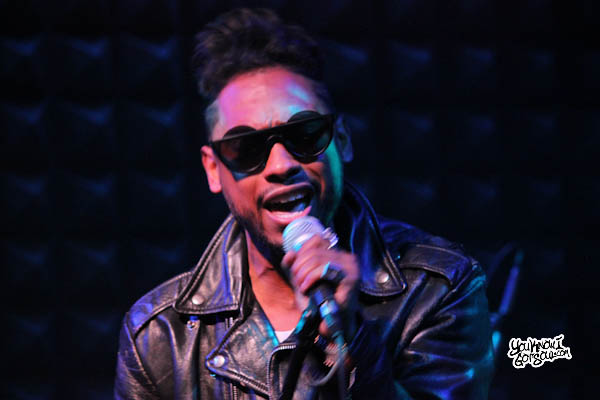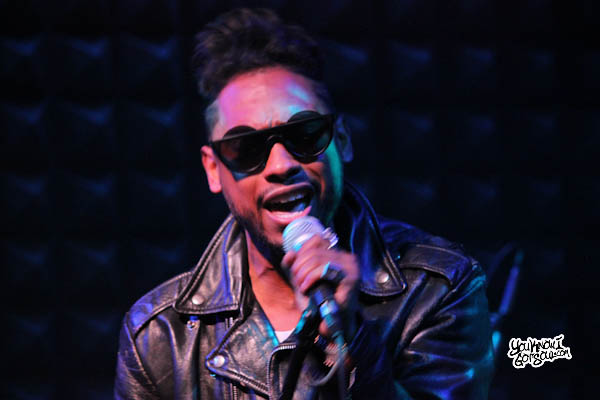 YouKnowIGotSoul had a chance to catch up with Miguel backstage prior to his performance at BB King's in NYC for the Power Live show on 6/30/11. We talked about his recent nomination for Best New Artist at the BET Awards, the origin of his #1 single "Sure Thing", the reception of his debut album, writing with Usher, what's next for him, and more.
YouKnowIGotSoul: Congratulations on your recent BET Award nomination. How did that feel?
Miguel: It felt great, being nominated was amazing. BET Awards being nominated for "Best New Artist" was just an honor. Actually last year I couldn't even get tickets for the BET Awards, so just to get nominated was amazing.
YKIGS: Talk about your number 1 single "Sure Thing" because I was reading the song had been written many years earlier, and leaked actually a couple of years before you released it. Tell me the origin of that song and did you expect such big things from it?
Miguel: Well "Sure Thing" I wrote as a definition to what real love or true love felt like to me. It was a way for me to remind myself if I ever forgot so I would never take advantage of it or take it for granted the next time. It got posted on MySpace and just really got a lot of attention. Interestingly it's the song that really convinced Mark Pitts at Jive to sign me as an artist. Now that it's on the radio, it's just cool to know that the music stood the test of time. It's a dated record for me, but for a lot of people that are just discovering it, it's become something special to them. So I hold that to a high esteem and I appreciate it.
YKIGS: Now that your debut album has been out about 6 months now, how happy have you been with everything that's gone on since its release and the way fans received it?
Miguel: Yea the album "All I Want Is You" has been out since November 30th and it's been a gradual build. People are discovering it by word of mouth and I just think it's phenomenal. That's the best kind of marketing that you can't buy. I'm just excited that the music is connecting with people and they're coming out to shows like this one.
YKIGS: I know you did a lot of writing on your debut album as well as for other artists before that, so talk about your writing process when you put together a song.
Miguel: I get all the way naked and I have a flock of geese that I have line up in a circle and I have an order of how I want them to quack, and that's how I get ready. *Laughs* No but seriously, I mean it's just about being vulnerable. I just try to get to a place where I can be honest with myself and with time I become more comfortable doing that in other areas. I'm most comfortable at home, in my room, where I can just let me thoughts kinda pour out and let the songs write themselves.
YKIGS: You were on Jive for awhile before you got a chance to release our debut album. During that time, you were writing for others artists. Was there a tough transition you had to go through while just waiting your turn and writing for others?
Miguel: I think for me being an artist, it's just about being creative. So I never really switched and there was no transition. I was getting to be creative with other people as opposed to for myself. There was no switch in mentality or anything like that, it all falls under the same umbrella.
YKIGS: I read that early on in your career you were making music that was similar to Usher before straying away from that. Now years later, you actually contributed writing to two of Usher's latest albums. Talk about that experience.
Miguel: Writing with Usher was a great, great learning experience. It really helped build the relationship to the point where he invited us on tour with him. Even now, he's a great friend of mine now, but it was all of the practice I had writing like, or in the vein of Usher, that I think kind of prepared me to kind of do it seamlessly when I had the chance to do it with him. Creating with someone is a lot easier when you're in the same space and on the same vibe when you're sharing ideas. With him it was really cool because he was so open about it and he just shared ideas and I was able to kinda help him plug it in so to speak. I thank him for that, he was really welcoming to take me in.
YKIGS: I love to hear the stories behind how the songs come together, and another song I know you wrote which is a personal favorite of mine is Musiq Soulchild's "If U Leave". How did that song come together and how did you get the chance to work with him?
Miguel: "If U Leave" was written actually sometime after I had finished the majority of my album. I was working with Carvin and Ivan who did his initial two albums, they wrote and produced the majority of the material. I was working with them and they were submitting for his new album at the time. So they put on some music and the first verse just kinda came out and wrote itself, and before I knew it I had the song.
YKIGS: I've read you've already begun working on your second album. How is that progressing?
Miguel: I'm always working, always working hard. Not necessarily on the next album, but always creating. When it comes time to put the next album out, hopefully I'll have enough music that I can put together and deliver a project. I have an idea in mind of what I want to accomplish with the next album, so I'm creating to see that vision through.
YKIGS: With the success that you had with your debut, do you feel like that's put you more in demand where more artists are coming to your for collaborations and to write for them?
Miguel: Since putting out "All I Want Is You" I've definitely had a lot more opportunities to build personally with the artists and to build on a personal level. We're writing together in the same room, as opposed to I'm writing something for them and trying to shoot in the dark as to what they're direction is or what they want to hear. It's been more common now where I can sit with the artist and really pick their brain and really get in their head and get an honest projection of who they are and what they want to say. So that's been I think the coolest part about it, when it comes to collaborating with other artists.
YKIGS: Having the success you've had so far and having the chance to work with more artists and keep growing in the industry, do you feel your sound is progressing as an artist and you're growing musically?
Miguel: Absolutely. I think I'm growing as a person. I think music is supposed to mirror life. When it comes to music, I've always been very open minded, and I'm not saying there's anything different now when it comes to my taste in music, it's just I think more of what I want to discuss and the topics and things that are important to me now and what's important to say and the messages I need to get across. I think that's where I feel like I'm done the most growing lately. Even though my next album is going to sound completely different from this one, I don't think that's new to me, wanting to do something different. I think when it comes to my albums, every album should sound different from the last.
YKIGS: Anything you'd like to add?
Miguel: The only thing I always like to add at the end of any chance I get to speak to a fan base, is that life is really all about passion. Finding passion is one thing that's very important, but it's more important to live your passion, you've got to live it. I think passionate people are happy people, and we need more happy people in the world. So find your passion and live it, it's really challenging at times, but you will be happier for it, I promise you!