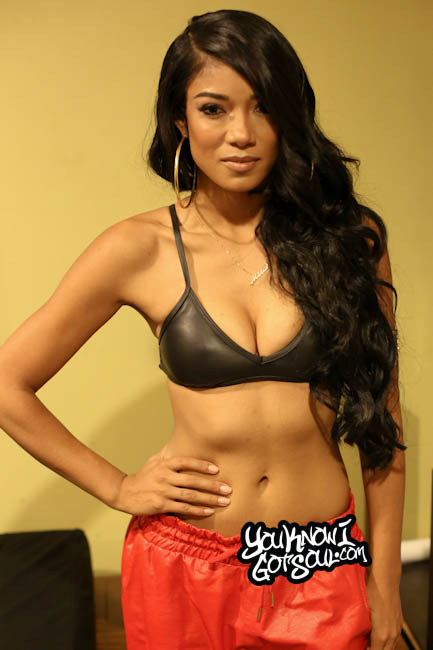 In an industry where an artist only gets one chance to prove themselves to the music world, being shelved by a record label is one of the worst things that can happen. The time and money invested in a project goes to waste and it eventually leads to the artist being dropped. However, there are times when this type of setback is actually a blessing in disguise. For example, Mila J's debut album "Split Personality" never had a chance to see the light of day, but she's been able to bounce back from that situation as she's been to discover herself as an artist. Her two singles "Smoke, Drink, Break-Up" and "My Main" have showcased her true personality and there will be more to come. YouKnowIGotSoul had a chance to speak with Mila J about her upcoming EP, her new single "My Main" and her performances.
YouKnowIGotSoul: Talk about your new single "My Main".
Mila J: "My Main" is an up-tempo record and it's pretty much a friendship record about me and my homegirl. It's my day one and the one I can ride and die for. Even though it's a simple concept, I just felt like it was dope because you don't really hear too many songs where it's positive and women are celebrating their friendship. At the same time, it's still a club banger. DJ Mustard did it and Ty Dolla Sign is featured on it. It's a feel good record.
YouKnowIGotSoul: Did you ever consider having a female rapper on the song? The song sounds like a female anthem.
Mila J: Yeah, I think that would be a cool addition. I still think it was dope because Ty put his twist on it. He's more so talking about his main chick, so it made it relatable for guys if they listened to the song. We should do a remix with a whole bunch of ladies though, that would be cool.
YouKnowIGotSoul: Or maybe even a rap of your own. Would you consider that?
Mila J: I would consider that. *Laughs*
YouKnowIGotSoul: Talk about your upcoming EP "M.I.L.A. (Made in Los Angeles)".
Mila J: Yes, my name is Mila and I was born and raised in LA. It has about 5 songs on there and I'm excited about it because it's actually a visual EP. I did shoot 5 videos for all the songs on there, so they'll bring the story to life. Besides Ty being on "My Main", I have Problem on a song. I have a song called "Champion" with B.o.B. There are a couple of features on there.
YouKnowIGotSoul: I know your new music is a departure from the sound you had back in the day. What's the reception been like from your fans?
Mila J: The reception has been good. I wrote a lot more this time around so compared to before, I think people are actually getting to hear my voice and get a feel for what my personality is. I was still talking about my love before, but I wasn't writing as much so the way I would probably say something was completely different, but now it's me.
YouKnowIGotSoul: Do you ever reflect back on your "Split Personality" album and wonder where your career would be if the album was released?
Mila J: Obviously it was a setback. I had a whole album that didn't come out, but looking back on it now, I feel like I wasn't ready to be a solo artist. I feel like I wouldn't have been ready because I had been in groups up until then. Then when the groups dissolved, I kind of kept the deal and went solo. I had never been a solo artist before then. So I actually look back at that time and I'm like "That was really my development and I didn't know it". It happened for a reason and it didn't come out for a reason. I really didn't know who I was as a solo artist. I mean the songs sounded good, but coming into my own, I don't think I was all the way there with that album.
YouKnowIGotSoul: You're signed to Motown now and there's a whole movement with young talent. What's it like being in the new movement that Motown has going on?
Mila J: It's always cool. Obviously Motown is the label for R&B. The classic music from that era still stands and it's timeless music. Just to be part of that brand is super exciting. Obviously my parents grew up listening to Motown in the house. I'm just excited to be a part of the new Motown with my other fellow artists. Plus everyone there just respects everyone's creativity. It's not about them wanting to create you into something else, every person signed is because they liked you already. Everyone is very supportive as far as allowing us to still have our creative input and being who we want to be as an artist which is real important.
YouKnowIGotSoul: Dancing is a big thing for you and has been for your career. Will you make that part of your career moving forward?
Mila J: Yeah, even with the videos. I think with the exception of one, I always have to have some type of dance element because I started off as a dancer. I know growing up, all the artists that I aspired to be like when I looked at TLC, Janet Jackson, Madonna and even Prince, they were movers and they were all around entertainers. They danced and that's something I always want to make sure I incorporate into my shows because reflecting on the big concerts that I went to, I'm like "That's what I wanted to do. That's what inspired me". Whenever I can incorporate dance, it will be there. Even if it's a slow song, I'll probably find some way to dance to it. I love to dance.
YouKnowIGotSoul: With the EP coming out and new music coming in the future, what do you want people to feel when they hear your music?
Mila J: I just want them to feel good. Obviously I want them to get a sense of me, but I just love 90's music and I always say that because that era, I feel when you put on those albums even now, it's just a certain feeling you have. I just want them to feel good.
YouKnowIGotSoul: Anything you'd like to add?
Mila J: Follow me on Instagram and Twitter @MilaJ.